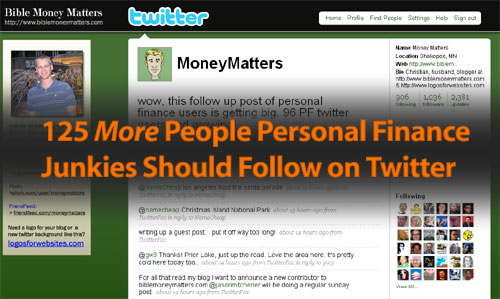 Earlier this week in response to a post online I posted a list of "10 People All Personal Finance Junkies Should Follow On Twitter". The idea was to let people know about some must follow twitter users in the personal finance blogosphere who consistently make useful twitters, both about personal finance and other topics.
The response to that original post was surprisingly good, it was picked up on Stumbleupon, as well as some other social media. Once word got out about the post other personal finance twitter users started adding their twitter IDs to the list, until this morning when the post reached 40 comments.
I thought that this morning I would do a follow up post that includes the Twitter IDs of all the personal finance junkies that came to the post, as well as a ton of other personal finance users that I follow on twitter.
The idea was to make this post the go-to resource if you're getting started on twitter, and you're interested in personal finance. Just follow all these people, and you'll be off to a great start! In fact, you'd be off to a better start than I was a few months ago.
So without further ado, here are 125 more twitter using, personal finance junkies! Update: Click here to view the new 250+ personal finance users twitter list!

125 more twitter using personal finance junkies
125 more personal finance twitter users, with my favorites in bold. (Favorites because I've twitted with them and know them!)
http://twitter.com/Finc_confluence
http://twitter.com/pfhacks
http://twitter.com/frugalinva
http://twitter.com/L_buckets
http://twitter.com/3princessesmomm
http://twitter.com/prosperousfool
http://twitter.com/MoneySavingGuid
http://twitter.com/ChicShoppaChick
http://twitter.com/jasonmitchener (now a contributor to this site!)
http://twitter.com/thefrugalmomma
As I mentioned in the other twitter post, if you're not in the list and want to be included, just leave a comment below with your twitter ID and we'll add you onto the list in a future update. Thanks, and enjoy twittering!
Quick Twitter Tip: To get a quick following, and a good user base, find someone who is interested in a topic you like, like personal finance. Follow the people they follow. You'll be able to get a nice number of twitter followers interested in the topics you're interested in because many of the people you follow will follow you right back!
More twitter tips at freefrombroke.com
UPDATE
Check out our new Personal Finance Twitter list that inclues all 125+ of the names above, plus another 125+! Click here.