Growing up my father always exhibited a sense of service to us kids. He instilled in us a sense of how we need to help others when we're doing well, and even when we're not doing so well. The money that we're given is God's anyway, so we might as well be generous with it!
For many years he worked at a local food shelf and social service agency called Community Emergency Service. He would tell us about the people coming in to get aid, and it would pull at your heart strings. There were the single mothers just trying to make ends meet at the end of the month. They would come in asking for a $50 to make their rent payment that month, and to get a few groceries to feed their kids. There were the homeless vets just looking for a bite to eat. Seeing my dad serve these people made me realize just how much need there is in this world – even for just the basics. Food, shelter, transportation and clothing.
In the spirit of giving, and in the spirit of Christmas, I thought I would ask that all of my readers contribute something, anything, this month to a charity of their choice. It only takes a little to make a difference.
For me, the charity I'm choosing to give to this month is Second Harvest Heartland. As I've just mentioned the food shelf is something near and dear to my heart, and I've seen how they can meet people's very basic need for food.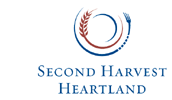 Second Harvest Heartland is a food bank. (they warehouse and distribute food and grocery products to food shelves like my dad's, shelters, soup kitchens, religious organizations, etc. ) They do good work in our communities, and are a great way to help those in need.
Some quick facts about Second Harvest Heartland that they sent to me via email:
For each $1 donated, we are able to distribute $9 worth of food and grocery products to those in need
Your $25 donation will provide 100 meals to those in our community who are hungry
We are the Upper Midwest's largest hunger relief organization
Our mission is to end hunger through community partnerships
This year, we will deliver over 41 million pounds of food to our 1,000+ member agencies and programs
They really are a great group, and I'd highly encourage you to give to them this Christmas season. There are a lot of hungry people out there, and even your small donation can feed tens of people.
Some places you can find America's Second Harvest:
https://www.facebook.com/2harvest
Or, if you just want to give, you can go directly to this page:
http://www.2harvest.org/give_help/give_funds/
Give generously and God bless!