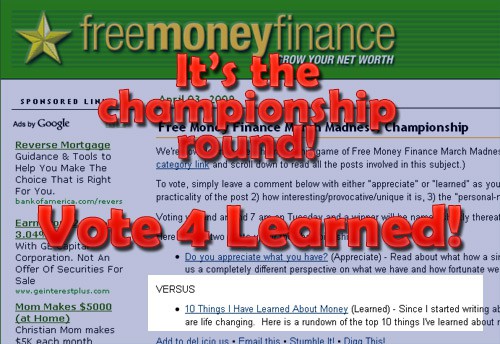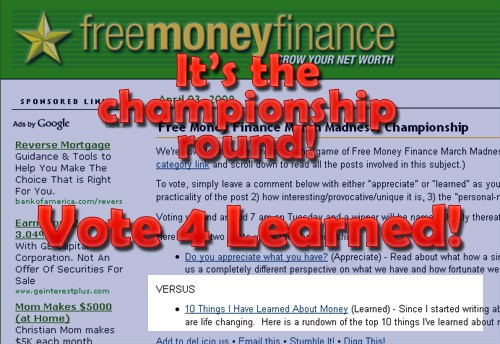 It's The Championship Round! Help Me Win So I Can Donate To Second Harvest Heartland!
As many of you know I've been competing in the Free Money Finance March Madness competition for the last few weeks. The competition started out with 64 bloggers trying to win money for the charity of their choice. It started out as something fun to do to bring in some extra traffic, and maybe win some money for charity if I was blessed enough to make it to the finals.
Today I found out that thanks to your votes I have made it through to the final two, the championship round! I can't believe I've made it this far, but I'm extremely grateful to everyone that has been voting for me since the competition went live. I couldn't have done it without you!
Joining me in the championship round is my blogging friend Gibble over at http://www.gatherlittlebylittle.com. He is actually one of the people that inspired me to start blogging, so to be with him in the finals is a huge honor. Good luck glblguy!
A Win For Me Means $4500 In Groceries For Needy Families!
Since I'm in the final two, that means my charity Second Harvest Heartland will now be receiving at least $300 to help feed hungry families! For each $1 donated, Second Harvest Heartland is able to distribute more than $9 worth of grocery products to those in need in our communities. That means we've already helped them to provide over $2700 in meals – just by voting. Thank you!
The competition isn't over. Voting for the championship round begins today and runs through til Tuesday. First place in the contest will mean $500 donated to Second Harvest Heartland, that's over $4500 worth of groceries for needy families! Vote now and help me pull this out so that we can give others a helping hand through Second Harvest!
Go Vote Now
The championship match-up is live! If you feel so inclined, please head on over to Free Money Finance and leave a comment for me today. Vote for my article, 10 Things I Have Learned About Money (Learned) in the comments. Let the best man win!