Most people have a Christmas family tradition.
Perhaps you exchange gifts at a certain time of day, go ice skating (at the mall if you live in the south like me), eat a favorite dish, or read the story of Jesus's birth.
I think our family has adopted most of these traditions. But one of my favorite things to do during the Christmas season is sit back, relax and watch National Lampoon's Christmas Vacation.
In a comedic way, this movie takes all the things that typically occur around Christmas time and takes them to an extreme.
Whether it's hanging Christmas lights, spending time with family or shopping, Clark Griswold finds himself in the middle of them all.
Clark, suburban super dad and husband, is great in this movie (as with all the National Lampoons Vacation movies, in my opinion).
Memorable moments for me include the trek to pick out the family Christmas tree, out doing the neighborhood in Christmas lights, flying down a hill in a super slick sled and an unexpected visit from good ole' cousin Eddie.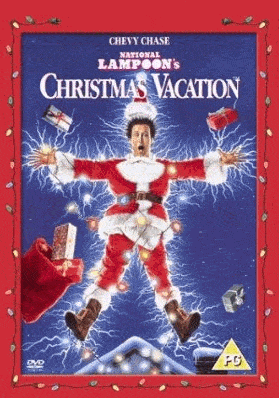 Focus On The Reason For The Season
However, beyond the comedy, the movie reminds me of a couple of other things during the Christmas season.
Unfortunately, the shopping, family, eating, decorating, etc. all end up becoming stressful events and take quite a toll on pour Clark. And to be honest, we're less than a week away and some of those same things have caused a little stress for our family too.
Often we're reminded to stop and remember the reason for the Christmas season. This reason, of course, is the birth of Jesus Christ who came to give us grace and a hope for eternal life through his death on the cross.
This season, we do have to stop and focus and pray our thanksgiving for this birth. It's hard to do, but as I write this post and reread the story in the Bible, I've been able to refocus and you know; it feels a whole lot better.
Clark's Personal Finance Holiday Stressor
Clark, on the quest for becoming the ultimate super dad made a big financial mistake.
Clark, expecting to receive a big Christmas bonus from his company put money down on a swimming pool. But after sharing the news with his excited family, he later came to learn his company didn't provide a Christmas bonus.
Now we're not sure what type of agreement Clark signed when he put the money down. But his concern became how he would provide the ultimate Christmas gift for his family and pay for it.
For those who have seen the movie, we all know that cousin Eddie came to the rescue and Clark's bonus was quickly reinstated.
Note: For those who have seen the movie, I would not recommend Cousin Eddie's methods for dealing with personal finance challenges. But even though the situation was funny in the end, we can learn or be reminded of a couple things.
First we shouldn't spend or agree to spend before we have that raise, bonus or next month's income! Clark spent on Christmas emotion.
Second, we shouldn't let a Christmas gift become our primary focus for the season.
Christmas Hope
For many, next year will be filled with making monthly payments towards this year's Christmas! I've been there myself.
We've seen a lot of personal finance bloggers try to encourage people in different ways to give this year. I think there are really two reasons for this.
First, it helps us keep our focus on the giving spirit of the holiday season. Often this is forgotten as again the stress of all the activities overtakes us.
And second, creativity is what must be used when there isn't enough money to buy gifts. And that's okay, because gifts don't necessarily have to come in the form of large purchases such as Clark's pool.
In fact, our gift, Jesus Christ, is free to those whom choose to accept it.
So, this Christmas week, remember Christ's birth and what His eternal gift means to you.
Okay, I have just two questions for you? Fun: What is your favorite part of Christmas Vacation? Serious: How do you keep your focus on the true meaning of Christmas? Photo by IMDB.