A few weeks back now I wrote about how I had opened a high yield savings account with Capital One 360 savings because I really liked all of the budgeting features that the account had, it's increased security and the fact that it had a competitive rate. I am using Capital One 360 as a budgeting account to save for short term savings goals like yearly insurance bills, saving up for our next car and vacation savings.
Beyond saving for short term savings goals, I also want to find a bank for our 8 month emergency fund where the money will grow at a decent rate of interest, maybe slightly higher than what ING is currently offering. EverBank kept coming up as a decent option, as their rates were consistently among the highest that I could find.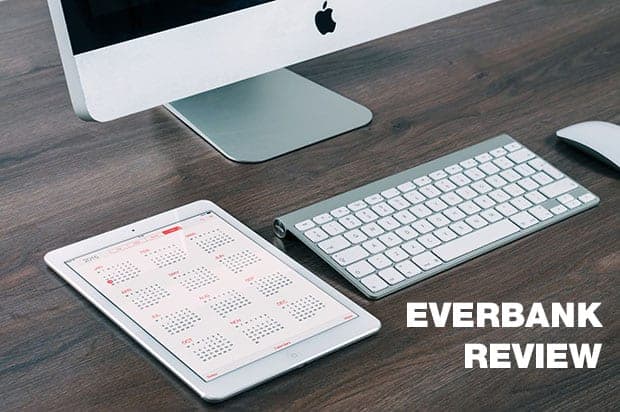 EverBank Background And History
EverBank is a Jacksonville, Florida based company that has roots that stretch all the way back to 1962. The company's current incarnation was put together in 1994 when an investor group acquired the Alliance Mortgage Company, and became a significant mortgage originator and servicer. After forming the First Alliance Bank and then shortly thereafter acquiring the Marine National Bank, in January of 2000 EverBank was founded as a national direct-to-consumer bank. Read more about EverBank on Wikipedia.
Is Putting My Money With EverBank Safe?
One of the first things you should ask when signing up with a bank is, "Will my money be safe if I bank with this company?". With EverBank your money will be safe and sound because the bank is FDIC insured, and has been since October 1st, 1998. If you deposit your money and the bank goes under, you'll be fine – as long as you don't have more deposited than the FDIC insurance will cover. Currently that amount is $250,000 per depositor.
Features Of An EverBank Yield Pledge Money Market Account
So what are the features of an EverBank account, and why would I want to sign up with them?
1.25% rate to start for 6 months,
High yield 1.01% after introductory period. (One of the highest rates available, in the top 5%)
FDIC Insurance up to $250,000
The Ability to Write Checks (3 a month)
24/7 phone support plus mobile banking
As you can see the accounts have a lot of features that most other banks have in addition to having a higher rate and a few features (like checks) that others don't.
Fees And Limits On An Everbank Account
Here are the fees and limits you can expect to see on an Everbank account.
Minimum opening balance: $1500
Monthly fee for balances under $5000: $8.95
Monthly fee for balances over $5000: free
Withdrawals and transfers: 6/month
Online banking: free
Other Account Options With EverBank
In addition to their offerings in the high yield savings sphere, they also have competitive offerings with their high rates in their high yield checking accounts, CDs and self directed IRAs.
Opening An Account'
Opening an account with EverBank should be a pretty simple process. On their site they say it is a 5 step process.
Step 1 Choose your account
Step 2 Tell us about yourself – Provide your personal information and confirm your identity
Step 3 Customize your account – Select the options you prefer and your opening balance
Step 4 Review and accept disclosures
Step 5 Finalize your application – Print application, sign signature card and mail them with any other required forms
Conclusion
At the time that I wrote this, EverBank offers some of the highest interest rates in the country and all of their accounts are FDIC insured (to find current updated rates, go here). Add to that their other solid account options, solid security and 24/7 customer service and you have a solid bank offering. If you're looking for a good high yield savings account where you can put your money, I think EverBank should be near the top of your list. It's definitely on the top of my list as I continue my search.

Do you have an account with Everbank? If so, let us know your thoughts on their accounts, their customer service, or anything else related to their accounts and offerings.