All of us from time to time find ourselves in a position where we want to do something that's going to cost us a good deal of money. Whether it's buying a new laptop computer or going on an overseas vacation, big expenses have a way of popping up when they're least expected. Or should they be expected?
At our house we're no different. We find ourselves wanting to go on a vacation on the spur of the moment, or find that there's a hot deal on a tech gadget we've been wanting for a while. So what do you do when an opportunity presents itself? Do you just put it on credit? Put off purchasing it? Or pay cash?
For quite a long time now we've had separate goal based savings accounts set up for several different savings goals at our house. We've got separate accounts setup with Capital One 360 savings to help us to save for our vacation spending, one for our next car, one for side income taxes and then we've got a general emergency fund that fills in the gaps elsewhere when we want to plan ahead, but we're not quite sure what for.
Planning Ahead Allows You To Be Spontaneous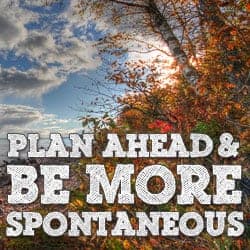 What I love about planning ahead with goal based savings accounts is that it allows you to be more spontaneous and to jump at opportunities when they arise.
For example, a while ago my wife and I had some friends who were going on a long weekend vacation on Lake Superior, and invited us to come along. Normally if we didn't have the money available in order to pay for the trip, which would likely be several hundred dollars, we probably wouldn't have gone. Thankfully we've been planning ahead for a while now and at the time we had well over $1500 in our vacation savings account – ready to be used.
Because we had the cash saved and ready to be spent, we were able to go on a spur of the moment vacation with our friends and have a great time!
Saving Cash Ahead Of Time Allows For More Stress Free Decision Making
Planning ahead of time and saving up for future expenses also means that when the time to pay for something arrives, you'll have a much more stress free decision making process. If you've got the cash to pay for the expense, it means you won't have to worry about paying costly financing fees, or worry about buying something you can't afford. You know exactly how much money you have saved for that expense, and exactly what you can afford.
About a year and a half ago after having our son we decided that we needed to have a larger vehicle to cart him and all his gear around. Who knew how much stuff you needed when you had a baby! You've got strollers, diaper bags, toys, extra clothes and more! It's a lot of stuff!
Instead of stressing out about trying to find an auto loan, and trying to find something that we could afford, we had a relatively pain free car shopping experience. We knew how much money we had automatically saved in our "next car" savings account, and we knew what kind of car we wanted. So that gave us a good price range we would need to shop in. We didn't need financing so we could just focus on finding a nice car that fit within our budget.
We shopped around at a leisurely pace over the next few weeks. During that time we ended up selling our current car for a good price to a family member. Then we found the car that we wanted. It fit within our price range, and was exactly the vehicle we were looking for. It even had some extras that we hadn't necessarily needed. Since we had saved up cash, we were able to take our time shopping we had a much less stressful time in the process.
Goal Based Savings Accounts In Practice
So how can you implement a goal based savings account? It should be pretty simple, and once you have it setup it can even be automatic!
Steps to setting up goal based savings accounts
Do a family budget and figure out how much you want to spend in different categories like vacation spending, car spending, technology spending or just blow money.
Once you've set out a family budget and figured out how much you want to save in each area every month, setup an automatic savings plan.
Open an account with a bank that allows for separate goal based savings accounts. My two favorites (I have goal based accounts with both) are Capital One 360 Savings and Ally Bank Savings.
Setup an account for each of your savings goals that you want to save for.
Setup automatic deductions every month so that your savings goal is automatically funded and you never miss the money!
Be ready when opportunity presents itself!
Increase Enjoyment By Planning Ahead So You Can Be More Spontaneous!
While it may not seem like it makes sense, planning ahead with goal based savings accounts and emergency funds is a great way to allow your family to be more spontaneous and take advantage of exciting opportunities when they arise.
So the question is, are you planning ahead so that next week, next month or next year you can do something exciting at the drop of a hat?