As I continue my search to find the best high yield savings accounts for our family, one that keeps showing up on my radar and that seems to have an extremely strong reputation is the online savings accounts from HSBC Advance.
HSBC Advance doesn't have branches, the accounts are online only – but it is a part of HSBC Bank USA, N.A., which has close to 470 branches in the U.S., and HSBC Group, with more than 9,500 offices worldwide. With more than 395,000 no fee ATM machines in the US alone, you should never be too far from a place to access your money easily. This alone is a huge advantage of HSBC over many online banks, which often don't have such an extensive network of brick and mortar banks or ATM machines. In addition, it's one of the largest financial companies in the world, so you can be assured that it's a stable company that isn't going to fold in the middle of the night.
Some of the high points for the HSBC Advance Online Savings Accounts:
When it comes to rates, features and customer service, HSBC is consistently among the top performers.
1.10% APY – As of05/05/2010, one of the highest savings rate in the country.
No monthly fees. No fees for ATM use or funds transfers.
No minimum balance requirement.
Open an account with only $1 to start.
Don't have to open a checking account with HSBC.
Will manage your account on HSBCdirect.com instead of at a branch.
Access to 24/7 customer support, ranked "Best Customer Service in 2006" by Kiplinger's Personal Finance magazine.
Your money's FDIC-insured to the maximum permitted by law.
Your banking is done in a secure online environment.
Money Magazine named HSBC Direct "Best of Breed" in 2007.
Signing Up For An Account With HSBC Advance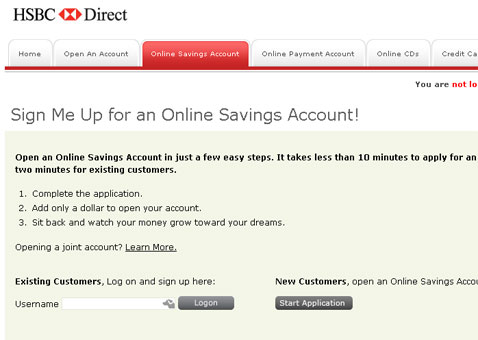 Signing up for a new account with HSBC Advance is a simple and pain free process. On their site they claim it will take only 10 minutes for new customers, or 2 minutes for customers with existing accounts. I think it actually takes a little longer than that. So what will you have to do?
Complete the application. You're going to need to enter your name, address,driver's license number, SSN, date of birth, etc.
Set up your external account, and transfer at least 1 dollar to open the account. HSBC Direct will send two trial deposits to the linked checking account.
You will receive your Customer ID and a password in two separate letters which will be mailed to the address you provided when you signed up for the account. You should also receive your HSBC Direct ATM card. You'lll need your ATM card and the PIN number to create a security key, after which you will have full access to your HSBC Direct account.
As you can tell, security is important to HSBC Advance. Because of that the account opening process may take a bit longer than some others. Yes, the initial part will only take 10 minutes, but having full access to the account and its features will take a few days. I think the added security is worth it, however.
Other Account Options With HSBC Advance
HSBC Direct has other account options besides the online savings account. In addition they have online payment accounts (like a checking account) and online CDs that have rates somewhere in the middle to top of the pack. Definitely worthy options if you are looking for those types of accounts as well.
Conclusion On HSBC Advance Online Savings Account
HSBC Advance has consistently been seen as one of the top online savings accounts, being rated highly in both customer service and in rates and features. While their rates aren't the highest right now, they are a bank I'd put at the top of my list because of their combination of their features, their extensive ATM network, international access, and financial stability of their parent company.
Sign up for a HSBC Advance Online Savings Account
What do you think of HSBC Advance Online Savings? Do you have an account with them, and have you been happy with their service, features and the accessibility of their ATMs and branches? Let us know your thoughts about HSBC in the comments.
Find the best bank rates and best online savings accounts on our bank rates page!