Last week I wrote a review of the VOIP service called Ooma. Basically Ooma allows you to make phone calls just like you would with a regular landline, but at a fraction of the price. All you need is an existing high speed internet connection, and the Ooma Telo device. My wife and I are currently paying over $43/month for our regular landline phone service, so we thought it would be worthwhile looking into Ooma as it could mean big savings on our monthly bills. In fact, we figured out that by the end of the first year we would have saved almost $300!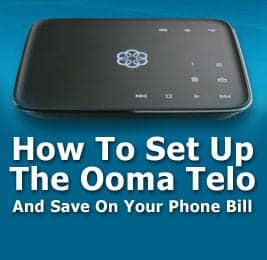 After you buy your Ooma Telo device, which costs somewhere in the neighborhood of $150, the only fees you'll ever pay are for taxes and 911 service fees. For us, that means paying less than $5/month. Find out how much you would pay in your area here. If you prefer you can also pay a $9.99 monthly fee for the Ooma Premier service which includes extras like call forwarding, conference calling, Google Voice extensions and more. For us the basic service is more than enough – and it actually has more features than our expensive landline!
About a week ago we purchased the Ooma Telo device direct from Ooma for $139.99 after using a referral code. It arrived on the UPS truck just a few days ago and I was excited to get it up and running.
The question is, would it be as easy to setup Ooma as was advertised on their website? Let's take a look at how to setup the Ooma Telo device.

Activating The Ooma Service: As Easy As Advertised?
On the Ooma website it talks about how easy it is to activate and setup the Ooma home phone service, in fact it says it should take less than 15 minutes. I decided to put their 15 minute setup claim to the test.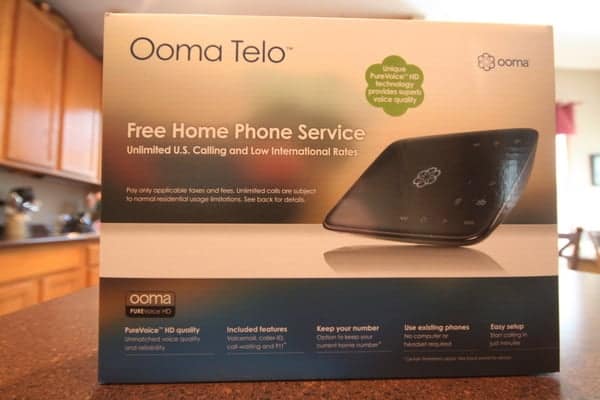 Activating the device is a quick and easy 4 step process according to Ooma.
Activate and register the Ooma device online at their website.
Plug in your high speed internet connection to the device.
Plug in your regular home phone.
Start making phone calls.
So let's walk through the process and talk about just what you'll be doing, and if it was as easy as they say.
Activate And Register The Ooma Telo Device
The part of the process that took us the longest was activating the device online and registering for an Ooma account. This part of the process probably took us anywhere from 5-10 minutes. Make sure you don't plug in and power up the device before you do this step.
Here are the steps in the process.

Go online: Go to https://go.ooma.com/activate/ to complete activation and registration.
Activate the device: On the first page you'll be asked which device you'll be registering, a legacy device or the Telo. Once you choose the device you'll be asked to enter the activation code from the bottom of the device (see illustation to the right).
Choose a phone number: On the next page you'll choose a phone number from any U.S. area code. Unfortunately our area code didn't have any numbers available, but several adjacent cities and local area codes did have numbers available. We chose a phone number, even though we'll be porting our old phone number later. If you plan on porting your number as well, you should still choose a temporary number here as well. Porting happens later on.
Enter your contact information: On the next page you'll enter your contact information, a credit card for monthly taxes and 911 fees, as well as a required alternate phone number (we used our cell phone). Make sure your address is correct on this page because it's used for 911 first responders in case you ever need emergency services.
Register for a My Ooma account: Finally you'll set up an Ooma account that you'll use to check voicemail online, as well as changing settings and preferences. Your new phone number will be your username, and you'll setup a password and security questions before you're done.
Step 1 complete: You're now done activating and registering your Telo Device!
The next step in setting up your Ooma home phone service is to go and plug it in!
Installing Your Ooma Telo Device
Installing the Ooma device should be a quick process in most instances. For us it took anywhere from 5-10 minutes.
Connect Ooma Telo device to your router: The first step is to take the supplied ethernet cable and connect the Telo from the "Internet" port on the back of the unit to an open ethernet port on your router. Some home network configurations may need a slightly different setup, like putting the Telo after the modem but before the router, but the stock setup worked fine for me.
Connect your phone: Connect your existing corded or cordless phone from the phone port on the back of the Telo to your phone.
Power on the device: Plugin the power adapter, and the Telo will power on. It will most likely blink for a couple of minutes while it boots up. The Ooma logo and all the keys will light up blue when it is ready to be used.
Download updates: In some instances the Telo device may need to have the software updated to the latest version the first time you turn the unit on. In our case the device did need to be updated. The Ooma logo started to blink red while the software was downloaded and installed. Make sure not to power the device off while this happens. After the new software is installed the unit will reboot to complete the upgrade. When all the lights will turn blue again, you're ready to go! In our case the download and software update only took a couple of minutes.
Pick up your phone and make a call: At this point you should be ready to make a phone call. Just pick up your phone, listen for a dial tone and dial as normal!
We turned our unit on and sure enough we heard the special Ooma dial tone. We made our first call with no problems! Piece of cake.
When all was said and done it took us about 15-20 minutes to install the device from start to finish when you include activation, registration, installation and software upgrades. Not too shabby! I love it when technology just works like it should!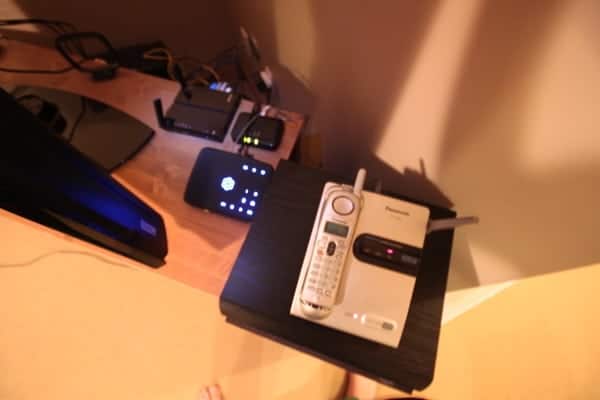 Final Steps: Porting Numbers, Voicemail Setup
There are a few final steps you'll probably want to take when setting up Ooma.
Porting Your Number
If you want to port your old home phone number, once the device is setup you'll want to login to your "My Ooma" account online and go to the "Add-ons" menu to request that your old number be ported. There is a $39.99 charge if you want this done, although the fee is waived if you opt to pay $120 for a year of premier service.
Porting your number can take anywhere from 3-4 weeks or more depending on how quick your old provider approves the move. To check if your phone number can be ported to Ooma, go here.
Setup Your Voicemail And Account Options
Finally, you'll want to go into your account and setup your voicemail options, as well as your premier account preferences since all new users get 60 days free of the premium account service (Just don't forget to cancel if you don't want it!). Some of the premier features you'll get to try out include caller blacklists, conference calling, voicemail forwarding, Google voice extensions, multi-ring, voicemail to email, and more.
Buying The Ooma
So where can you find the best deal on Ooma? For me the best deal that I found on the Ooma right now was by buying it direct from the company using a referral code for $99.99. Depending on when you buy yours you may be able to find a similar deal. Check out this link to see if my referral code is still active.
Amazon.com has the unit available everyday for a price of $129.99. Costco also sells the unit and members can sometimes find specials on the Ooma system. Some people have reported getting it for as little as $89.99 refurbished.
Just do your homework when buying the device, find out what specials and promotions are currently available, and find a deal on one of the best new VOIP home phone options!
Are you already using Ooma at your house? Tell us what your experience has been in the comments!