A while back I was researching all of the tips and tricks that my family could use to save on our regular monthly expenses.
I was able to find ways to cut our cell phone bill, get free mobile internet, cut our homeowners and auto insurance rates, cut our home energy costs, cut our cable bill and much more.
One of the more successful ways that we've been able to save hundreds of dollars every year is by cutting our landline home phone service through the phone company, and switching to a VOIP home phone through a company called Ooma.
This past week I got an email from Ooma reminding me that I had been using their service for an entire year now. I thought today would be a good time to take a look back and see just how well Ooma has performed for us in the past year.
Our 1 Year Anniversary With Ooma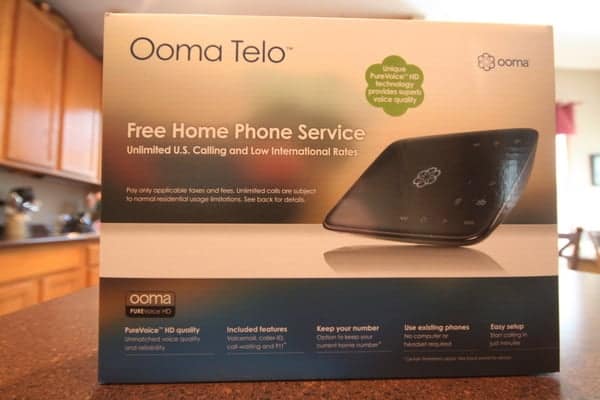 So now that we've been using the service for over a year, are we glad that we switched, are we happy with the service, and would we make the switch again? Yes, yes and yes.
We're happy that we switched and would definitely do it again. The service has worked flawlessly after a few initial bugs, and the savings that we've seen over the past twelve months have more than paid for our initial investment in the Ooma Telo device. More about that later.
Here's a brief look at our un-boxing and setup of the device.
Reasons We Switched To Ooma
Over our first 3 years of using Ooma for our home phone service we will have saved $1218.62 over our previous home phone plan.
There are quite a few reasons that we switched to Ooma. Among them:
Low startup and monthly cost: The cost for the Ooma device itself was affordable at $139.99 (even cheaper now), and the fact that the monthly cost was only $4.53 meant that we were paying almost nothing for monthly service costs. After we paid off that initial investment we'd be saving hundreds of dollars a year. (The monthly costs are mainly for government taxes/fees for 911 service)
Ability to port our number: We were able to port our existing phone number to the Ooma service so that we wouldn't have to give all of our friends and family a new number to call. Porting the number was a quick and easy process.
Service features: We went from having a phone with just caller ID and voicemail for about $44/month, to a phone with a myriad of other features for only $4.53/month. We still have voicemail and caller ID, but now we also have online account access for our voicemail, call logs, call blocking and more. If you pay for the premium package you also get things like voicemail to .mp3 email notifications and a variety of other things. In short you get more services for less money.
Service reliability: I talked with friends who had been using Ooma before jumping on board, and they assured us that the service had been very reliable for them. While it didn't work perfect for everyone in reading online reviews, for the most part they seemed to have very solid reviews.
Hundreds In Savings In Our First Year With Ooma
So how does our cost for our first year of service break down? Here's a detailed look:
Ooma Telo device – $139.99: We got the device on sale for $139.99 a year ago, although you can find it for anywhere from $89.99 refurbished, all the way up to $149.99. The normal everyday price on Amazon is currently $126.20.
Fees, service charges and taxes – $4.53/month: The only monthly fees you'll ever pay are the fees associated with having 911 service on the device, and then state and local taxes. For our zip code it came out to only $4.53/month or about $54.36/year. Find out how much you'd pay a month here: Ooma Tax Calculator.
Phone number porting charge – $39.99: After deciding that the service worked well for us we ported over our phone number to Ooma at a one time cost of $39.99. You can get this for free if you pay for 1 year in advance of the premium service ($9.99/month).
So our out of pocket cost for our first year was a grand total of $234.34.
So how much did we save by using Ooma this first year? If we had stuck with our old phone service provider we would have paid:
Phone company landline – $43.38/month: We paid $43.38/month after service fees and taxes. That would be a grand total of $520.56/year.
So when you figure it out for that first year, we've already saved a total of $286.22 on our phone service in the first year with Ooma.
If you extrapolate that out for the second and third year, we'll save even more with no equipment or porting costs. Year 2 we'll see savings of $466.20, and same in year 3. Here's an approximate cost savings from Ooma for our situation, although it doesn't take into account all the things I mention above.

How Well Has The Service Worked?
The Ooma Telo device only took us about 15 minutes to setup when we got it, however we did have some initial hiccups with the system. At the time we were on an old DSL line that was extremely slow, and we had noticeable latency and delays on some of the calls, and some degraded audio quality. This would especially happen if someone else was online streaming video or something along those lines.
After a call to support we were able to optimize our setup to improve the quality of service. Essentially we had to go into our router's settings and give priority to network traffic from the Ooma device over other internet traffic. After we made a few small changes the majority of delays and poor call quality went away.
After we moved and upgraded our internet connection, things improved even more and we haven't had any issues since then. Our Ooma service has essentially been on auto-pilot and has just worked for the past year. The only downtime we had was when our power went out this winter for a few hours. Other than that it has been rock solid.
Ooma Service Has Been A Big Saver
Signing up for the Ooma service has been a great decision for our family. Even though there were some initial startup costs associated with Ooma, we paid back those costs after a few months just through the savings on our monthly bill. Now those savings are adding up every month and we'll be saving over $450 every year. That's not too bad!
What could your family do with an extra $450?
I would highly recommend that if you're still using a landline at your home to give Ooma a try. I think you'll be happy with the service as well.
Related Ooma Content