Editor's Note: A while ago reader Karen K. emailed me after a post on saving money was published on this site, and offered some of her own tips for saving money on a variety of topics. I told her that her tips might make a good article, and she followed it up by sending me the following about how to live well while living below your means. Take it away Karen!
You asked me how I'm able to live well while living below my means. This article will reveal some things I've learned regarding this subject.
I have done every one of these tips over a 40 plus year period. I also have some principles regarding this lifestyle which I feel are important. These ideas may work for some people, but not everyone will want to do them. Everyone is different.
People's level of comfort level in using these tips may change as time goes on if they get better jobs, experience the death or loss of a spouse, gain a partner, have children and so on.
But to me, living below your means is all about never spending more than income than you have. You may have the "means" to afford a better vehicle, a better house or you may "qualify" for a certain limit on a credit card. But just because you have the means doesn't mean you have to live up to and beyond those means.
I've always bought good quality vehicles, but they were considerably less money than what I could afford.
The same with housing. I haven't had or used credit for almost 2 decades, and have never had a problem. It would be a very rare day that I would do any impulse shopping.
I also never take more than what I need. If I have more than what I need of something, I will share it with someone.
My main areas of spending had to do with food, clothing and shelter. Food spending was and is my number one priority for savings, as it is one of the areas that you can have the most affect on.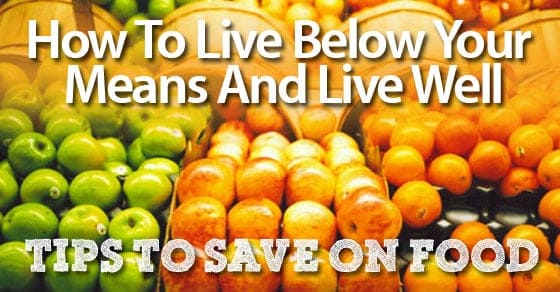 Saving On Food
Food was and still is my number one priority. I don't believe that if you're poor that you can't be and eat healthy. You have to be more creative and it is more difficult if you're a poor person, but it is completely doable.
I was a single parent for 15 years and learned to feed my child very well on very little. Here are some things that I did to save on food, and still do.
Take advantage of free or reduced cost meals: I often worked one or 2 jobs and one was always where I could bring my daughter AND where I would get at least one meal a day for my daughter and myself. I cleaned a daycare, a church and a large house. The owners and the pastor always left a lunch for us. One lady cooked lunch for us on the weekends. I worked in a deli restaurant and at the end of the day I was always sent home with beautiful gourmet sandwiches and home made soups.
Freezing food: My mother bought me a deep freezer and that in itself has always proved to be priceless. I have a much smaller freezer now, but still invaluable. Find great deals on food and freeze the extra!
Grow or pick your own food: I grew herbs on my windowsills when I lived in apartments and gardens from the time that I had a space outside. I also learned to can and preserve food at a young age. Herbs can go a long way in adding flavor and elegance to an inexpensive meal. I've grown berry trees for years. Raspberries for instance are about 4 dollars a pound where I live and I often trade a few pounds or so for other fruit at the farmers markets. I've also picked my own fruit such as blackberries, apples and cherries. It is much more inexpensive to pick your own fruit than even buy it from a market. In regards to vegetables, I buy in season, grow and "trade" with my neighbors. If a neighbor brings me beets, then that's what I eat. Zucchini is one of my favorite vegetables and there are always people that grew too many and just want to get rid of them!
Sales on food items: You should always be careful about this, but can get substantial savings. Little things like bumped cans may not be such a good deal. When they are dented, they can get air in them and be very unsafe. I always used to get to know the butcher, the produce manager and baker of stores. On produce, quite often, the manager would give me boxes of imperfect fruit, such as bananas and apples. I had a lot of apple sauce and banana bread in my freezer, but it was healthy and it was good. I quite often got loaves of day old bread, nothing wrong with it.
Take extras or leftovers: Pay attention to what an employee is taking OFF the shelves. I once got quite a few cartons of yogurt, took it home and froze it. The butcher of one store that I still patronize will cut fresh soup bones for me. I also ask for "ends" of meat which are only the ends of bacon and lunch meats that they don't put in your packaged lunch meats because it doesn't look nice. I still make my own chicken stock and soups and stews and freeze them in portion sizes.
Take advantage of discounts and freebies: I still live below my means, but eat very well as a senior. We have a club in our area (not exclusive) that offers a hot meal once a month. They HAVE raised the price and now you have to pay 3 dollars and bring a side dish! There's entertainment with some of the locals as well and anyone can go. There is a restaurant in the next town and on certain days, they give people a container of fresh soup and artisan bread to take home. There are also plenty of festivals in the summer and plenty of food and samples that you can enjoy as well as the culture and entertainment. I spend about 30 to 40 dollars per week on groceries. This includes some specialty items like a good cheese or cooking items such as olive oil. Where I save money on certain things, I will splurge on some quality items.
Save on meat: I eat very little meat now, but always ate a lot of chicken and fish. I wait for canned salmon to go on sale. I still buy a whole chicken and have the butcher cut it up. I can get quite a few meals out of that, as well as stock for soups and other meals. I eat a lot of brown rice and beans. I always make more than what I'll eat and freeze the leftovers. They are much more nutritious than some other foods.
Find the discount cart!: This is one of my favorite tips when it comes to saving money on food and sundries. That is as long as I can remember, there is almost always a Discount Cart somewhere in the store, including the more expensive stores. You can ask if you can't find it. This is date expired only AND often not expired. The manager may have gotten a new shipment, new product or won't be selling that item again. (discontinued) You never know what you will find! This is usually the first place I head to when I'm in a grocery store. I have purchased everything from toothpaste, high end bath soap, laundry soap, salad dressing, granola bars, health bars, peanut butter, jam, crackers (once again the expensive kind) and the kind of expensive canned crushed tomatoes that I like, as well as coffee, and other canned items. I have also found "promo" samples of expensive body lotions, shampoo, deodorant, candles (both the gift kind and high end). The candles go for 10 cents in the cart and 3 dollars on the floor! They are usually cleared out seasonally. I recently purchased approximately 100 dollars worth of "discount cart" items for 20 dollars!
Keeping track: I keep track of what I buy and spend, as well as having a yearly list of free items I've gotten, discounts received or deals. One year alone, I saved 4,000 dollars just on food, clothing and shelter. I put what the retail value would be and then what I paid for it. When I go "shopping" for a certain item I always check online and do price checks in stores. Where I live, there is one store that the prices are exorbitant, Yet they will have a sale and the prices are much lower. Make sure you double check.
You have to be vigilant when you live a frugal lifestyle – and to save on your food costs. Good luck! – Karen K