Editor's Note: A couple of weeks ago reader Karen K. emailed me after reading some posts on my site about saving money, offering to share some of the things she has learned about saving money on a variety of topics. I told her that her tips might make a good series of articles, and she followed it up by sending me a couple of articles about how to live well while living below your means with tips for saving on food and clothing. Take it away Karen!
In my last post I talked about how to live below your means and live well when it came to your food expenses.
Today I want to share my tips on how to save on clothing.
When it comes to a frugal lifestyle it isn't for everyone, but if you strive to never spend more income than you have you'll find creative ways to save money, and find ways to still live a comfortable lifestyle in the process.
My main areas of spending have to do with food, clothing and shelter. Food spending was and is my number one priority for savings, but clothing was another area where I was able to save quite a bit. Here are some tips.
Saving On Clothing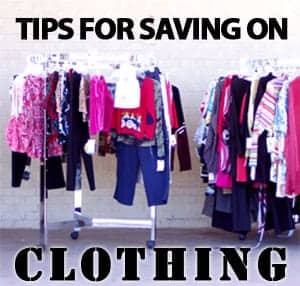 As I mentioned in my last post, I was a single parent for many years, so saving money where we could was a priority, including on clothing.
I spend very little on my clothing, but have a beautiful wardrobe and some very high end clothing. I spent less than 200 dollars total on retail clothing last year. One of those purchases was new, good quality boots. The climate I live in dictates that you don't take chances on foot wear in the winter! If you do some work you can save a ton on clothing and still dress nice.
Coordinating clothing with family or friends: I had the great fortune to have a family member ask me what I wanted or needed. I had this bright idea that since she had a son 10 months older than my daughter to see if I could have his snowsuits when he had grown out of them. She agreed and bought snowsuits in blues, reds and even a black one. I made cute little scarves, mitts and hats in girly colors and my daughter was warm for many winters! He was also a big boy and I got his nearly new boots as well when he'd grown out of them for my daughter.
Get things from the thrift store, or on the clearance racks: I go directly to clearance racks when I shop, as well as to thrift stores. Go where the deals are!
Have clothes swaps: We had clothes swaps for kids in our homes. It was a nice time to get together, share a snack or cup of coffee, as well as to get some nice clothes for our kids. Kids rarely wear clothes out when they are little, before they out grow them. Also, a can of spray starch, and a good iron will take clothes a long ways in caring for them and always looking clean and fresh. I fix , maintain and will size something if it is really nice. For what I have paid for, it is well worth the cost of a bit of thread.
Find jobs where you can get free or reduced cost clothes: I said in the food section, that I had jobs that would not only earn money, but food as well. The same is applicable to getting clothing for very little or FREE. I volunteered for many years (almost a decade) in a wonderful little thrift store in the town I live in. Regular customers get a grocery bag full of whatever you like for 6 dollars! They just raised the price from 5 dollars and that's the first time in 20 years. However, when you volunteer, you get a credit. I think it's 1 dollar per every hour that you volunteer. I know that this sounds ridiculous, but I've been known to walk away with around 200 dollars worth of clothes in the bag!(If you roll clothing into little bundles, you can get a lot in a bag!) Many people clean their closets when a season is over, so I always am able to buy clothing for the next season from the thrift stores. Know your stuff. Take a look online, window shop, pay attention to the retail prices of clothing. I've found and have a lot of expensive clothes that would have cost me a fortune elsewhere.
Look for new items at thrift stores: There are certain things that I don't buy at thrift stores like shoes, bedding and underwear, but only for safety and health reasons. However, on the very rare occasion, if something is sealed or packaged or new, then I will buy it. For instance, I found a very expensive pair of leather shoes last year that weren't even broken in for 5 dollars. (shoes mold to the owner's feet and can be very uncomfortable for someone else, not to mention sanitary conditions) I had purchased a pair of these retail 5 years ago, the exact same brand, different style in a retail shop. I have beautiful coats, jackets, sweaters as well, all from thrift stores. I did re-marry after many years and we had established a date night. I found the most expensive, fantastic jeans on one of my Thrift store excursions (I think they retailed at about 150 dollars) and presented them to my husband. He was absolutely thrilled and so proud to wear them every time date night rolled around.
Free clothes for students or job seekers: There are some training, employment centers and community colleges that give away business clothing to prospective employees. It is often dry cleaned and gently used by good hearted people. You have to ask and it's usually a closet or rack somewhere in the facility. ( It may not be available to the public, just their students)
Giving back with your clothes purchases: I wanted to mention another subject and I think it is quite important. That's the idea of giving back and it should tie in nicely with clothing. I used to think that I was taking from the community until I realized that I shop mainly in church thrift stores or non profit places. The thrift store that I mentioned is both. I don't shop in a thrift store that isn't non profit and that charges taxes. The items that you buy second hand have already been taxed and paid for long ago. As well, every year the church and non profit stores should post a report as to how much money they have made as well as charitable causes, businesses individuals,and church members that they have given donations to in money. You can ask and a reputable one will provide you with that information. Usually, I don't want to know another person's financials, but in this case it is important to realize that even if you don't have a lot of money, you can give back. As well, most of the thrift stores that I am familiar with to date, will give clothing to people that are in dire need. They usually only require a reference from a church or social services.
New items are often found at thrift stores: I've also found a lot of "treasures" that are NEW with tags still on it, like my down filled duvet and a very popular travel hat that retails for over 70 dollars. I paid 75 cents for the hat and it fit like it was made for me. Other things I've found new include gold jewelry, crystal, leather wallets and purses. All you have to do is look.
Think outside the box to find freebies: I have won 2 beautiful handmade quilts from raffles that these Thrift stores have had as further fundraising for their causes and the money goes back into the community. This lifestyle of living below your means doesn't mean that you have to go without or not have nice things or any dignity and class. I think it's quite the opposite and has taught me to be more humble, gracious and to have more pride in the way that I go about my life. You learn to think outside of the box, to be purposeful and creative. You learn too that you don't have to go without too much and that you can live very well on very little.
Ask for what you need: The principle of asking for what you want or need is applicable for everything. In regards to Clothing, I am often asked by lovely people if there is anything that I want or need. I'm careful with my requests and respectful and mindful not to be greedy. In these years there isn't too much that I need or want or that I can't find in the ways I've mentioned. But every once in awhile there will be something. For instance I needed a pair of jeans a few years ago and I looked for a good pair for quite some time. Usually, though when people are finished with some items of clothing (like work clothes) they are often beyond repair and worn out. This time just before Christmas, someone asked me what I would like and I asked if they would be able to get me a gift certificate for a pair of jeans. They thought this was a reasonable request and got me the gift certificate for a nice jean company. I wasn't able to get to the store during Christmas. I was able to afterwards and the company was selling the very same jeans for 50% off! I was able to buy 2 pairs of jeans and with the combined gift certificate, I paid 50 dollars Total! This was a substantial saving of about 100 dollars!
Have your own tips for saving on clothing? Tell us what they are in the comments.