Of those living in Europe during World War II, many lost hope and lost their faith. After all, how could so much suffering and death be allowed?
Corrie Ten Boom's book, The Hiding Place, is one of many true stories about the Holocaust and the barbarianism of World War II. Yet unlike other books, The Hiding Place, shows one family's unwavering faith and devotion to God, even in the face of evil.
The Beginning Of The Horror
Corrie Ten Boom was a middle aged woman living in the heart of Haarlem in Holland with her fifty-four year old sister, Betsie, and her eighty year old father in 1939 when the Germans invaded and ultimately captured the country.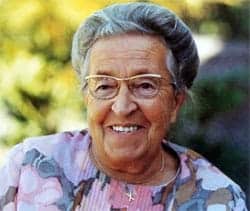 Slowly, things in Holland changed. Corrie and her father ran a watch making and repair shop, and many of their suppliers were in Germany. Soon, much of their mail came back as address unknown because the Jewish shop owners in Germany had been forced to abandoned their businesses. Corrie's own neighbors she hadn't even known were Jewish began to wear yellow stars on their arms.
The Resistance
Corrie's brother, Willem, began to help a few Jews hide. Corrie, Betsie, and their father discussed how they would also help the Jewish, if the opportunity came. When their neighbor, Mr. Weil's store is looted by German soldiers, Corrie jumps into action and finds a way to smuggle Mr. Weil into a safe location.
So begins the family's long journey helping Jewish people in Holland. Corrie quickly becomes the heart of the Dutch Resistance.
An Unwavering Faith In God
The Hiding Place is about Ten Boom's important role as the head of the Resistance, a position that allowed her to save hundreds of Dutch Jews by placing them in safe locations and securing food ration cards for them. However, the book is even more so about unwavering faith and trust in God.
"Never be afraid to trust an unknown future to a known God." – Corrie Ten Boom
Ten Boom knew that others in the city knew what she was doing as the head of the Resistance. She and her father and sister knew that capture was inevitable, yet every time they thought they should abandon their efforts, they simply couldn't turn away a Jewish person knowing that doing so would likely mean death for the individual. So, instead, they faced death themselves for their efforts. However, her father proudly said that he would welcome death if it came at the cost of saving another human being.
When the family is eventually arrested, Corrie and her sister, Betsie, remain together, and in each, their faith grows. When the two women end up in a concentration camp riddled with lice and fleas, Betsie insists that they read a section from First Thessalonians from their small, smuggled Bible. The passage read, "Rejoice always, pray constantly, give thanks in all circumstances; for this is the will of God in Jesus Christ." Immediately Betsie begins to pray for everything she is thankful for, including the biting fleas. While Corrie is a bit disgusted that Betsie gives thanks even for fleas, she later learns that the fleas were indeed something to be thankful for because they afforded the women in the dormitory the freedom to pray as no guard would enter for fear of the fleas.
Throughout the book, both women's faith is unwavering.
I have read many survivors' accounts of the Holocaust, but this one was different from others. Ten Boom focuses less on the atrocities of the German soldiers and more on the day to day discomforts. Whenever she sees something horrendous, she offers it up to God and asks him to take the burden from her. In this way, with her faith even deeper than before, she not only survives her ordeal, but goes on to open a home for those who survive the Holocaust and need a safe place to recover.
Corrie Ten Boom went on to live many more years and spent much of her time telling others about her experience and her faith. Though she's been gone many years now, her message lives on in The Hiding Place.
Have you read The Hiding Place? Is there another book you've read that was a beautiful example of living the faith?