I have always enjoyed detective movies and shows. I envy people who can walk into a room and know minute details about your life just by looking around your desk at work. When I meet people I secretly guess what their subtle habits and practices include. My favorite place to go in someone's house is their library. By taking a quick look at what they read you can get a good sense of what they are interested in. What they are interested in reveals a lot about their personality.
Many Christians have Statements of Faith. They verbalize what they profess about Jesus Christ. His deity, his resurrection, his relationship to God the Father. What if we were to consider our budgets a statement of faith? What if one of these insightful detectives looked at your budget. Would his conclusions about your faith be accurate?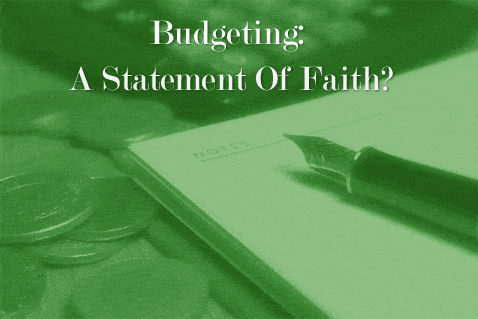 A detailed budget may reveal:
What you care about
What you love
What you are afraid of
What you are planning for
What you are looking towards
What you believe about money
What your needs are
On and on this list could go. These feelings and emotions are deep parts of who we are.
Thus, we could ask: is budgeting spiritual? It is spiritual in the sense that every dollar you direct reveals something about your relationship with God.
So here are some not-so-typical suggestions for spiritual budgeting:
Pray when you set up a budget. Invite God to join you in the process.
Review your budget from a spiritual perspective. Ask, what do these numbers say about my faith? What do these numbers say about my belief? What do these numbers say about my relationship with God?
What do you do to keep budgeting a spiritual discipline?