Have you noticed a creep in your food prices? Do you go to the grocery store armed with a list and a careful budget only to find you go over budget or aren't able to get everything on your list because of rising costs? If so, you're not alone.
Our family has been spending what I think is a fair amount of money on groceries, but still, we are eating through our pantry. Simply put, our grocery money isn't stretching as far as it used to. Are you noticing this too?
Kiplinger's recently reported that grocery prices overall are expected to rise 4% in 2013. This is in large part thanks to the drought in the Midwest last summer. Not only are there fewer cows now because farmers sent many of them to slaughter when it became too expensive to feed them (making beef prices higher now), but chicken farmers are still having to pay higher grain prices, which directly increases the consumer's price of both chicken and eggs.
If you're looking to lower or just maintain your current grocery budget, there are steps that you can take that won't reduce you to becoming a super couponer eating processed food for every meal. By making a few smart moves, you can continue to eat healthy, fresh food.
Strategies You Can Use Right Now
1. Buy in bulk.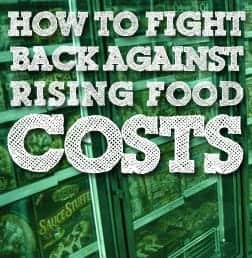 Rather than buying oatmeal in a round cylinder, for instance, consider buying from the bulk bins. You'll likely pay less per pound, and you can buy what you need for the week, rather than buying an amount that will last you several months.
2. Shop discount stores.
Stores like Aldi offer fresh fruits and vegetables and are even beginning to experiment with organic produce. Because you don't pay for the experience to shop there (be prepared for most items to be shelved in the boxes they came in), you can save a significant amount of money.
Another option is to shop at a store like Costco or Sam's Club. Just make sure you stick to your list and know what the best prices are. Not everything at a big box store is cheaper than at a grocery store.
3. Order online.
Amazon offers some excellent sales on products, so again, know your prices and keep an eye on Amazon. We are currently gluten free, but we were able to snag gluten free oats on Amazon at half the price I could find them in the grocery store.
4. Barter with friends.
If you have a surplus of an item that you found on sale, why not see if your neighbors, friends, or family want to barter with you? You may both be able to get some groceries you need without spending a penny in the exchange.
5. Eat lower cost foods.
Beans, ground meat, and certain vegetables are generally lower in price. Create meals and soups around low cost veggies like carrots, celery, potatoes and cabbage. Use meat as a garnish or as part of a soup or stew. Ground meat will be cheaper than steaks, for instance.
6. Find low cost recipes.
When trying to stretch your food dollars, you want to make meals that are cost efficient. You can browse Pinterest or follow bloggers such as the 5dollardinners.com, where each meal she features costs $5 or less.
Strategies to Save in the Upcoming Months
1. Plant a garden.
You don't have to live in the country to benefit from a garden. We rent and can't plant a garden in our yard, so we planted one in a community garden. This year we intend to plant two raised garden beds at the garden to increase our food production and savings. If you have a small porch or deck, you can plant vegetables in pots. You can also have an indoor herb garden.
2. Join a CSA.
CSA stands for community supported agriculture, and for 20 weeks, you'll get vegetables and fruit straight from the farm at a steep discount. We joined two CSAs last year and paid about $45 a week. In return, we got an abundance of fresh vegetables. We had enough for eating fresh each week and for making freezer meals that we are still eating now, in February. A CSA is an excellent way to stretch your grocery dollar. (Go to localharvest.org to find a CSA in your area.)
If you are a couponer, you can certainly use coupons to lower your costs, but even if you aren't, there are plenty of strategies you can use to help rein in the rising cost of groceries. There's no need to resort to processed foods unless you want to. Eating fresh and healthy foods on a budget is still possible, even with rising food costs.
What are your favorite strategies for saving money when grocery shopping?