For many Americans hit hard by the recession, looking at the sales and finding the best deal is something they feel they have to do. Money is tight, and they want to get as much for their money as they can. For some, penny pinching is how they survive unemployment or years without raises.
Then, there are those who like to shop the sales as a hobby. Just look at all of those who pride themselves on being first in line for a Black Friday sale or those who snatch up all the deals after every holiday when things are 70 to 90% off.
However, if you truly want to save money this year, whether it be for paying more on your debt or for putting more in the bank, perhaps the best thing to do is not look at the sales at all.
The Many Ways to Save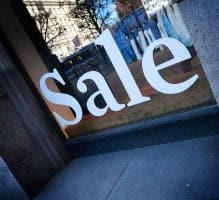 There are so many ways to find deals now. There are blogs that are entirely based on helping readers find the best deals. There are social sites such as Groupon, Living Social, MamaSource, and a host of others. There are online stores and deals. Every week we peruse ads for brick and mortar stores. If you watch television, you will see sale commercials–hurry, open at 6 a.m. for door buster deals! You can even sign up for e-mail alerts for deals. And driving down the street you may see someone standing on the side of the road with a sign advertising a store's liquidation or bankruptcy deals.
We are bombarded every day with sales.
When Sales Aren't Good Deals Anymore
When we see a low price, we feel like we have to buy it now because who knows when it will be this cheap again!? The lower you can get the price, the more you may feel you need to buy.
Look at extreme couponers who haul out two or three carts full of groceries because they can get them for free or nearly free. They likely don't need the majority of the items. They likely have full pantries already. Many extreme couponers admit that they waste a lot of the food because they simply can't keep track of their large stash.
Ask yourself honestly if you NEED the thing that you are buying. Just because the price is low doesn't mean it is a good deal.
Three years ago, I was obsessed with couponing and getting a good deal. One deal blogger mentioned that turtlenecks from Land's End were on sale for $5.99, which is a good price. I promptly headed over there and bought the turtlenecks. The problem? The ones that were priced at $5.99 were in ugly colors that I didn't even like to wear. I never did wear those shirts. I just got caught up in chasing a good deal, which turned out to be a bad deal because I spent $11.98 for two items I never, ever wore.
When you are chasing a deal for something that you don't truly need (or maybe don't even like), you are not saving money. You are wasting money.
Ask yourself honestly if you NEED the thing that you are buying. Just because the price is low doesn't mean it is a good deal.
Only Shop Sales for What You Need
The best way to effectively save money is to shop the sales for something that you NEED. Yes, being able to getting two pair of shoes buy one get one free is a great deal. However, if you already have 10 pairs of shoes in your closet, you are just wasting money on something you don't need.
As a culture, we are conditioned to find the best deals, but often we take it too far. Shopping for things you don't need is never a deal. If you are "saving" money to buy something you don't need, you are only wasting your money. Instead, stop shopping the sales and "save" money by not spending it.
Have you ever found yourself buying something mainly because it was on sale – regardless of whether you needed it or not?