We all like the idea of saving money on a monthly basis. Sure, it feels nice to get a good bargain on the occasional purchase. However, it feels even better to save money each and every month.
The good news is that there are home improvements that can actually save you in the long run. You might have to spend a little bit up front, but the long-term impact can offset your initial outlay — and even help you come out ahead.
1. Seal Up The Air Flow
Check for cracks that are letting air in and out in a way that results in energy loss. Whether it's letting the heat escape during the winter or letting the cool out during the summer, you could be losing money because of airflow.
Do what you can seal up the cracks. Look for cracks and holes near your foundation. Seal up the cracks around your windows and doors. Older homes are especially susceptible to have gaps in basements, so check into that. You can also seal off the attic if you don't use it very much.
Last year, we spent a couple hundred dollars to add more insulation in the top of the house. The result has been monthly savings on heating and cooling costs. It's not a huge savings, but it's adding up each month.
2. Stain Your Deck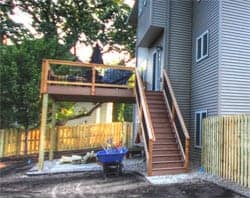 One of the best additions to a home is a deck. People love decks. A nice deck can be a great selling point, as well as provide you with a great deal of satisfaction in your home. However, if you don't take good care of your deck, it will start to fade, and you may need to replace it. Applying a good coat of stain on your deck every three years can extend the life of your deck out to 20 years or more. That's not bad at all. Rather than paying to replace the deck, you just need to buy stain every three years.
I also like to stain my wood deck furniture. It's about time to apply a coat of stain to the solid table and chairs we have outside. The look of the furniture is great, and it will last longer as we take care of it, saving money since we won't have to keep re-buying cheap patio furniture as it breaks.
3. Energy Efficient Appliances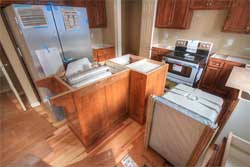 You might not be able to do this all at once, since it can be expensive to purchase energy-efficient appliances. However, if you want to save money, and you have appliances that are 10 years old, you can save by upgrading. This goes for your furnace, air conditioner, refrigerator, washer, dryer, and other appliances. Also, if you have bathroom fixtures that are old and leaking, and not optimized for water conservation, you might consider replacing some of those.
Start with the biggest offenders (we're getting ready to replace the energy-sucking 20-year-old freezer in our garage), and then save up for the next thing. Eventually, you'll have better appliances and a lower energy bill.
What are your best money-saving home improvements?