It has happened to all of us.
You've been dating a girl (or guy!) for a while now but things are just not like they used to be. It might be time to move on.
Are you having similar feelings about your bank? You're not alone!
Actually, millions of Americans have ditched the corporate banks and joined local, more centralized banks and credit unions over the years. In fact, you might be missing out on better rates or better customer service somewhere else.
No one is forcing you to stay with your bank. It might be time to break up with you bank.
I'm going to go through some of the reasons you might want to think about switching banks or leave them altogether. Typically, people just assume all banks are equal, but it's just not true!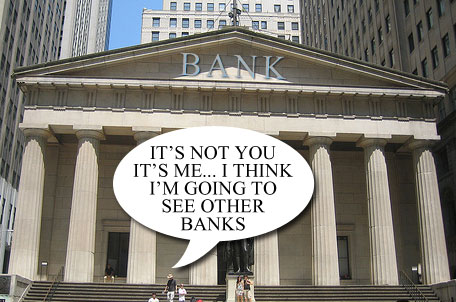 Never settle, always be on the lookout for a better bank. So, what are some good reasons to leave your bank? Let's dive in:
High Fees
This is a no-brainer. Are you sick and tired of hidden fees? Or how about fees because you don't carry a high enough balance? If there is a local bank that offers better rates and fewer fees, why not switch? There is no excuse to stay with a greedy bank.
Relocating
Are you moving any time soon? Some banks are local and not in every state or city. You need to keep this mind when you're moving. You may need to do some research and check for new banks or credit unions in the area you're moving to.
Sub-par Customer Service
No one likes bad customer service, I know I don't. As a matter of fact, poor customer service is probably the one thing that irks me those most. If you find yourself disrespected or ignore multiple times, those are red flags for you to leave that bank.
Abysmal Interest Rates
I drive down main city roads and notice some bank's interest rates are simply outrageous. Why anyone would bank at a place with such low interest rates is beside me. Although we're not talking about big money, a couple percentage points can mean big gains or unrealized losses down the road.
Making The Move
OK, so now you've decided to make the move. Where do you go from here and what are the next steps?
Make an itemized list of what you need and what you don't need. Want free online banking? Or maybe you want the flexibility of multiple bank branches across the US. Whatever the case may be, you need to decide for yourself what you want out of your next bank or credit union.
Switching accounts will take some time. Most banks offer easy sign-ups online. All you need is your social security number and any personal information. You should also update your online linked accounts like Paypal. And don't forget to change your linked checking to your credit cards. People forget about this one more often than you think.
Before you completely close your checking and savings accounts at the old bank, you should wait long enough for any uncleared check to process and deposits to go through. Once all transactions are complete, you can go ahead and close your account. Most banks and credit unions have a formal process they will have you go through.
Time To Move On?
Breaking up with your bank shouldn't be painful or time consuming. However, you do need to do your research and find a bank or credit union that fits your needs. There is paperwork involved, but the process is so worth it if it means that you will save money or headaches in the long run.
Note: Need some suggestions of banks to give a try? Check out the bank rates page for some good alternatives.