I'm always on the hunt for new ways to earn some extra income.
Recently I signed up for PrizeRebel.com which is a site that allows you to earn money during your free time.
It feels like I constantly have down time, whether it's waiting in line at the store, picking up my kids from school, or channel surfing TV. I figured, I should be able to earn a bit of side income with relative ease while I'm not busy with other things.
Here's my breakdown of things I liked and disliked about PrizeRebel, as well as a few tips to maximize your earnings.

Let's take a dive into PrizeRebel and see what it has to offer.
Quick Summary
Tons of ways to earn FREE gift cards.
Tons of surveys.
Good customer service.
No mobile apps
What Is PrizeRebel?
PrizeRebel is a rewards site with over 8 million+ members. They have paid out over $17 million dollars since 2007!

Members are able to earn points by completing activities such as answering surveys, watching videos or completing free offers.
With the points earned, you can exchange them for cash or brand name gift cards at a 1 point to 1 cent ratio. So for every 100 points you earn, you'll be able to redeem them for $1 in gift card credit.
How To Sign Up For PrizeRebel?
Signing up for PrizeRebel is simple.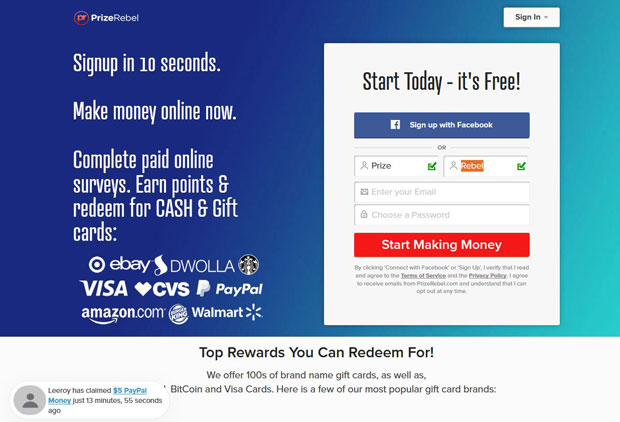 Just head over to PrizeRebel on a desktop or mobile phone browser.
Fill out your name, email, and password. Or if you prefer, sign up with your existing Facebook login with one click. A confirmation email will then be sent to you.
Confirm your account by clicking on the link in your email, and you're all set to start earning.
After your first log-in, you will be prompted to do a walkthrough of the site where the site will give you some hints as to where you can find different things on the site.
Complete the walkthrough and you will quickly earn some free and easy points within minutes.
Tip #1: Once you have completed the walkthrough, fill out the PrizeRebel Questionnaire Profile. By answering the questions truthfully, PrizeRebel will match you with the surveys that best match your demographic for the best high paying surveys.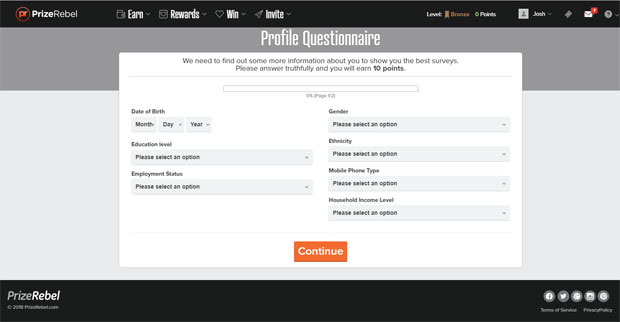 How To Start Earning Money With PrizeRebel
PrizeRebel offers members various ways to earn money. I'll go over the 3 best methods to earn:
Watching videos
Completing offers
Answering questions on surveys
You can find all methods of earning points under their "Earn" drop-down menu.
Let's go over how each one of these works.
Completing Offers
Completing offers is a great way to earn points. Just go to the "Offer Wall" section of the site and start browsing the offers. The"free offerwalls" are a great way to earn points. Most offerwalls require you to sign-up for something or download an application to earn points.
There are hundreds of choices from different partners but make sure you follow exactly what the offer requires by carefully reading the description, or else you won't get credited for the points.
Watching Videos
Watching videos might be the slowest method but is the most consistent earning method.
You earn points based on the number of ads you watch while enjoying videos that interest you. You'll find content about food, celebrities, and various other topics.
Tip #2: Make sure to check if the video provider requires you to make an account and link it with PrizeRebel to earn points.
Answering Questions On Surveys
The best way to earn money on PrizeRebel, in my opinion, is through market research surveys.
With one of the largest inventory of surveys available amongst all other survey sites, the earning potential is endless. Your responses to surveys are anonymous and confidential. They are used to help researchers better market their products and understand user habits.
Tip #3: Consistency is key when doing surveys. Your responses should be the same whether it's at the start or end of a survey. Speeding through survey, missing attention check questions, or inconsistency with your responses will lead to disqualification.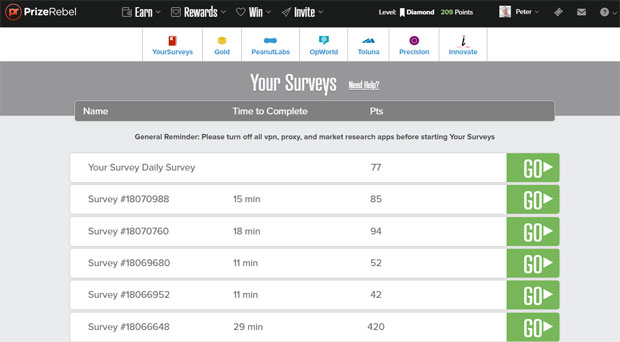 Pros and Cons Of PrizeRebel
PrizeRebel is unique when compared to other rewards sites due to their large inventory of surveys, excellent support team and amazing referral earnings.
With over 10 different survey providers, I was able to see 20-50 surveys a day based on my demographics profile.
Getting help from their customer support couldn't be easier. They pride themselves on getting you a response within 24 hours. PrizeRebel customer supports are also quite proactive in taking down bad surveys, resolving issues and working with both members and survey providers.
I personally love their referral program.
Members can start using the referral program upon signup and earn 15% of whatever your referral earns, with no limit or cap on how much you can earn.
At later tiers, you can earn 20%, 25%, or even up to 30% of what your referral earns! No matter which tier you're on, the referral earnings are a nice bonus!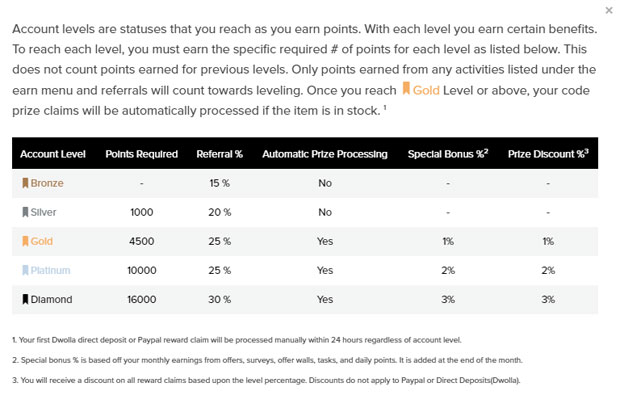 Tip #4: Download the PrizeRebel Extension! It is a great extension to keep updated on your account and referral stats. A bonus perk, they will alert you when there are promo codes for free points!
While there are a lot of positives with PrizeRebel, there are a few things I would like them to improve on.
It can be quite frustrating when you fill out a survey and find out at the end that you aren't qualified. This does occur with all other survey websites that I've joined so it's not a knock against just PrizeRebel. I just wished that the industry as a whole could fix this problem.
Another thing is that PrizeRebel does not offer a standalone mobile app. So if you want to earn points while on the go, you have to use the PrizeRebel mobile site. Luckily for all of us, the mobile site is well done and can easily access everything that appears on the desktop site.
Redeeming Your Points For Rewards
Once you've earned enough points to claim your chosen reward, you can go to the "Rewards" link on the site and choose your prize.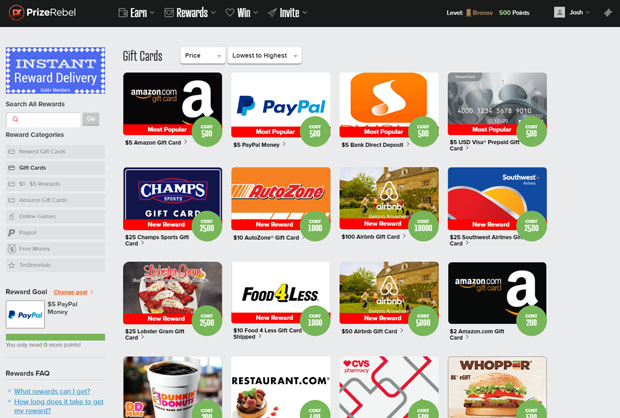 Some of the rewards that you can find on the redemption page:
Visa gift card
PayPal cash payment
Amazon gift cards
Walmart gift card
Itunes gift card
Shopping gift cards from Best Buy, Gamestop, JCPenney, Target and more.
Restaurant gift cards from places like Domino's Pizza, IHOP, Starbucks and Caribou and more.
Personally I prefer to do the straight up cash payments via PayPal because I can use that in any way I choose.
When you request your reward, all claims are processed and completed within 24 hours from the time of your redemption. If you are a gold level account or higher, your claim will be processed within 10 minutes.
Tip #5: If you achieve a a gold level account or higher you will receive a discount on the points needed for your rewards (although not on PayPal cash payments). Gold level accounts receive a 1% discount, platinum receive a 2% discount, and diamond receive a 3% discount on prizes. For example, at a diamond level, a $5 Amazon gift card will cost 485 points, not 500.
The thing about PrizeRebel that I really like is that their rewards don't require you to earn $10 or $20 dollars before you can redeem. You just redeem when you have enough points for your chosen reward, and rewards start as low as you want if it's a custom PayPal payment (You must have at least a silver account to receive a PayPal payment).
For example, the first reward I ever got from PrizeRebel was a $2 Amazon gift card! No need to wait until you have $20 in your account!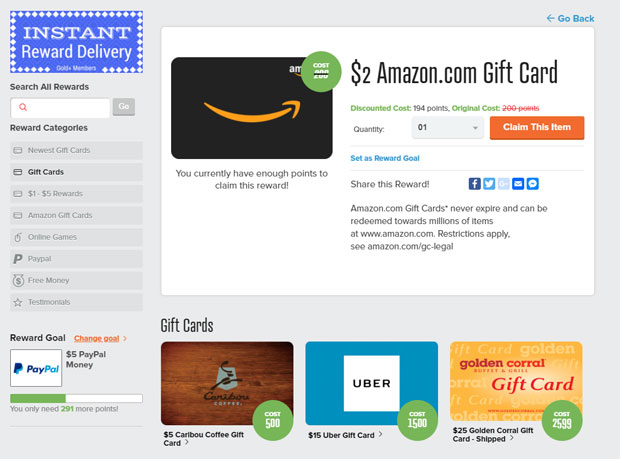 Final Thoughts On PrizeRebel
PrizeRebel is a great site to earn extra income on the side.
Sadly, you won't be able to quit your day job or put a down payment on a new home or car by completing surveys on PrizeRebel, or on any reward site for that matter.
What's great, however, is that you can earn extra income during your free time with a majority of users making $50-500 a month. That's not too shabby!
Don't wait, Sign up today on PrizeRebel and start earning in your free time.