With Mother's Day approaching, I've been reflecting on how blessed I am to have had such wonderful mothers in my life.
My wife is a wonderful mother. She cares deeply about our children, and is always putting their needs ahead of her own. She is much more caring and sensitive to their needs than I am, and she does things for them that don't even occur to me. I'm so thankful for all she does.
The older I get the more I understand just how much my own mother did for us when we were growing up. She got up early to make our lunches and made us breakfast every day. She drove us to and from school and sports practices, and instilled in us a love for music and learning while she was homeschooling us for many years. Her goal was to make sure we felt loved, and we did. She was always busy with us 3 boys, and on the go. She could have had a good career with her Biology degree, but she chose to be a stay at home mother with us.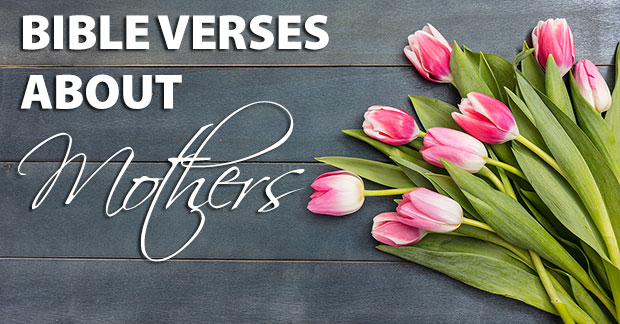 Being a mother is often a thankless task, one with late nights and early mornings, endless laundry, cleaning and cooking, and caring for sick kids. For many moms they do all this while working a full time job. I can't even imagine.
As we come up on Mother's day many of us are scrambling to find the perfect Bible verse for a Mother's Day card. In that spirit I want to take the time to look at a selection of Bible verses about mothers. These verses talk about what it means to be a mom, explore why we should listen to our mothers, and give encouragement and strength to moms in the midst of hardship.
Bible Verses About A God Fearing Wife And Mother
God calls on a wife and mother to be a woman of strength, courage and wisdom.
She should rely on God through thick and thin, and lead her children to a knowledge of His saving grace.
"I remember my mother's prayers and they have always followed me. They have clung to me all my life." – Abraham Lincoln
Proverbs 31:10-12 Who could ever find a wife like this one- she is a woman of strength and mighty valor! She's full of wealth and wisdom, the price paid for her was greater than many jewels. Her husband has entrusted his heart to her, for she brings him the rich spoils of victory. All throughout her life she brings him what is good, and not evil.
1 Peter 3:4 You should clothe yourselves instead with the beauty that comes from within, the unfading beauty of a gentle and quiet spirit, which is so precious to God.
1 Samuel 1:26-28 "Please, my lord," she said, "as sure as you live, my lord, I am the woman who stood here beside you praying to the Lord. I prayed for this boy, and since the Lord gave me what I asked Him for, I now give the boy to the Lord. For as long as he lives, he is given to the Lord." Then he bowed in worship to the Lord there.
2 Timothy 1:5 I remember your genuine faith, for you share the faith that first filled your grandmother Lois and your mother, Eunice. And I know that same faith continues strong in you.
Proverbs 31:25 "She is clothed with strength and dignity; she can laugh at the days to come."
Luke 1:46-48 And Mary said My soul proclaims the greatness of the Lord, and my spirit has rejoiced in God my Savior, because He has looked with favor on the humble condition of His slave. Surely, from now on all generations will call me blessed.
Proverbs 31:30 Charm is deceitful, and beauty is vain, but a woman who fears the Lord is to be praised.
1 Peter 3:4 But let your adorning be the hidden person of the heart with the imperishable beauty of a gentle and quiet spirit, which in God's sight is very precious.
Galatians 5:22 But the fruit of the Spirit is love, joy, peace, patience, kindness, goodness, faithfulness, gentleness, self-control; against such things there is no law.
A Mother Comforts And Loves Her Children
There is nothing like a mother's love, she loves her children unconditionally. She knows just the right thing to do or say to make them feel better when they're down.
In 1st Corinthians it talks about the nature of love, and speaks to how a godly mother will act towards her children.
"A mother understands what a child does not say." – Jewish Proverb
1 Corinthians 13:4-7 Love is patient, love is kind. Love does not envy, is not boastful, is not conceited, does not act improperly, is not selfish, is not provoked, and does not keep a record of wrongs. Love finds no joy in unrighteousness but rejoices in the truth. It bears all things, believes all things, hopes all things, endures all things.
Isaiah 66:13 As a mother comforts her child, so will I comfort you; and you will be comforted over Jerusalem.
Isaiah 49:15 Can a woman forget her nursing child And have no compassion on the son of her womb? Even these may forget, but I will not forget you.
"The love of a mother is the veil of a softer light between the heart and the heavenly Father." – Samuel Taylor Coleridge
1 Corinthians 13:13: And now these three remain: faith, hope and love. But the greatest of these is love.
Ephesians 4:32: Be kind to each other, tenderhearted, forgiving one another, just as God through Christ has forgiven you.
1 John 4:19 We love because he first loved us.
A Mother's Wisdom And Teaching
Mothers are on the front lines when it comes to teaching our kids and raising them up in the way they should go.
A mom should display a godly example of what love is, teach her children about God, and what it means to be Christ-like.
Proverbs 22:6 Start children off on the way they should go, and even when they are old they will not turn from it.
Song of Solomon 8:2 I would lead you and bring you to my mother's house she who has taught me. I would give you spiced wine to drink, the nectar of my pomegranates.
Proverbs 31:26-27 She opens her mouth with wisdom, and loving instruction is on her tongue. She watches over the ways of her household, and does not eat the bread of idleness.
Proverbs 1:8-9 Listen, my son, to your father's instruction, and don't reject your mother's teaching, for they will be a garland of grace on your head and a gold chain around your neck.
"There is more power in a mother's hand than in a king's scepter." – Billy Sunday
Titus 2:3-5 Likewise, teach the older women to be reverent in the way they live, not to be slanderers or addicted to much wine, but to teach what is good. Then they can urge the younger women to love their husbands and children, to be self-controlled and pure, to be busy at home, to be kind, and to be subject to their husbands, so that no one will malign the word of God.
Deuteronomy 4:9 Only be careful, and watch yourselves closely so that you do not forget the things your eyes have seen or let them fade from your heart as long as you live. Teach them to your children and to their children after them.
Proverbs 31:26 She opens her mouth with wisdom, and the teaching of kindness is on her tongue.
Deuteronomy 6:6-7 And these words that I command you today shall be on your heart. You shall teach them diligently to your children, and shall talk of them when you sit in your house, and when you walk by the way, and when you lie down, and when you rise."
Honoring Your Mother
We should honor and respect our mothers. Jesus thought of his mother when he was nailed to the cross. He directed a disciple he loved to honor and take care of his mother. Likewise, we are to honor our mothers for the godly example that they set.
John 19:26-27 "When Jesus saw his mother there, and the disciple whom he loved standing nearby, he said to her, "Woman, here is your son," and to the disciple, "Here is your mother." From that time on, this disciple took her into his home."
Proverbs 31:28 Her children arise and call her blessed; her husband also, and he praises her.
John 19:26-27 "When Jesus saw his mother there, and the disciple whom he loved standing nearby, he said to her, "Woman, here is your son," and to the disciple, "Here is your mother." From that time on, this disciple took her into his home."
Ruth 3:5-6 "I will do whatever you say," Ruth answered. So she went down to the threshing floor and did everything her mother-in-law told her to do."
1 Peter 4:8 Above all, maintain an intense love for each other, since love covers a multitude of sins.
1 Timothy 5:2 Treat older women as you would your mother, and treat younger women with all purity as you would your own sisters.
Ephesians 6:1-3 Children, obey your parents in the Lord, for this is right. "Honor your father and mother"—which is the first commandment with a promise— "so that it may go well with you and that you may enjoy long life on the earth."
Deuteronomy 5:16 Honor your father and your mother, as the Lord your God has commanded you, that your days may be long, and that it may be well with you in the land which the Lord your God is giving you.
Proverbs 23:22-25: Listen to your father who gave you life, and do not despise your mother when she is old. Buy truth, and do not sell it; buy wisdom, instruction, and understanding. The father of the righteous will greatly rejoice; he who fathers a wise son will be glad in him. Let your father and mother be glad; let her who bore you rejoice.
Proverbs 31:31: Honor her for all that her hands have done, and let her works bring her praise at the city gate.
Being Thankful For Moms
I am so thankful to have a mother who loves God with all of her heart. Her example has helped guide me to a strong faith in Christ.
"Only God Himself fully appreciates the influence of a Christian mother in the molding of character in her children" – Billy Graham
Philippians 1:3 I thank my God every time I remember you.
Proverbs 23:25 Let your father and mother have joy, and let her who gave birth to you rejoice.
Proverbs 31:29 There are many virtuous and capable women in the world, but you surpass them all!
Psalm 127:3-4 Behold, children are a heritage from the Lord, the fruit of the womb a reward. Like arrows in the hand of a warrior are the children of one's youth.
Psalm 139:13 For You formed my inward parts; You knitted me together in my mother's womb.
Encouragement And Strength For Mothers In The Bible
Most mothers work hard and manage to do just fine with little help. Invariably, however, there will be times when they're feeling overwhelmed. In those hard times it's so important to look to God for encouragement, strength and support.
Here are some verses that speak to where we can look to for strength.
"Successful mothers are not the ones who have never struggled. They are the ones who never give up, despite the struggles." – Sharon Jaynes
Philippians 4:6 Do not worry about anything, but in everything by prayer and supplication with thanksgiving let your requests be made known to God. And the peace of God, which surpasses all understanding, will guard your hearts and your minds in Christ Jesus.

John 14:27 Peace I leave with you; my peace I give you. I do not give to you as the world gives. Do not let your hearts be troubled and do not be afraid.
Psalm 34:4 I sought the Lord, and he answered me, and delivered me from all my fears.
Joshua 1:9 Be strong and courageous; do not be frightened or dismayed, for the Lord your God is with you wherever you go.
Psalm 145: 18-19 The Lord is near to all who call on him, to all who call on him in truth. He fulfills the desires of those who fear him; he hears their cry and saves them.
2 Timothy 1:7 For God did not give us a spirit of timidity, but a spirit of power, of love and of self-discipline.
Psalm 138:3 When I called, you answered me; you made me bold and stouthearted.

Psalm 16:8 I have set the Lord always before me. Because he is at my right hand, I will not be shaken.
2 Corinthians 12:9 My grace is sufficient for you, for my power is made perfect in weakness.
Philippians 4: 12-13 I know what it is to be in need, and I know what it is to have plenty. I have learned the secret of being content in any and every situation . . . . I can do everything through him who gives me strength.
2 Thessalonians 3:3 But the Lord is faithful, and he will strengthen and protect you from the evil one.
3 John 1:4 I have no greater joy than to hear that my children are walking in the truth.
1 Peter 4:8 Above all, keep loving one another earnestly, since love covers a multitude of sins.
God, The Most Perfect Parent
While our moms can be a good example of God's love for us, they are an imperfect vessel. They will fail from time to time.
Only God shows us what perfect parental love is. He gives us a love that is caring and compassionate, patient, forgiving and full of grace.
Even if you don't have a relationship with your earthly mother, you can have a relationship with the ultimate parent, God.
All you have to do is repent and confess your sins (Rom 10:9-13), and then put your trust in Him. If you do that you can be born again and inherit eternal life (John 3:16).
God loves you, and wants to have a relationship with you. He'll be the most loving and caring parent you could hope for.
If you declare with your mouth, "Jesus is Lord," and believe in your heart that God raised him from the dead, you will be saved. For it is with your heart that you believe and are justified, and it is with your mouth that you profess your faith and are saved. As Scripture says, "Anyone who believes in him will never be put to shame." For there is no difference between Jew and Gentile—the same Lord is Lord of all and richly blesses all who call on him, for, "Everyone who calls on the name of the Lord will be saved." Rom 10:9-13

For God so loved the world that he gave his one and only Son, that whoever believes in him shall not perish but have eternal life. John 3:16
More Bible Verses On Important Topics