If you're looking for a new bank, BBVA is a banking institution with hundreds of local branches in several states across the country.
But it's also an online bank, and a full-service one at that.
Not only do they offer free checking, one of the highest yielding money market accounts in the industry, and very competitive rates on CDs, but they also provide the full range of loans, small business banking, and both self-directed and managed investment options.
If you're looking for a one-stop financial shop, BBVA can be the place to find it.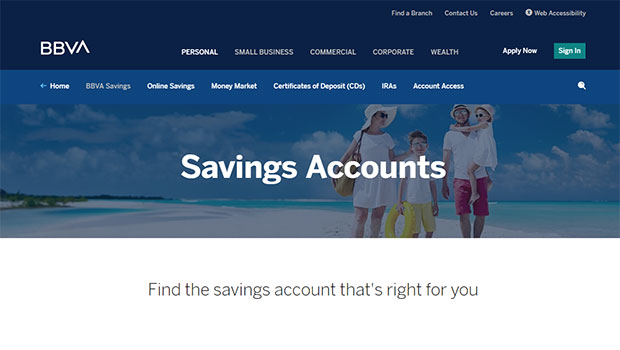 Quick Summary
Full service online bank
Low and no fee accounts.
High rates on select accounts.
Low minimum opening deposits
About BBVA Bank
BBVA Bank was founded in 1964 as Central Bank and Trust Company of Birmingham Alabama. After a series of mergers, the bank became Compass in the early 1990s. It then became BBVA Compass Bank in 2007 when it was acquired by Banco Bilboa Vizcaya Argentaria, the second-largest bank in Spain. In 2019 it became known as just BBVA globally.
Today, BBVA is the 30th largest bank in the US, with more than $90 billion in total assets. The bank operates 644 branches in Alabama, Arizona, California, Colorado, Florida, New Mexico, and Texas.
BBVA Features and Benefits
Available accounts. Checking, savings, and money market accounts, as well as certificates of deposit (CDs) and IRA CDs. IRAs are available in traditional, Roth, and rollovers. Coverdell education savings accounts are also available.
Minimum opening balance. $25 on checking, savings, and money market accounts, and $500 for CDs.
Simple Cash Back. You can receive cashback on eligible purchases made with your BBVA Bank debit or credit card. It's available for both Mobile and Online Banking, and there are no additional fees for the service. Offers are based on your spending behaviors, which means you'll earn cashback on the things you purchase the most. The cashback rewards are deposited directly into your account the month after your qualifying purchases.
Bill Pay. It enables you to pay anyone in the US electronically. If the party cannot receive electronic payments, the bank will print a check and mail it to them. Use it to pay bills or transfer money to individuals. You can even set up automatic payments.
ATM Network. 55,000 Allpoint and BBVA bank ATMs.
Online Banking. BBVA has hundreds of branches across several states, but all banking can also be done online.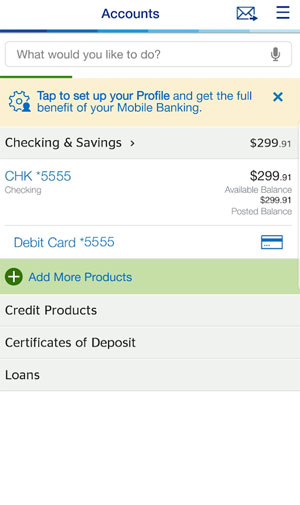 Mobile Banking. It has all the functionality of Online Banking but also offers mobile bill payments, mobile deposits, and Popmoney, which enables you to send money to a person's email address or mobile phone. The mobile banking app is available on Google Play for Android devices, 4.4 and up. It's available at the App Store for iOS devices, 10.3 and later, and is compatible with iPhone, iPad, and iPod touch
Customer service. The Bank can be contacted by phone Monday through Friday, 7:00 am to 10:00 pm, and Saturdays, 8:00 am to 4:00 pm, Central time.
BBVA Account Security
Deposits at BBVA are FDIC insured, for up to $250,000 per depositor.
Bank security includes Secure Socket Layer (SSL) connections, encrypting information transmitted between you and the Bank. They also offer Online and Mobile Banking alerts to notify you of an authorized or unusual activity on your account.
BBVA Checking Accounts
BBVA offers four different checking accounts:
Free Checking
You can apply for the free checking account with a minimum initial deposit of $25, and there is no monthly service charge. There are also no ATM fees at in-network ATMs.
The account comes with Mobile and Online Banking, Bill Pay, free unlimited checking, and free online and paper statements. You'll also receive a Visa Debit Card for the account. The card comes with Simple Cash Back.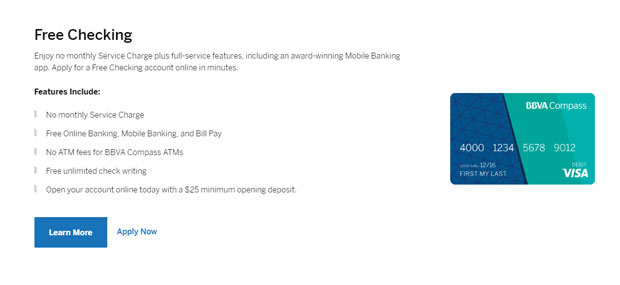 Convenience Checking
The Convenience Checking account also comes with a minimum initial deposit of $25, and no monthly service charge. But its main benefit is that there are no ATM withdrawal fees at 64,000 Allpoint and BBVA ATMs.
It also comes with Online and Mobile Banking, Bill Pay, and Simple Cash Back for your everyday debit card purchases.
Premium Checking
Interest Checking comes with all the benefits and features of the other checking accounts but adds interest to the mix. It pays a competitive interest rate, with rates depending on the amount you deposit. See their site for current rates. The account requires a minimum initial deposit of $25. But you also get two rebates per statement for ATM fees charged by other banks.
The account has a monthly service charge of $25, but it can be avoided if you maintain an average daily collected balance of at least $5,000 in your account, or a combined average daily collected balance of the least $25,000 in the account, plus a ClearConnect Money Market Account (see below).
Easy Checking
This is BBVA's second chance checking account. If you don't qualify for one of the other checking accounts, you'll be offered this option. It's for those who are unable to get a traditional checking account due to an unsatisfactory previous bank relationship.
When you apply for the account, you can request an upgrade to another account after 12 months if your Easy Checking account is in active status and has a positive balance.
The account requires a minimum initial deposit of $25 and comes with unlimited check writing, a Visa Debit Card, Online and Mobile Banking, Bill Pay, and no fees at in-network ATMs.
Checking Account Fees
BBVA charges the following fees:
Unlimited supply of standard checks, $2
Cashier's checks, $2
Paper statements (unless fee not required for the account), $3
3X5 inch safe deposit box, $3 per month
Up to four automatic rebates per statement cycle for ATM fees charged by other banks, $5
Insufficient funds for a returned item, $38 ($12 when linked to a savings account or overdraft line of credit)
Deposit item return fee, $15
Stop payment fee, $32 ($25 if the request is made online)
Early account closing fee, $0
International service fee at ATMs, 1% of the transaction amount
International service fee, non-ATM, 3% of the transaction amount
Incoming domestic and international wire fee, $15
Outgoing domestic wire fee, $30
Outgoing international wire fee, $45
BBVA Savings Products
BBVA offers two savings accounts, a money market, and certificates of deposit (CDs):
BBVA Savings Account
This is an interest-bearing savings account, paying a competitive rate on all balances. The account requires a minimum opening deposit of $25 and can be linked to a checking account to provide overdraft protection.
There are no ATM fees at in-network ATMs, and no monthly or quarterly service charge. However, you're limited to no more than four withdrawals per statement cycle and will be charged a $3 fee for each excess transaction.
Online Savings Account
This account also pays interest on all balances at a competitive rate and has a minimum opening deposit of $25. The account can be used to provide overdraft protection for checking accounts, and you'll pay no ATM fees and in-network ATMs.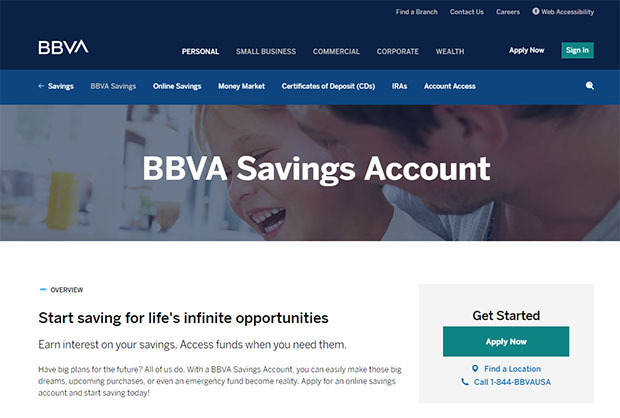 There is a $15 quarterly service charge, which can be waived if you have automatic, recurring monthly transfers of $25 or more from a BBVA checking account or you maintain a minimum daily collected balance of $500 or more.
Money Market Account
This account requires a $25 minimum opening balance, and you can set up transfers from your checking account or by linking it to an external bank account. There is a limit of six transactions per monthly statement cycle.
The account is available in all states except Alabama, Alaska, Arizona, California, Colorado, Florida, Hawaii, New Mexico, and Texas.
BBVA CDs
BBVA offers CDs in four terms, 11 months, 12 months, 18 months, and 36 months. See their site for current rates.
The minimum investment in each CD is $500, and there are no maintenance fees. Interest can be paid monthly, quarterly, semiannually, annually, or at the time of maturity. It can be paid by check or transfer to another account. CDs will automatically renew unless you choose otherwise.
CDs are available for IRAs, which permit two additional deposits into your CD per calendar year.
BBVA Bank Fees
Fees charged on BBVA savings products are similar to those for their checking accounts. However, there is a $3 fee to use another bank's ATMs.
There's also a $3 fee if you exceed four transactions per statement cycle on any savings products. An early account closing fee of $25 applies to new accounts closed within 180 days of opening.
CD Early Withdrawal Penalties
As is typical of all banks, BBVA imposes early withdrawal penalties on its CDs.
The penalties applied are determined by the length of the CD, and are as follows:
Terms one year or less: $25, plus 1% of the amount withdrawn.
Terms one year or more: $25, plus 3% of the amount withdrawn.
BBVA Loan Programs
The Bank offers credit cards, personal loans, auto loans, mortgages, home equity loans, and home equity lines of credit.
Credit Cards
BBVA offers four different credit cards:
Rewards Card
You start with a $100 account credit when you open a new account and make at least $1,500 in purchases in the first 90 days. The card also offers a 0% introductory APR for 13 months on balance transfers made within the first 60 days. After that, the interest rate is a variable 13.49% to 31.49% APR, based on your creditworthiness. There's no annual fee, and you can earn unlimited 2% rewards on all purchases with a monthly direct deposit to a BBVA deposit account.
ClearPoints Credit Card
This card also offers a $100 account credit after your first $1500 in purchases within 90 days. It has a 0% introductory APR for 13 months on both purchases and balance transfers. There is no annual fee, and the interest rate is variable at 13.49% to 31.49% APR, based on your creditworthiness.
You can choose from a list of 10 predetermined rewards categories, and earned 3X unlimited points in one category, and 2X unlimited points for another. You'll then earn 1X unlimited points on all other purchase categories. Categories are selected each quarter.
Select Credit Card
Just as is the case with ClearPoints Credit Card, you can choose your rewards using the same arrangement. But you'll also earn an additional 1,000 bonus points each month you make at least $5,000 in qualifying purchases. You can also earn $100 in account credits after making $20,000 in qualifying purchases.
The annual fee is $125 but is waived in the first year. The interest rate is a very low 15.49% to 19.49% variable APR, based on your creditworthiness.
Optimizer Credit Card
This is a secured credit card, collateralized by a savings account. It's designed for those who cannot qualify for a traditional credit card. It works like a regular credit card and has an interest rate of 24.49% variable APR. The credit line can be increased at any time with additional deposits to the securing savings account.
Personal Loans
You can borrow up to $35,000 online (or up to $100,000 in person or by phone) on an unsecured personal loan. Your funds can be received as early as the same day. Terms range from 12 to 72 months. The line offers fixed APRs ranging from 4.99% to 28.99%, based on your creditworthiness. There are no fees, and the proceeds can be used for any purpose.
Auto Loans
BBVA offers auto loans from $5,000 and up, with terms between 12 months and 72 months. Interest rates start at 6.74% APR (5.24% APR for loan amounts of $15,000 or more). Loans are available for new and used vehicles.
Mortgages
You can apply for a mortgage loan online. The bank offers both conventional mortgages and Jumbo mortgages (loan amounts greater than $484,350), as well as FHA and VA loans. They also offer no- and low-down-payment loans, lot loans, and construction-permanent loans. Loan terms are 15 to 30 years for both fixed and adjustable-rate mortgages.
But one very interesting and unique option is their Professional Mortgage Loan. It provides mortgage financing for medical residents, practicing physicians, attorneys, oral surgeons, dentists, and CPAs. You can borrow up to $1.75 million with a low-down payment, and no requirement for private mortgage insurance.
What's more, deferred student loans can be excluded from your debt qualifying ratio in some scenarios. The loans can be used for purchase, refinance, construction, and even home equity.
Home Equity Loans and Home Equity Lines of Credit (HELOCs)
With home equity loans you can borrow between $10,000 up to $500,000, at fixed rates starting at 4.64% APR. You may even be able to qualify for special bank paid closing costs.
The HELOC is a line of credit, that works much like a credit card secured by your home equity. Rates on the line currently start at 5.49% variable APR, and there is also an interest-only option to lower your monthly payments. There is an annual fee of $75, plus $75 for each fixed-rate advanced taken, though this fee is waived on your first transaction.
You'll have up to 10 years to draw funds from your HELOC. After that, you'll have 10 years to repay the balance if it's less than $20,000, or 15 years if it's more than $20,000. The maximum APR on the line is 18%.
Small Business Banking
The Bank offers small business banking, providing business checking and savings accounts, as well as credit cards, merchant services, and online payroll services. They also offer online and e-commerce solutions.
Business loan programs include small business lines of credit, business term loans, commercial real estate loans, and Small Business Administration (SBA) loans. In fact, BBVA is one of the 10 leading SBA lenders in the country.
Investments
You can invest where you bank, through BBVA Group, a financial services group with operations in more than 30 countries. They provide full-service brokerage services with a financial advisor or a self-directed brokerage account. They even have their own robo-advisor, SmartPath Digital Portfolios. With $10,000, you can invest in five different portfolio models, ranging from conservative to aggressive, at an annual fee of 0.75%.
Self-directed investing requires a minimum of $100 and offers a trading fee of $9.95 for stocks, exchange-traded funds, and mutual funds. You can also invest in options.
The full-service brokerage service provides fixed and variable annuities, mutual funds, unit investment trusts, professionally managed portfolios, fixed income securities, and wealth transfer solutions. If you have a business, you can also set up a SIMPLE or SEP IRA.
How to Apply For a BBVA Bank Account
BBVA has a different application for each account type, such as checking, savings, and loans. But for a checking account, the following are required: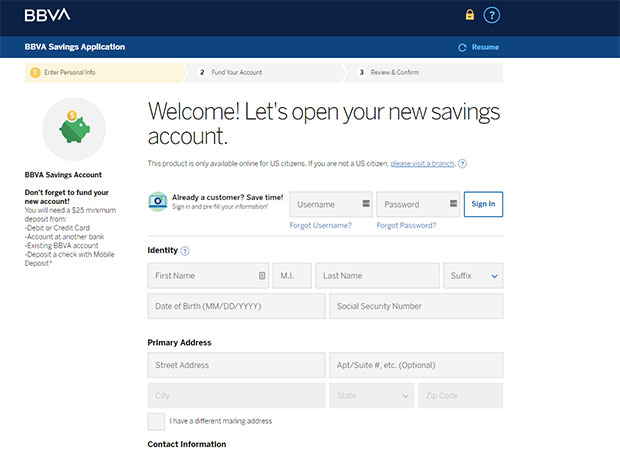 Your full name
Your primary home address
A valid phone number
A valid email address
Your Social Security number
Your driver's license information, or other state-issued identification
Employment and income
Information for a joint account holder, if applicable
You can fund your account by debit or credit card, a transfer from another bank or an existing BBVA account, or by depositing a check with Mobile Deposit.
BBVA Bank Pros and Cons
Pros:
BBVA is a full-service, online bank, offering checking and savings products, as well as CDs, IRAs, credit cards, auto and personal loans, and home financing.
The Bank also offers business banking for small businesses.
You can invest where you bank, with either self-directed or fully managed investing, or even a robo-advisor option.
Apply for a checking, savings or money market account with as little as $25, or a CD with just $500.
BBVA Bank offers rates on its CDs that are competitive with other online banks.
Earn cash back on purchases with your Visa debit card.
The Professional Mortgage Loan offers real estate financing with relaxed guidelines for professionals, like doctors, dentists, attorneys and CPAs.
Easy Checking provides an opportunity for those with an unsatisfactory prior bank history to open a checking account.
Cons:
Yields on savings accounts aren't competitive with other online banks.
Banks typically limit the number of transactions on savings and money market accounts to no more than six per month per Federal Regulation D. But BBVA reduces that limit to no more than four per monthly statement cycle on its savings accounts.
Early withdrawal penalties on CDs are higher than most other banks, at $25, plus 1% or 3% of the amount withdrawn.
Should You Apply an Account with BBVA?
Most online banks offer a limited menu of high-yield savings accounts, money markets, and CDs, giving you an opportunity to earn high interest on your savings. But in most cases, you'll need to maintain a local bank relationship, for other banking services like checking accounts and loans.
But with BBVA, there's no need to continue your local bank relationship. They're a full-service online bank, offering everything your local bank has, plus high-yield savings options. That includes several checking accounts, credit cards, personal and auto loans, and the full range of home financing options. The even offer business banking and investments.
If you move your money to BBVA, you'll be able to fire your current, low interest paying local bank. They have everything you need under one roof.
If you'd like more information, or you'd like to apply an account, visit the BBVA website.