The benefits of learning to play a musical instrument are multiple.
Studies have shown that kids who take music lessons and learn to play a musical instrument improve certain mental skills that help with math and science.
In addition, music has its own culture, and by playing an instrument, your child joins that culture.
Music can also help the musician develop patience and pride in their achievement, among many other benefits.
Hiring a music teacher and buying an instrument can be budget busters, however, if you're not careful.
Luckily, there are many ways to find teachers and instruments that are cost-effective.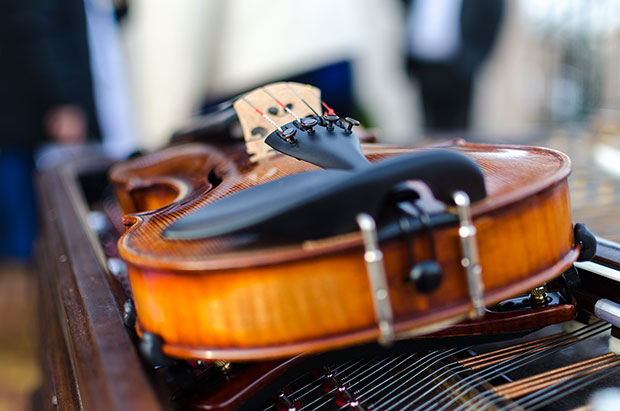 Finding Music Teachers
If your children are in school, they can likely join the school band. However, if they're too young for school, if they attend a school without a band, or if they homeschool, there are other ways they can learn to play an instrument.
Online Music Lessons
If your child is young or just beginning to play an instrument, he could try online lessons.
There are online piano, guitar and violin lessons, to name a few. If your child is diligent with practicing and enjoys playing the instrument after a few months, the time may have come to hire a real teacher.
Online lessons can be a good first step because unfortunately many kids express interest in learning to play an instrument, but then quickly lose interest.
Music Lessons From University Students
If you have a local university, check with the fine arts department to see if there are any music students who are giving lessons.
A college freshman music major should do just fine working with elementary or middle school students.
An older college student could give your high schooler music lessons, and since the university music students still aren't degreed, they will likely offer a lower rate than a more seasoned music teacher.
Ask For Recommendations For Music Teachers
Ask other parents who their child goes to for lessons.
This may or may not help you find a lower cost instructor. Either way, you should be able to find a good, reputable instructor if you've exhausted other options.
Finding The Instrument
Finding the music teacher is just one part of the equation. Next you need to find the instrument.
The best bet for a beginning music student is to choose a used instrument.
Rent Your Instrument
Renting an instrument might be the best way to go in the beginning. If your child decides she doesn't like the instrument, it's easy to return the instrument, and you're not out hundreds of dollars. Also, young children who play some instruments such as the violin will outgrow their instrument after a few years and need a new one, so renting might be the best idea.
Put Out The Word To Friends & Neighbors
Tell your family and friends that your child is interested in a particular instrument. Chances are you may find someone who has that particular instrument that they are no longer using.
When I was in high school and wanted to play piano, my mom put out the word, and a friend of a friend sold us their piano for $100. I've also heard of several people getting pianos for free because the family just wanted it out of their house.
Check With Local High Schools
Local high schools often know where you can buy used instruments, for instance, from seniors who are graduating and no longer want to play the instrument.
You could deal with the family selling the instrument yourself, or you could ask the music teacher to play the middle man for a small commission.
Ebay
If you know what you're looking for in an instrument, eBay or other online classifieds might be a good place to buy the instrument. Do some research, take your time and know what you're looking for. I wouldn't recommend this if you don't know much about the musical instrument in general, however.
Playing an instrument can be a wonderful experience for a child. Rest assured, if you're worried about the cost, there are ways to give your child a musical education without spending a small fortune.
Do you or your kids play musical instruments? If so, what advice would you give others for finding a reasonably priced teacher and instrument?