With the temperatures dipping in the 30's this week, the Midwest is starting to feel Old Man Winter creep in quickly! Unfortunately, the cold usually means higher energy bills and sometimes unexpected repairs, but with a little planning, you can avoid some of the extra costs that come with the cold.
1. Stop Drafty Windows And Doors
The US Department of Energy estimated that 5-30% of your energy use is wasted because of drafty windows and doors.
Solution: We noticed a significant difference in the draft from our patio door when we sealed it with a plastic window film kit made by Duct Tape. Using a blow dryer, you stretch the plastic until it's tight, which creates an insulated barrier between your home and the cold glass. Depending on how you apply the plastic, you might be able to seal up edges that let cold air creep in. For a more archaic way of blocking a draft, you can roll up a towel and put it up against a door or window frame.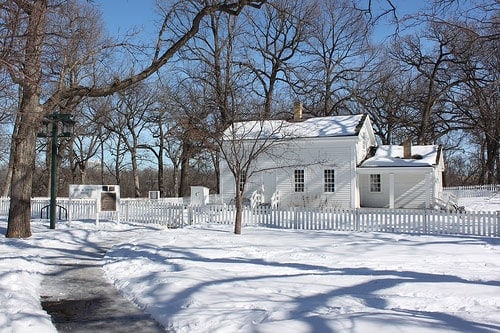 2. Insulate, Insulate, Insulate
While it's pretty obvious that you should have a good amount of insulation in your attic, you may have overlooked some great tax credits for insulating your home. According to energystar.gov, you can receive a tax credit equal to 10% of what you spent on insulation up to $500 for the year. Granted, that means you would need to spend $5,000 in insulation, but even if you spent $1,000 on insulation, it would be nice to get $100 back when you do your taxes. Here's how you can apply for energy tax credits.
Don't forget to protect pipes and outdoor spigots as well. Visit your local hardware store for pre-slit pipe insulation and trim to fit the length of the pipes that need insulating.
3. Winterize Your Car
Every year I winterize my car for less than $100. A full service oil change, new wiper blades, and an emergency kit are excellent ways to keep your car in the best shape for those cold months. If you have room in your trunk, you might consider putting a small shovel and extra ice scraper back there for the season. Last year we lived in an apartment building that didn't do a great job in clearing the snow. If we didn't have a shovel of our own, we would have been forced to take a day off of work like many others who were stranded in the parking lot after a big snowfall!
4. Go Easy On The Thermostat
For every 1 degree that you lower your heat, you'll save between 1 and 3%. Take the guesswork out of adjusting your thermostat by investing in a programmable thermostat. You can pick them up from Lowes or Walmart around $40.
5. Mind These 5 Simple Things
Put on extra clothes – Instead of turning up the heat, I'll throw on a hoodie if I'm cold. Reread tip #4 to see how an extra degree can really add up over time.
Keep doors shut and vents closed – If you have a guest bedroom, shut the door, close the vents and seal up the windows. Why send heat to a part of your house that isn't being used?
Throw on an extra blanket at night. It's just simple and effective.
Check the smoke detector and carbon monoxide detector batteries. I always like to replace these batteries every fall, so that we go into the winter season prepared.
Buy a fire extinguisher. Have you checked the expiration date on your fire extinguisher lately? No expiration date on yours? Most manufacturers say that fire extinguishers can last for 5-15 years, so always check with the manufacturer and write the date on the bottom of the extinguisher.
Do you winterize your home each year? What other things would you add to this list?