We all like getting cash back, free money simply for doing our regular spending.
A while back I had a checking account with an online bank that gave cash back on all my debit card purchases, and it was amazing getting paid for our regular spending.
That bank is unfortunately no longer in business, and since then I haven't really seen any cash back accounts available for debit cards, most of them are on credit card accounts.
This week I was looking at some newer online banking options when I discovered a company that offers banking services that give cash back, and that pays high interest.
That company is Aspiration, and this is an Aspiration review.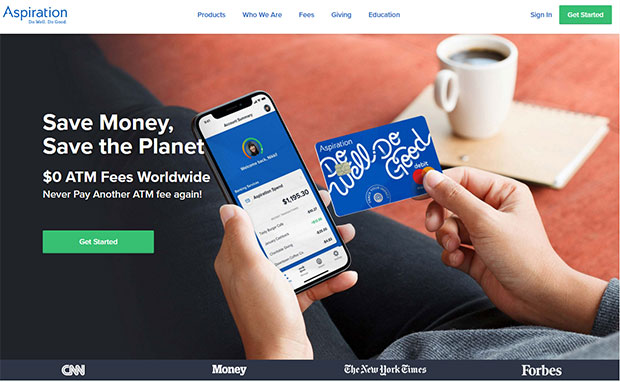 Aspiration History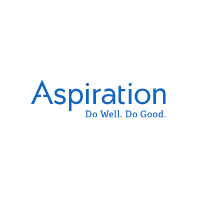 Aspiration was launched in 2015 as a socially responsible banking partner. Their motto is "Do Well. Do Good.".
Aspiration, Inc. is a socially conscious online financial firm based in Marina Del Rey, California. The company offers socially responsible banking and investing products and services. As of November 2018, Aspiration had attracted nearly 1 million customers.

Aspiration was founded in 2013 by Andrei Cherny and Joseph Sanberg. It opened for business in February 2015. Aspiration has raised over $100 million in funding.
Aspiration was founded on the idea of making a banking experience that gave fair pricing, was socially and environmentally responsible, and that encouraged social responsibility from corporate partners. They even give 10% of their fees to charity!
Beyond that it gives a ton of great perks for those using the bank like free banking, no ATM fees, cash back and more. So let's take a deeper look.
Signing Up For Aspiration
Signing up for Aspiration is a simple process, they say it will take less than 5 minutes. You just need to be a U.S. Citizen or permanent resident, age 18 or over.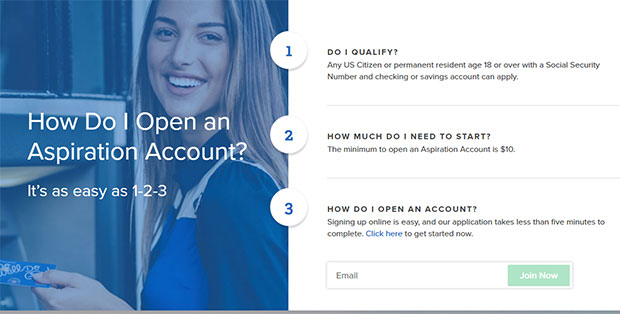 You'll first enter an email address after which they'll ask for a password.
Next, they'll ask for your Social Security Number and ask some identity verification questions related to your credit history.
Finally you'll be asked to link your Aspiration account to an existing bank account. Some banks will allow for instant verification, while other you will be required to verify a couple of micro-deposits, and make your $10 account opening minimum deposit.
After you finish the account opening process you'll need to wait few days while the account is approved. Once it is approved you'll receive your debit card in the mail.
Open Your Aspiration Account Now
Aspiration Spend, Save And Investing Accounts
Aspiration has a couple of different account options when you sign up. First, they have what they call the "spend" and "save" accounts. Second, you can also sign up for investment account options. First, let's look at the spend and save accounts.
Spend Account Gives Cash Back On Your Spending
The spend account with Aspiration doesn't earn you interest, but it does earn cash back on your purchases. Plus, if you buy with companies that score well as a socially responsible company on their AIM score, you can earn a bit more cash back. Here's how they explain it.
The Aspiration Impact Measurement (AIM) feature on our mobile app scores businesses based on their social and environmental impact. When you use your debit card at a business with a high AIM score, you'll earn 1.0% cash back on that purchase. You'll earn 0.5% cash back on any purchases made at businesses that do not have a high AIM score, or have not yet been scored. ACH transfers/transactions, mobile check deposits, check payments via the Payments feature, and ATM withdrawals are not eligible for cash back.
So when you spend using your Aspiration debit card, you'll earn 0.5% cash back at all business. Businesses that have a high AIM score will net you an extra 0.5% for a total of 1% cash back. That sounds like a decent deal, and an interesting way of encouraging spending with socially responsible companies. I'm not sure exactly how they decide which businesses are socially responsible, but I'll take the cash back either way!
Save Account Earns High APY Interest
The savings feature in your Aspiration account allows you to earn an interest rate that's among the best in the country, currently at 2.0% APY.
To get that highest rate all you have to do is deposit at least $1 a month into any Aspiration account, or keep your save balance at $10,000 or higher.
If you don't meet one of those requirements (it should be pretty easy), your account won't earn interest in that month.
Aspiration Investment Accounts
Aspiration offers two investment options if you're looking to invest your spare cash. Both have an initial minimum opening deposit of only $10, so it's easy to get started investing.
You can open a regular taxable investment account, or you can open an IRA retirement account, both have the two investment options available within them.
Both mutual funds are 100% fossil fuel free investments that attempt to invest in socially and environmentally responsible companies.
Redwood Fund – Sustainable Investing – REDWX: The Aspiration Redwood Fund is a fossil fuel-free fund investing in sustainable businesses that are leaders in their industry when it comes to caring about their people, the planet, and their company's purpose and mission.
Flagship Fund – Lower-Volatility Strategy – ASPFX: The goal of the Flagship Fund is to grow your money steadily over the long-term while trying to reduce the amount of ups and downs of the stock market along the way.
Both funds carry mutual fund operating expenses of 0.50% of assets, with Aspiration holding an "expense limitation agreement" that agrees to limit their funds' annual operating expenses to 0.50%.
I do think you can probably find better investments with lower costs via an index fund elsewhere, but these funds have the added "socially responsible" component, so if that's important to you, it can be a decent option.
Fees For Your Aspiration Accounts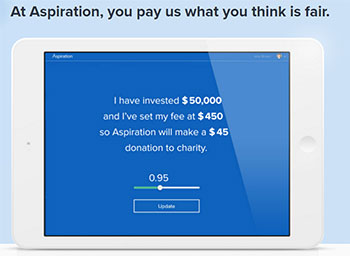 Aspiration has some nice account features like low cost investing, cash back and high yield interest rates, but how much does an account with Aspiration cost?
Pay What Is Fair Service Fee
Aspiration has a unique "Pay What Is Fair" pricing model, which means you pay what you think is fair for the service, even if that is $0.
We work our hardest to bring you the financial products and services you deserve: high-interest banking services, sustainable investments, no-fee IRAs and other products once only available to the wealthiest Americans. And then you pay us what you think is fair. You set our fee – even if it's zero. Change it whenever and however often you want.
The service can be free, and for any extra banking services like a wire transfer, Aspiration commits to providing any extra services "at cost", they'll only charge you what it costs them to provide the extra service.
If you do choose to pay a fee, Aspiration will donate ten cents of every dollar to charity. More on that below.
There is no balance requirement with an Aspiration account.
There is a minimum of $10 to open an account.
There are no ATM fees, no overdraft fees and no account inactivity fees. It truly is a free account, if you want it to be.
Aspiration Mobile Banking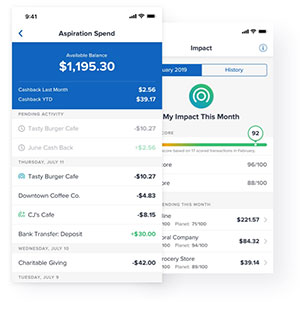 Aspiration has apps available for both iOS and Android, both of which receive regular updates. They are both use bank level security with 256 bit encryption, and offer Touch ID or Face ID sign in on supported devices.
What can you do in the app?
Remote check deposit: Take a picture of your check to deposit it in your account.
Checking balances: Up to the minute balance and transaction tracking.
Transferring funds: Transfer funds between your linked accounts.
Send payments: Pay your bills or send a check to a friend.
Check your impact: See what kind of an impact your socially responsible choices are making.
Check your cash back: Check your cash back balance, figure out how much in rewards you're earning.
Pay any way: Pay with Apple Pay or Android Pay right on your phone.
Account management: You can also do pretty much anything else as far as managing your Aspiration account.
The apps can do basically anything you can do on the website, just in the app. It's nice to know that you can access your accounts anywhere you are, on the desktop, or on your mobile phone.
Aspiration Extras
An Aspiration account comes with some added features, functionality and extras.
Here are some of our favorites: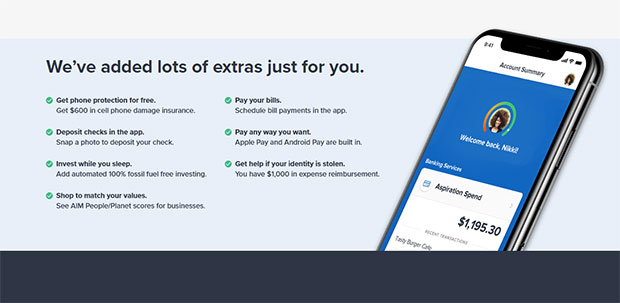 Free cell phone protection: Up to $600 in cell phone damage insurance.
Remote check deposit in app: Free remote deposit in the Aspiration app.
Identity theft protection: If your identity is stolen, you can be reimbursed up to $1,000 per claim for losses you incur as a result of identity fraud.
$0 ATM fees worldwide: You can be reimbursed for any foreign ATM fees or surcharges you pay, at a machine in the U.S. or overseas.
Giving And Social Responsibility – 10% Of Fees To Charity
Aspiration has a stated policy of wanting to "Do Well" and "Do Good" through charitable giving and helping others, as well as through their stated policy of having 100% fossil fuel-free deposits.
Dimes Worth Of Difference Giving Program
Part of how they promote their socially responsible giving is to donate 10% of every dollar earned from customer fees to charitable activities focused on helping others.
At Aspiration, we believe that all of us want to both "do well" and "do good," that we each have a responsibility to make the world a better place – and that this is true for companies as well as individuals. Dimes Worth of Difference is our policy of donating 10% of every dollar earned from customer tips to charitable activities focused on helping struggling Americans build a better life for themselves. We additionally make it easy for our customers to make their own charitable contributions, from a selection of causes on our site.
Aspiration's Dimes worth of Difference gives 10% to charities that help struggling Americans get ahead. Their main giving partner is Accion, America's largest nonprofit provider of microloans, small loans of up to $5,000 that help people launch their own small enterprises. Accion also provides mentorship and financial education to those receiving loans.
Do Good Dashboard
Aspiration also has a "Do Good" dashboard where you can choose to give as a customer as well.
In the dashboard you can choose one of 6 nonprofit causes, chosen by Bright Funds, that you feel most passionate about.
Each curated set of donation options represents a certain idea or group of charities through which you can make the biggest impact. They have the following donation causes.
Poverty: The Global Poverty Fund is comprised of charities battling hunger and homelessness as well as those focusing on empowering the people around the world through sustainable employment and emergency aid.
Water: The Water Fund is made of nonprofits working to bring clean and convenient water to developing countries.
Education: The Education Fund is made up of organizations that train teachers and principals and that provide programs for students so that a quality education is within reach for those who need it.
Environment: The Environment Fund acts across the globe to preserve our fragile planet. From African wildlife to the Amazonian rainforest to America's public land, the charitable organizations in this Fund defend our depleting natural resources and stem the course of climate change.
Health: The Health Fund includes organizations working to create and deliver vaccines to those that need them most, distributing medical supplies and health education, and undertaking landmark research on diseases such as cancer, diabetes, Alzheimer's, and AIDS.
Human Rights: The Human Rights Fund consists of charities battling trafficking and torture and advocating for the rights of women, immigrants, and people with disabilities.
Aspiration Opportunity Fund: The Aspiration Opportunity Fund provides for microloans of $5,000 and less as well as mentorship and support to struggling Americans looking to start a new small business that will provide for a better life for themselves and their families.
Each non-profit undergoes a rigorous selection process, checking with third party groups like CharityNavigator and CharityWatch to ensure they are responsible organizations.
One last good thing to keep in mind is that your contribution through Aspiration is 100% tax-deductible.
Aspiration Does Good While Giving You Cash Back
When I first discovered Aspiration I was mainly impressed with their account's cash back features that allow you to earn cash back on all your spending.
I was also happy to see that they offer a competitive APY on the balance in the savings account.
The fact that they have a ton of added features and perks in the account like free ATM usage, remote check deposit, cell phone protection, ID theft protection and more just make them that much more attractive.
What are the things that might give you pause with the account? There are no bricks and mortar banks for you to visit, and from what I hear from some people they've been going through some growing pains lately, and customer service has been slow. They've been adding additional customer service representatives to improve their response times though.
Their investment products are also somewhat limited, and higher cost than some other options.
If you're looking for a spend and save account with cash back, good interest and a company that's more socially responsible, Aspiration may be a good place to check out.
Open a FREE Aspiration Spend & Save Account