Over the past few months I haven't written a ton of bank reviews as I haven't really found a lot of new banks to write about.
Most of the banks I've seen have been underwhelming, or have rates that are just nothing to write home about.
The ones that I have liked – or who have had great rates over the past few years you can already find linked on our bank rates page.
This past week however, I came upon the the savings accounts and CD accounts from CIT Bank. They offer some pretty competitive rates, among the top 5 that I've seen recently at the writing of this review.
At first I thought that CIT bank was somehow related to CitiGroup, but I quickly found that they weren't. They do, however, have their own rich 100+ year history that I want to briefly explore today.

CIT Group History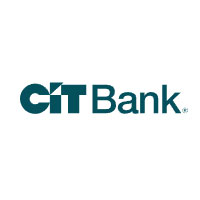 CIT Group has been around for over a century now, so they're no Johnny come lately in the financial services arena. A bit of their history from Wikipedia:
CIT Group Inc. (NYSE: CIT) is a United States bank holding company founded in 1908 with more than $35 billion in finance and leasing assets. The company's name is an abbreviation of an early corporate name, Commercial Investment Trust. It provides financing and leasing capital to its more than one million small business and middle market clients and their customers across more than 30 industries. CIT maintains leadership positions in small business and middle market lending, factoring, retail finance, aerospace, equipment and rail leasing, and global vendor finance. CIT also operates CIT Bank (Member FDIC), BankOnCIT.com, its primary bank subsidiary, which offers a suite of online savings options designed to help customers achieve a range of financial goals.
So CIT Group has been around since 1908, so they're no flash in the pan, they're almost 104 years old as a company now.
It should be noted that CIT has had their struggles, as many banks did after the market crash in 2008. They went through a Chapter 11 bankruptcy proceeding in 2009, but they quickly emerged from that 38 days later.
A new management team was put in place in 2010, and they've been much stronger ever since.
Is Putting My Money With CIT Bank Safe?
With CIT Bank your money will be safe and sound because the bank is FDIC insured. If you deposit your money and the bank goes under, you'll be fine – as long as you don't have more deposited than the FDIC insurance will cover. Currently that amount is $250,000 per depositor.
Add to that the fact that Bank Rate has given them a 4 start safe and sound rating as of the end of last year, and you can be assured that they're going to be a good bet.
Features Of An CIT Bank Savings Account
A high yield savings account with CIT Bank has a good number of features and benefits. Among them:
24/7 Account Access by phone or web.
No monthly maintenance fees.
No online transfer fee.
No incoming wire transfer fees.
No outgoing wire transfer fees with daily balance greater than $25,000.
Only $100 to open and maintain an account.
Rated 4-star Safe & Sound by Bankrate.com
FDIC-insured to $250,000 per depositor
Opening An Account With CIT Bank
The account opening process with CIT Bank is a 5 step process outlined below.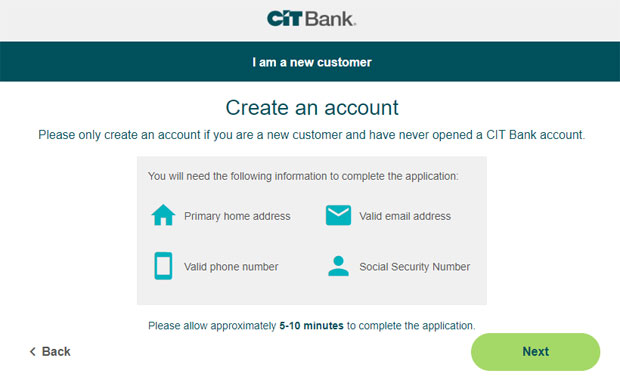 Select your banking product: Select which banking product you'd like to sign up for, whether it's the savings account or CD account.
Fill out your application: Bring together your Social Security number, address, email, date of birth and existing bank account information if funding your account electronically.
Review terms and conditions: Review the terms and conditions of an account with CIT Bank.
Answer security questions: Answer questions to help protect your account and identity for later use.
Fund your account: Link your existing bank accounts to fund the account.
There you have it, a simple process that takes about 10 minutes to complete according to CIT. No problem.
Account Types
Currently CIT Bank has a couple of account types that you can open.
Rates and minimum opening balances will vary from savings to CD accounts, so click on the links to find more details about the account type you're looking for.
Conclusion
CIT Group has been around for 100+ years and is quickly becoming one of the top banks as far as competitive rates.
As of the writing of this review they're among the top 5 best rates that I've seen recently.
In addition they're FDIC insured, and are rated as a 4 star safe and sound bank by BankRate.com, so you can be assured that your money will be safe.
CIT Bank is definitely a good savings account option that I would recommend keeping on your short list next time you're thinking about opening an account. Sign up for an account or get details through the links below.
Open Your CIT Bank Savings Account