This year I became a father for the second time.
We have a smart, caring 7 year old son who is turning into wonderful young man, and this year our second child was born, our little girl.
She's only a couple of months old at this point, and every day it's exciting to watch as she reaches new milestones and develops a personality all her own.
Becoming a father isn't something to be taken lightly, and I know that over the years I've had my share of failures as a father. Whether it's raising my voice too loudly when disciplining my son, or not displaying the best example of how to act, I know I have many areas I need to grow.
For me it's important to look to God's word to see the perfect example of what a father should be, to encourage me to work towards being more like my heavenly father.
Today I want to look at some Bible verses about fathers that talk about what it means to be a father, what a father should do for his children, and how we can be more like our heavenly Father on this Father's Day.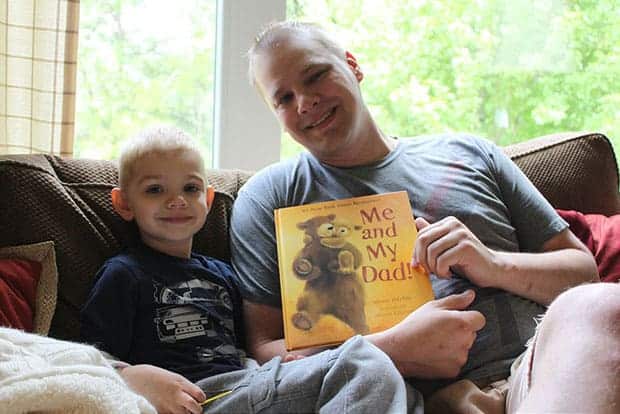 Bible Verses About A Father's Role
A father's role in the family is a pivotal one. He is called upon to be a leader and protector for the family, and to give an example of Christ's love by being loving towards the children's mother. He is also to be strong in the faith, and to bring the children up knowing right from wrong.
Ephesians 5:25-37 Husbands, love your wives, just as Christ loved the church and gave himself up for her to make her holy, cleansing her by the washing with water through the word, and to present her to himself as a radiant church, without stain or wrinkle or any other blemish, but holy and blameless. In this same way, husbands ought to love their wives as their own bodies. He who loves his wife loves himself. After all, no one ever hated their own body, but they feed and care for their body, just as Christ does the church—for we are members of his body. "For this reason a man will leave his father and mother and be united to his wife, and the two will become one flesh." This is a profound mystery—but I am talking about Christ and the church. However, each one of you also must love his wife as he loves himself, and the wife must respect her husband.
Genesis 18:19 For I have chosen him, so that he will direct his children and his household after him to keep the way of the Lord by doing what is right and just, so that the Lord will bring about for Abraham what he has promised him.
Psalm 128:3-4 Your wife will be like a fruitful vine within your house; your children will be like olive shoots around your table. Yes, this will be the blessing for the man who fears the Lord.
1 Timothy 3:2-5 Now the overseer is to be above reproach, faithful to his wife, temperate, self-controlled, respectable, hospitable, able to teach, not given to drunkenness, not violent but gentle, not quarrelsome, not a lover of money. He must manage his own family well and see that his children obey him, and he must do so in a manner worthy of full respect. (If anyone does not know how to manage his own family, how can he take care of God's church?)
Joshua 1:9 Have I not commanded you? Be strong and courageous. Do not be afraid; do not be discouraged, for the Lord your God will be with you wherever you go.
Deuteronomy 6:6-9 These commandments that I give you today are to be on your hearts. Impress them on your children. Talk about them when you sit at home and when you walk along the road, when you lie down and when you get up. Tie them as symbols on your hands and bind them on your foreheads.Write them on the doorframes of your houses and on your gates.
Fathers Give Direction And Discipline To Their Children
A father is implored to bring their children up in the ways of the Lord, to discipline them and to encourage, comfort and instruct them.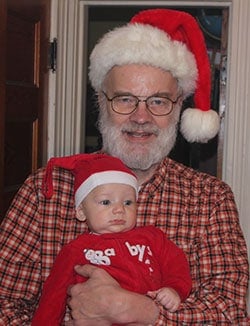 Ephesians 6:4 Fathers, do not provoke your children to anger, but bring them up in the discipline and instruction of the Lord.
Hebrews 12:7 Endure hardship as discipline; God is treating you as sons. For what son is not disciplined by his father?
Proverbs 22:6 Start children off on the way they should go, and even when they are old they will not turn from it.
1 Chronicles 29:17 I know, my God, that you test the heart and are pleased with integrity. All these things I have given willingly and with honest intent. And now I have seen with joy how willingly your people who are here have given to you.
Proverbs 3:11-12 My son, do not despise the Lord's discipline, and do not resent his rebuke, because the Lord disciplines those he loves, as a father the son he delights in.
Ephesians 6:11-18 Put on the full armor of God, so that you can take your stand against the devil's schemes. For our struggle is not against flesh and blood, but against the rulers, against the authorities, against the powers of this dark world and against the spiritual forces of evil in the heavenly realms. Therefore put on the full armor of God, so that when the day of evil comes, you may be able to stand your ground, and after you have done everything, to stand. Stand firm then, with the belt of truth buckled around your waist, with the breastplate of righteousness in place, and with your feet fitted with the readiness that comes from the gospel of peace. In addition to all this, take up the shield of faith, with which you can extinguish all the flaming arrows of the evil one. Take the helmet of salvation and the sword of the Spirit, which is the word of God. And pray in the Spirit on all occasions with all kinds of prayers and requests. With this in mind, be alert and always keep on praying for all the Lord's people."
Joshua 24:15 But if serving the Lord seems undesirable to you, then choose for yourselves this day whom you will serve, whether the gods your ancestors served beyond the Euphrates, or the gods of the Amorites, in whose land you are living. But as for me and my household, we will serve the Lord.
1 Thessalonians 2:11-12 For you know that we dealt with each of you as a father deals with his own children, encouraging, comforting and urging you to live lives worthy of God, who calls you into his kingdom and glory.
Colossians 3:21 Fathers, do not embitter your children, or they will become discouraged.
Being A Father Like God The Father
God our father in heaven is the perfect example of what a father should be. Strong, courageous, compassionate and even-tempered. We would do well to follow His example in all that we do.
1 Corinthians 16:13 Be on your guard; stand firm in the faith; be courageous; be strong.
Deuteronomy 1:29-31 Then I said to you, "Do not be terrified; do not be afraid of them. The Lord your God, who is going before you, will fight for you, as he did for you in Egypt, before your very eyes, and in the wilderness. There you saw how the Lord your God carried you, as a father carries his son, all the way you went until you reached this place.
Malachi 4:6 And he will turn the hearts of fathers to their children and the hearts of children to their fathers, lest I come and strike the land with a decree of utter destruction.
1 Corinthians 13 If I speak in the tongues of men or of angels, but do not have love, I am only a resounding gong or a clanging cymbal. If I have the gift of prophecy and can fathom all mysteries and all knowledge, and if I have a faith that can move mountains, but do not have love, I am nothing. If I give all I possess to the poor and give over my body to hardship that I may boast, but do not have love, I gain nothing. Love is patient, love is kind. It does not envy, it does not boast, it is not proud. It does not dishonor others, it is not self-seeking, it is not easily angered, it keeps no record of wrongs. Love does not delight in evil but rejoices with the truth. It always protects, always trusts, always hopes, always perseveres. Love never fails. But where there are prophecies, they will cease; where there are tongues, they will be stilled; where there is knowledge, it will pass away. For we know in part and we prophesy in part, but when completeness comes, what is in part disappears. When I was a child, I talked like a child, I thought like a child, I reasoned like a child. When I became a man, I put the ways of childhood behind me.For now we see only a reflection as in a mirror; then we shall see face to face. Now I know in part; then I shall know fully, even as I am fully known. And now these three remain: faith, hope and love. But the greatest of these is love.
Psalm 103:13 As a father has compassion on his children, so the Lord has compassion on those who fear him.
Proverbs 17:27 The one who has knowledge uses words with restraint, and whoever has understanding is even-tempered.
Proverbs 17:24 A discerning man keeps wisdom in view, but a fool's eyes wander to the ends of the earth.
Luke 15:20-24 So he got up and went to his father. "But while he was still a long way off, his father saw him and was filled with compassion for him; he ran to his son, threw his arms around him and kissed him. "The son said to him, 'Father, I have sinned against heaven and against you. I am no longer worthy to be called your son.' "But the father said to his servants, 'Quick! Bring the best robe and put it on him. Put a ring on his finger and sandals on his feet. Bring the fattened calf and kill it. Let's have a feast and celebrate. For this son of mine was dead and is alive again; he was lost and is found.' So they began to celebrate.
Proverbs 14:26 Whoever fears the Lord has a secure fortress, and for their children it will be a refuge.
Matthew 7:9–11 Or which one of you, if his son asks him for bread, will give him a stone? Or if he asks for a fish, will give him a serpent? If you then, who are evil, know how to give good gifts to your children, how much more will your Father who is in heaven give good things to those who ask him!
Proverbs 10:9 Whoever walks in integrity walks securely, but whoever takes crooked paths will be found out.
Psalm 127:3-5 Children are a heritage from the Lord, offspring a reward from him. Like arrows in the hands of a warrior are children born in one's youth. Blessed is the man whose quiver is full of them. They will not be put to shame when they contend with their opponents in court.
Children, Listen To Your Fathers
As a child it can be hard at times to listen to, and honor your father. But if your father is following a Godly example it's important to heed what he has to say. God has made him your father for a reason, and you will be blessed for honoring him.
Exodus 20:12 Honor your father and your mother, so that you may live long in the land the Lord your God is giving you.
Proverbs 23:22 Listen to your father, who gave you life, and do not despise your mother when she is old.
Luke 18:20 You know the commandments: 'You shall not commit adultery, you shall not murder, you shall not steal, you shall not give false testimony, honor your father and mother.'
Proverbs 4:1-4 Listen, my sons, to a father's instruction; pay attention and gain understanding. I give you sound learning, so do not forsake my teaching. For I too was a son to my father, still tender, and cherished by my mother. Then he taught me, and he said to me, "Take hold of my words with all your heart; keep my commands, and you will live.
Proverbs 23:24 The father of a righteous child has great joy; a man who fathers a wise son rejoices in him.
Proverbs 20:7 The righteous lead blameless lives; blessed are their children after them.
God, The Most Loving Father
While I can do my best to live out God's example as a father, I'm still an imperfect vessel. Only God Himself can truly be the perfect example of a father. A father that's loving, compassionate, caring and forgiving. I'm so glad that I can call Him father.
Even if you don't have a relationship with your earthly father, you can have one with your heavenly father. If you repent and confess your sins (Rom 10:9-13), and put your trust in Him, you can be born again and inherit eternal life (John 3:16).
He loves you, and wants to have a relationship with you. He'll be the most loving and caring father you could hope for.
If you declare with your mouth, "Jesus is Lord," and believe in your heart that God raised him from the dead, you will be saved. For it is with your heart that you believe and are justified, and it is with your mouth that you profess your faith and are saved. As Scripture says, "Anyone who believes in him will never be put to shame." For there is no difference between Jew and Gentile—the same Lord is Lord of all and richly blesses all who call on him, for, "Everyone who calls on the name of the Lord will be saved." Rom 10:9-13

For God so loved the world that he gave his one and only Son, that whoever believes in him shall not perish but have eternal life. John 3:16
More Bible Verses On Important Topics