Over the past few years I've come to the conclusion that our society lives in a constant state of discontentment.
We're not happy with our leaders, with our spouse, our children, or the things that we have.
Our house is too small, our TV is an older model and our smartphone doesn't have the latest 5G technology. So what's a person to do in order to find contentment in such a restless world, and why can't we seem to find the contentment that we're looking for?
Many of us are trying to fill a void of some kind in our lives, and unfortunately we try to fill that void with things that can't satisfy.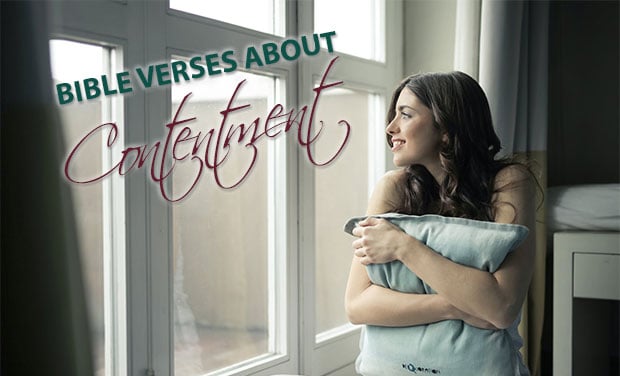 We look to fill the void with possessions or money, but we only end up wanting more. We try to fill it with relationships or sex, but we end up feeling even more empty and depressed than when we started.
Wealth is "like seawater: the more you drink, the thirstier you become." – philosopher Arthur Schopenhauer
All of these things we try to fill our lives with aren't necessarily bad things, but when they become the end goals, and the reason for our being, we end up being discontent because those things were never meant to fulfill us.
The only place that we can really find true fulfillment and contentment is in Christ. True contentment isn't something that we find in things, people or circumstances, it can only be discovered in our convictions.
Author Rob Kuban talks contentment based on conviction:
The Bible calls us to allow our convictions, not our circumstances, to govern our sense of contentment. True, biblical contentment is a conviction that Christ's power, purpose and provision is sufficient for every circumstance. We are to learn how to walk through all kinds of adversity believing in and experiencing Christ's sufficiency. We have to choose to rest on God's good promises despite what may be going on in our lives.
10 Bible Verses About Contentment And Hope In A Broken World
True contentment comes from accepting Christ, and having faith that in Him you will have everything you need. Christ is sufficient, and his promises are enough.
Here are some verses that speak to how to find true contentment in Christ.

Philippians 4:11-13 Not that I speak from want, for I have learned to be content in whatever circumstances I am. I know how to get along with humble means, and I also know how to live in prosperity; in any and every circumstance I have learned the secret of being filled and going hungry, both of having abundance and suffering need. I can do all things through Him who strengthens me.
1 Timothy 6:6-12 But godliness with contentment is great gain. For we brought nothing into the world, and we can take nothing out of it. But if we have food and clothing, we will be content with that. People who want to get rich fall into temptation and a trap and into many foolish and harmful desires that plunge men into ruin and destruction. For the love of money is a root of all kinds of evil. Some people, eager for money, have wandered from the faith and pierced themselves with many griefs. But you, man of God, flee from all this, and pursue righteousness, godliness, faith, love, endurance and gentleness. Fight the good fight of the faith. Take hold of the eternal life to which you were called when you made your good confession in the presence of many witnesses.
2 Cor. 12:9-10 "And He has said to me, "My grace is sufficient for you, for power is perfected in weakness" …Therefore I am well content with weaknesses, with insults, with distresses, with persecutions, with difficulties, for Christ's sake; for when I am weak, then I am strong."
Romans 8:28 And we know that in all things God works for the good of those who love him, who have been called according to his purpose.
Job 36:11 If they obey and serve him, they will spend the rest of their days in prosperity and their years in contentment.
Proverbs 19:23 The fear of the LORD leads to life; then one rests content, untouched by trouble.
Psalm 34:10b Those who seek the Lord lack no good thing.
Romans 12:2Don't copy the behavior and customs of this world, but let God transform you into a new person by changing the way you think. Then you will learn to know God's will for you, which is good and pleasing and perfect.
Proverbs 30: 7-9 Two things I ask of you, O Lord; do not refuse me before I die: Keep falsehood and lies far from me; give me neither poverty nor riches, but give me only my daily bread. Otherwise, I may have too much and disown you and say, 'Who is the Lord?' Or I may become poor and steal, and so dishonor the name of my God.
Luke 3:14 And some soldiers were questioning him, saying, "And what about us, what shall we do?" And he said to them, "Do not take money from anyone by force, or accuse anyone falsely, and be content with your wages."
Proverbs 14:30 A heart at peace gives life to the body, but envy rots the bones.
Biblical Contentment Found In Striving To Be More Like Christ
What stands out to me from the verses above is that they all have a common thread.
You can find contentment only in Christ, and in striving to serve Him.
Contentment can't be found in God's creation or in things like people, possessions, or money.
In fact those things may hinder your pursuit for true happiness and contentment.
Seek God out in His word, and in prayer, and you'll be much more likely to find contentment in Him.
What are your thoughts? Do you have any of your own favorite Bible verses about contentment?
More Bible Verses To Ponder
Want to do some more study? Here are some more articles we've written detailing what the Bible says about different topics.