Have you heard of Rakuten?
Rakuten (pronounced "rack-ah -ten") is a cash back shopping site, and if you buy items over the Internet (and don't most of us?), you are leaving cash on the table if you're not using Rakuten.
Rakuten makes it easy and profitable for you to shop through their site, earning cash back at a myriad of sites. So let's take a look.
What Is Rakuten?
Rakuten is a site that gives you cash back on all of your purchases. The company began as Ebates in 1999, and is one of the first companies to offer cash back on purchases.
Rakuten now has 12 million members and has given $1 billion in cash back since they began back in 1999. They have over 2500 stores in their database, many of them among the web's top shopping destinations, so it's definitely worth a look if you plan on doing any shopping online anytime soon.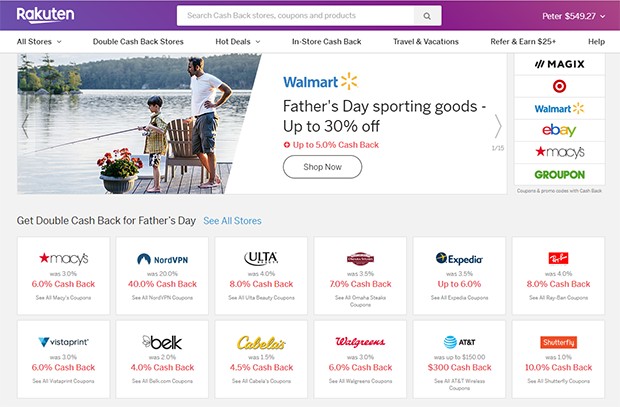 Signing Up For Rakuten
Signing up for Rakuten is extremely easy.
You just click on one of the links on this page, go to their site, and it will start walking you through the quick signup process. They advertise that you can join their site in 15 seconds!
Just login using your Facebook or Google account and you'll be set to go.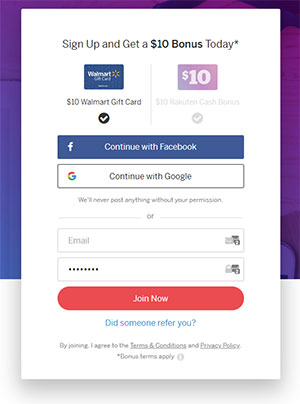 Alternatively you can join using your email address and a password that you select. I just joined using my Facebook account.
Sign up for Rakuten through our link here and you'll get a $10 bonus, once you've made your first purchase!
Get Your FREE Rakuten Account And $10 Bonus!
How Does Rakuten Work?
How does Rakuten work?
Let's say you want to snag a Groupon deal for a wings restaurant for $10. Instead of going to Groupon's site, you log in to Rakuten, then head over to Groupon via Rakuten. Now, when you purchase that $10 voucher qualifying you for $20 worth of food, you will also get 6% back at Rakuten, or .60 cents in your Rakuten account.
Sure, that doesn't sound like much, but what percentage in cash back you get varies by business. Some retailers such as Omaha Steaks offer as much as 12% cash back, though most seem to offer 2 to 4%.
Also, sometimes purchasing from a certain business will earn you temporary double cash back. Instead of earning 2.5% cash back as is standard, that business will offer you 5% cash back.
If you do all of your online shopping through Rakuten, the cash back will accrue quickly, especially if you do your Christmas shopping online. I love Amazon for Christmas shopping, and if I go through Rakuten, I earn 1% cash back on toys and games.
If it is money I am going to spend anyway, why not get cash back for my purchases?
Rakuten In Store Cash Back
Another thing that Rakuten has added in recent years is the ability to get cash back even when you are shopping in the actual bricks and mortar store. How do they do that?
First, you link an eligible American Express, Mastercard or Visa card to your Rakuten account, and then link available In-Store Cash Back offers to your card(s).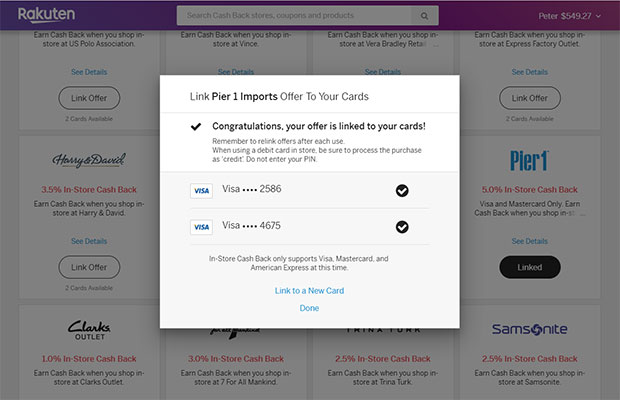 When you shop at participating local stores and pay with your eligible linked card, you will automatically earn cash back on qualifying purchases. cash back will typically be added to your Rakuten account within seven days of your purchase.
If you're comfortable adding your card to your account, it's a great way to earn some additional cash back.
Rakuten Cash Back Button – Browser Extension
To make getting cash back that much easier Rakuten also has what they call a "cash back button".
It's essentially a browser extension that will notify you when there is cash back available at a store and prompt you to activate that cash back by hitting a button.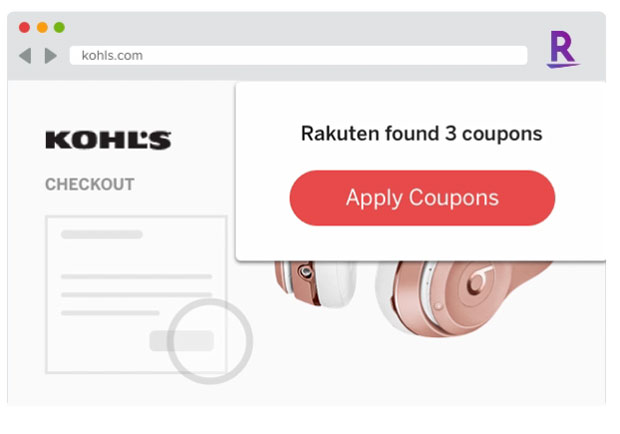 It will also prompt you when it finds available coupon codes or discounts at a certain store and even apply them for you.
It will also insert Rakuten cash back percentages into your Google search results, so you can know which store has the best cash back.
Finally, at stores that don't offer cash back, the extension will alert you if a product is available for a lower price and with cash back at other stores.
I would definitely recommend adding this button to your browser, it'll earn you a bunch more cash back than you'd otherwise get!
When Do You Get Paid By Rakuten?
Rakuten payments are sent out 4 times a year, based on traditional quarters.
For instance, as long as you have more than $5.01 in your account, for the period of January 1st through March 31st, your check will be sent on May 15th.
If you have less than $5.01 in your account, the amount simply stays in your account, and when you do reach that threshold, your check will be sent out during the next payment period.
You can choose to get your payment as a PayPal deposit or a check sent to your house. In addition, you could also choose to give it to charity or to send it to a family member.
Refer Friends to Rakuten and Get Rewarded
If you love Rakuten, share it with your friends and give them your referral link.
For every person who signs up with your referral link and makes one purchase of $25 or more during a one year period, you will earn $5.
Refer as many people as you want, the more the better!
Is Rakuten Secure? Is It A Scam, Or Is It Safe?
There is no 100% guarantee with any site you use, but Rakuten was started by two Silicon Valley Deputy District Attorneys who used to prosecute online fraud and identity theft, so they know what they are doing, and they want to offer you the most secure site they can.
The site is TRUSTe certified, and is tested and confirmed secure daily by McAfeee security. They also have an A+ rating from the Better Business Bureau.
Beyond that I've been using Rakuten for quite some time and they've always paid out the cash back when I've earned it. No problems there.
How Does Rakuten Stay In Business?
How can Rakuten give you cash back and continue to stay in business? It is simple.
They have partnered with over 2,500 stores and companies online.
Each company that Rakuten partners with gives Rakuten an affiliate bonus payment for sending them business.
Rakuten turns around and shares that bonus with their customers in the form of cash back. They make money, and you get some cash back. Everyone wins.
Hack To Triple Your Savings With Rakuten
A hack that I like to use when using Rakuten, in order to triple my savings is to use Rakuten in conjunction with two other providers, Honey and Gift Card Granny.
Here's how it works.
Activate Rakuten cash back: First, you go to the website you're looking to save money on. Activate your Rakuten cash back via your browser extension's cash back button. Usually it'll pop up automatically if you have it installed and ask you to activate.
Use Honey to get a coupon code: After you find the item you wanted to buy, add it to your cart and begin the checkout process. On the checkout page where they have a space for coupon codes, use the Honey browser extension to search for available coupon codes, to save you more money!
Buy a discounted gift card from Gift Card Granny: After you find out what your total is after including the Honey coupon code, buy a gift card at Gift Card Granny to cover the cost. You can often find gift cards for popular retailers at a big discount. For example, a $100 gift card for $85. Purchase the gift card and use it when checking out.
When you do these three things, you'll save using Rakuten cash back, by using a Honey coupon code, and by getting a discount on a gift card to pay for your order. Triple the savings!
Drawbacks to Rakuten?
I have used Rakuten and found the process easy and seamless.
My biggest drawback is that I forget to go through Rakuten before making my online purchase, robbing myself of the my cash back. Any easy way to avoid this drawback is just to install the Rakuten browser extension on your computer. Then every time you make a purchase online through one of Rakuten partnering businesses, you can earn your cash back. If I would have done this, I could have at least tripled the cash back I have received.
Now is the perfect time to join Rakuten, if you haven't. Most of us will do at least some online shopping for the holidays, so why not get cash back? And the cash back makes a great snowflake to apply to debt, if you have it.
Sign Up For Your FREE Rakuten Account Now!
Similar Programs