Over the years there have been times where I've been more concerned about my credit score than others.
For example, back in 2006 when my wife and I bought a house together, I was very on top of our credit situation.
I checked our annual credit report through the three agencies at AnnualCreditReport.com. I was able to make sure that there were no inaccuracies on our account, and make sure there weren't any open accounts that we knew nothing about. We also paid for our credit score at the time, which gave us an idea of whether or not we would be approved for the best loan terms possible.
Over the years the credit reporting and scoring game has changed significantly. Back in 2006 in order to get your credit score you would likely have had to pay for it.
When we bought our current house in 2013 we once again made sure to check our credit scores, but this time there were several free options available to us. One of our very favorite was Credit Sesame.
Today I thought I'd take a look at Credit Sesame and what features the service has available to users.
Credit Sesame: Credit Scores & So Much More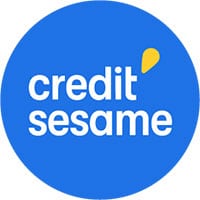 Credit Sesame has been around since 2010 when it was founded as a free service for users to be able to stay on top of their credit, as well as giving them tools to help them manage their credit and save money on their home loans, student loans, credit cards and more.
Credit Sesame is a free service, and as a user you can get many of the most useful services (like getting your credit score and free credit monitoring) without any added cost.
If you're more concerned about staying on top of your credit situation, you can spring for an upgraded account as well that will include things like unlimited daily credit scores, downloadable monthly credit reports and full service identity restoration services if your identity has been stolen.
So how is Credit Sesame able to give you this service for free? They get a small cut if you end up getting a home loan, credit card or personal loan through their loan marketplace.
This actually isn't a bad deal because in the end you can end up saving money via a refinance, or by finding a loan with a lower rate.
Signing Up For Credit Sesame
Signing up for Credit Sesame is a breeze. You'll be asked for the following information:
Basic personal information
Home address (and whether you own or rent)
Social Security Number (So it can pull your credit file from it's partner credit agency)
Verification of your identity: It will ask you for some information from your credit file to verify you are who you say you are.
Once you've entered your basic information you'll be given an account and you'll be able to pull your free credit score, either through their website or via their nice mobile app.
Credit Sesame Free Credit Score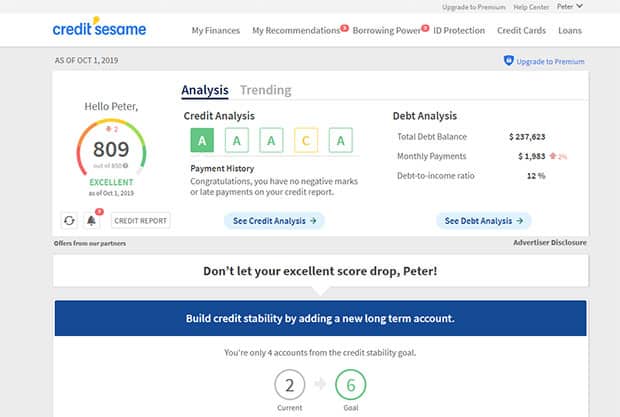 When you sign up for the free credit score with Credit Sesame you'll be getting your "TransUnion VantageScore" credit score. The VantageScore will give you a credit score ranging anywhere from 300 to 850 – similar to many other credit scoring models.
Originally Credit Sesame provided an Experian credit score, but they switched to using TransUnion score recently in order to be able to provide a more in-depth breakdown of your credit score, as well as being able to give you more up to date information including instant credit monitoring alerts – alerting you to important credit events within minutes of them hitting your credit file.
The VantageScore credit score is widely accepted and used in the industry. According to TransUnion:
Nearly one billion VantageScore credit scores were used last year by over 2,000 lenders and other industry participants, including 6 of the 10 largest banks.
So when you get your credit score from Credit Sesame, you know you're getting an industry recognized score.
Free Credit Monitoring
Besides getting your free credit score, you'll also get free credit monitoring services with Credit Sesame. In other words, you'll be able to setup and receive alerts when changes to your credit file occur.
I've found it very helpful since I setup the alerts – and it puts my mind at ease. Why? Because I know if new accounts are opened using my credit profile, or if someone buys a bunch of stuff using my credit card, I'll get an alert letting me know that.
A few examples of things you can receive alerts on:
New credit accounts added under your name
Changes in balance on a credit account
Credit inquiries
Address changes
I've actually been receiving the alerts for a while now and got alerts when we opened a mortgage for our new home, when we changed the address on the credit card and when we paid off a credit card balance.
I've seen other services charge for this type of credit monitoring service, so it's truly a premium addition to their free service.
Other Provided Services
Beyond the free credit score and free credit monitoring, there are a bunch of other services you'll get with Credit Sesame:
Free advice: They'll take a look at your current credit accounts and loans every day as the market changes, and if there's a better loan option that saves you money, they'll let you know.
Free tracking and alerts: Your credit score and loan information is updated every month, and they they have a running history of your score so you can see how you're doing.
Free home value estimates: They update the estimated value of your home every month so you know how much equity you likely have.
Free $50k identity theft insurance and ID restoration help: Even users of the free service will get $50,000 in free ID theft insurance and ID restoration help. Can't beat that!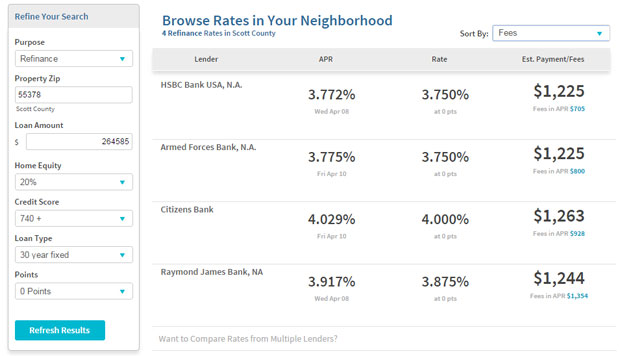 Premium Services
In addition to the free services with Credit Sesame, you can also sign up for premium credit and identity protection services. They range in cost from $9.95-$14.95/month.
Advanced Credit Services: In addition to the standard free account services you'll also get unlimited daily credit score updates, full downloadable monthly credit report and credit dispute resolution via live 24/7 help.
Identity Protection Services: You get free account services as well as stolen/lost wallet protection (where they'll call card issuers and cancel lost cards and have new ones sent), black market website monitoring, public records monitoring and Social Security Number monitoring. You'll also get full service identity restoration services and $1 million in ID theft insurance.
Platinum Protection: All the free account services, as well as advanced credit services and ID protection packages all in one.
If you're concerned about the possibility of having your ID stolen, or you just want to stay on top of your credit – even just for a while – these premium services might be something to consider.
Stay On Top Of Your Credit, And Improve Your Financial Situation
Credit Sesame has been around since 2010, and I signed up for them shortly after they launched.
The site has been extremely useful for me over the years in helping me to stay on top of what's happening with my credit situation, whether it's doing a quick check of my credit score, or receiving alerts on my credit activity.
I'd highly recommend the service to anyone, and since the service is free to use, there's really no reason not to give it a try!
Sign up for your free account below.
Get Your FREE Credit Sesame Account Today