A while back I did a review of the website Credit Sesame and then followed it up with a review of the Credit Sesame mobile app.
Credit Sesame is a free to use website where you can get a ton of useful information including a free credit score, refinance offers on your home, and tips and advice on how to improve your overall credit situation.
When the government passed the Fair Credit Reporting Act legislation back in 1996 they put in motion a variety of consumer credit protections, one of which was the ability for consumers to keep tabs on their own credit situation, without having to pay a hefty fee to the credit bureaus.
The government setup a website at AnnualCreditReport.com where you can go every year to get a copy of your credit report from each of the three credit agencies, TransUnion, Equifax and Experian. I like to go there every 4 months or so, staggering my free reports from each agency so I'm essentially able to check my credit reports 3 times a year.
Now that we're looking into the possibility of refinancing our current home mortgage, and possibly building a new house next year, we're really trying to ensure that our credit is in a good place.
One way we're doing that is to pull our free credit scores from sites like Credit Sesame, and make sure that our credit score is as high as possible. Thankfully all of the credit scores show us as having excellent credit, which should help us in getting the best possible mortgage rate.
One thing that could definitely hurt us in the middle of all of this, is if we were to experience any sort of identity theft. Thankfully there are things you can do to protect yourself against ID theft, and now Credit Sesame is jumping into the game. Credit Sesame is now offering a free credit monitoring service.
Credit Sesame Launches Free Credit Monitoring Service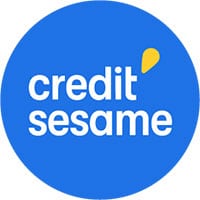 In the past I've looked into getting credit monitoring through a paid service like LifeLock or TrustedID. I was always a bit hesitant, however, to pay for a service that I knew I could essentially do myself for free if I wanted to.
How can you do that? By checking your credit reports regularly for things that are out of place, checking your free credit scores, regularly reviewing your bank and credit card statements, and just by staying on top of your credit situation. It can be a lot of work, however.
Just today Credit Sesame has announced that they're launching a brand new credit monitoring service, and they're offering it to users of their site for FREE!
Credit Sesame, the consumer's credit and loan expert, launched the first true free credit monitoring service that uses data from TransUnion. Available now, the new service will track a consumer's credit activity and send immediate alerts when important changes occur, enabling consumers to protect and improve their good financial standing and credit score.

Consumers have the option of receiving credit monitoring alerts via their Credit Sesame account, phone or email. Credit monitoring will also be simultaneously released on the company's iPhone and Android mobile apps, so consumers can benefit from credit monitoring on the go.

The addition of free credit monitoring to Credit Sesame's existing free credit score, aggregated credit information, peer comparison data, bank-level analytics and market monitoring provides consumers with the most comprehensive free online and mobile resource to track and improve their credit standing, build knowledge and get better loan and savings opportunities.
So Credit Sesame is adding the credit monitoring to their portfolio of services, making their site that much more valuable.
How much does a service like this typically cost? Typically in excess of $200/year.
On average, firms charge a monthly fee of $16.82 for credit monitoring (based on providers listed on Next Advisor 11/2012), which totals to $200 per year. The cost among most providers ranges from $10 – $30 per month.
Setting Up Your Free Credit Monitoring Account
So how easy is it to setup credit monitoring on your Credit Sesame account? It's as simple as flipping a switch! First, you need to signup for an account though.
Sign Up For A FREE Credit Sesame Account
When I first logged into my existing Credit Sesame account today on hearing the announcement of the new service, I got this popup window.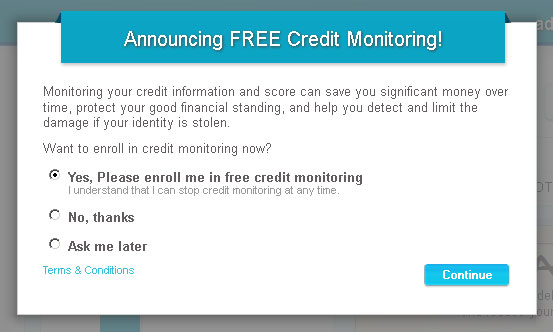 After clicking "Yes, please enroll me in free credit monitoring" and selecting "continue" I was enrolled in their free credit monitoring program. Easy.
After you're enrolled you can check out your credit monitoring activity within the site. To find that just go to the "my finances" menu at the top, and then select "my monitoring" from the drop down list.
On the credit monitoring page you'll see a couple of different things. First, you'll see whether you have monitoring turned on for your account. If you don't, you can turn it on right here on this page.
Second, you'll see any alerts on your account of suspicious activity in your account. You can view the alerts by month and year, typically you'll see between 5-10 alerts per month. On my page below you don't see any alerts yet as I just turned monitoring on today.
What Does Credit Sesame Monitor On Your Credit Report?
There are a variety of different things that Credit Sesame will be keeping tabs of in your TransUnion credit report. According to their site they'll send you an alert via email, phone, on the site or via their apps when any of the following things happen:
Credit score changes
Credit inquiries
Balance changes
Credit limit changes
Credit usage changes
Public records
Derogatory credit
Changes to your accounts
Security or fraud alerts
Address changes
Lost or stolen card notifications
New accounts opened
There are more than 40 activities they'll be monitoring for on your credit. Any of the things above can be an indication of identity theft and fraud if they're related to activities that you didn't initiate. If you get an alert that new accounts have been opened in your name, but you didn't open them, you know you have a problem. You'll now get an alert from Credit Sesame when that happens.
How Often Will Credit Sesame Monitor Your Credit
Credit Sesame will be checking your credit on a daily basis with the TransUnion credit bureau. It should be noted that they will not be monitoring your credit via the other agencies, so if something was to show on your Experian or Equifax credit report, the Credit Sesame credit monitoring may not find it – although typically items on your report will be filed with all 3 agencies.
According to Credit Sesame the typical person will see between 5-10 alerts on their account every month.
Why I'm Signing Up For Credit Monitoring
I'm now signed up for the free credit monitoring via the Credit Sesame site, and it only adds to the valuable service that Credit Sesame provides. Why wouldn't you sign up?
It's FREE: The service is free, and on average you'd have to pay around $15-20/month for a service like this. Having it be a free service means a big savings.
It's a great way to stay on top of your credit: I did a reasonably good job of staying on top of my credit before, but with this monitoring I should be able to do an even better job. Not only will I now have my free credit reports and scores, I'll also have free credit monitoring.
Add it to your homegrown good credit toolkit: For me the credit monitoring from Credit Sesame will become part of my homegrown good credit toolkit. I check my credit reports 3 times a year, check my free credit scores monthly and now I'll also have free credit monitoring. With all of these tools I'm able to ensure that my credit stays in the "excellent" category, and I'm able to get the best rates.
Sign up for your own free account and stay on top of your credit too.
Sign Up For FREE Credit Monitoring With Credit Sesame