The federal government passed the Fair Credit Reporting Act legislation a while back that aimed to give consumers the ability to find out more about their own credit without having to pay one of the credit bureaus for the information.
They put together the government website at AnnualCreditReport.com where you can go and get a copy of your credit report from each of the three agencie, TransUnion, Equifax and Experian, once a year.
I like to stagger my reports out during the year, and get a report once ever 4 months from one of the agencies, giving myself a little bit more protection in case something were to show up on my report.
You can get your credit report for free through the government site, but you can't get your credit score for free.
Your credit score is what is used by companies in deciding if you're a worthy credit risk, and they'll charge you a fee to see that.
There are now several ways that you can get your credit score for free that I've discussed here in the past including Credit Karma, or using one of the premium credit score sites on a free trial.
Now you can also get your credit score via Credit Sesame.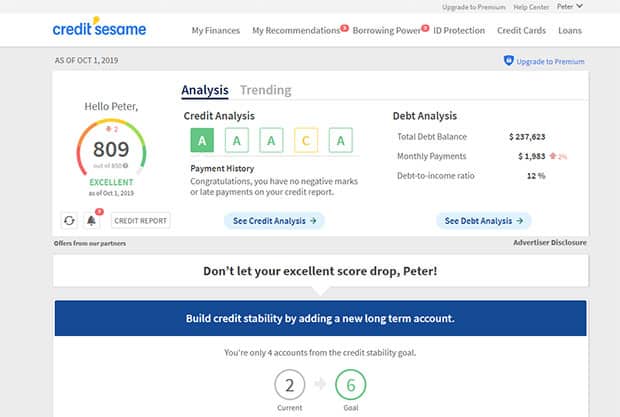 Get A Free Monthly Credit Score Via Credit Sesame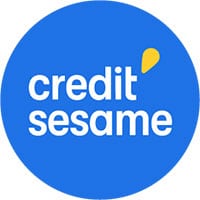 I just signed up for Credit Sesame this past week after hearing about them from someone on Twitter. I had just mentioned getting a free credit score from another site and someone replied that you could do the same with Credit Sesame.
The site is free, with no obligation of any kind. Credit Sesame is paid for via partnerships with banks and mortgage companies who pay Credit Sesame if you sign up for a loan or other financial product through the site.
It's a similar revenue model to Credit Karma and Mint.com, which also make money via referrals. Of course you're under no obligation to ever sign up for anything if you don't want to.
Signing Up
Signing up was very easy. First, go to this link:
The site will ask you for your basic personal information, home address and whether you own or rent.
Then it will ask for your social security number so that it can pull your credit file from it's credit agency partner.
It will ask you to verify some information from your credit file before you proceed.
Optimizing Your Financial Situation
Once you're signed up Credit Sesame, it will then do the work of trying to help you optimize your financial situation.
How do they do that?
They'll analyze your current situation – your loans, mortgages, credit and credit card debt – and then they'll give you ideas of how you can improve.
First, however, they'll give you your free credit score. (They use Transunion's Vantage 3.0 score, which is different from your actual FICO score). My score came up as a 809, which is comparable to the 809 and 807 that I got with Credit Karma.
If you own a home, they'll also give you your estimated home value (from data provided by eppraisal.com) , debt to income ratio and give you ideas about how you can optimize your loans that you currently have. If they think that you can find a better deal on a mortgage, they'll tell you that.
In fact they'll actually run your current financial situation – income, debts and so forth – and give you only options that you will most likely qualify for. Their technology is now actually integrated with Mint.com as that website's "home loan finder".
When I ran Credit Sesame against my situation there wasn't much they could offer me since our only debt is a home mortgage. They did find us a lower rate on a mortgage, but after closing costs and mortgage insurance it wasn't much better than our current mortgage – especially given that we may not be living here for more than a few years.
Granted, it was a better deal, so it may be a good option for many folks looking to refinance.
Looking for a home mortgage or refinance? Get a quote here.
What If?
The site also has a "What If" credit modeling simulator that allows you to see how much you could save if your credit score were just a bit higher, or if your income went up.
The site will show you some loans and other products you could qualify for if you just improve your credit score.
Why I Like Credit Sesame
Credit Sesame looks like a decent site, and here are some reasons I suggest trying it out.
Free to use, free credit score! I like the fact that the site costs you nothing since it's subsidized by referrals. You can get your Transunion credit score free once a month, and possibly save money by finding a better loan than what you currently have!
Credit score check on a regular basis: I love the fact that you can stay on top of your credit score, and stay abreast of any changes. Monthly checks as they offer should be enough to catch big swings.
ID theft protection: These days it's easier than ever to have your identity stolen. Credit Sesame can be a part of your home grown ID theft protection plan. The site doesn't cost anything so you can easily check your credit score every month when it updates. If you see your score go down and you haven't really done anything debt or credit-wise for that to happen, you know there is probably something there that needs to be looked into. Of course it should be noted that this only helps if the thief goes through someone who uses the TransUnion credit reporting agency. There are still two other agencies, so Credit Sesame can only be a part of your ID theft prevention plan. Don't forget to also look up a free credit report from AnnualCreditReport.com for one of the three agencies every 4 months. And you can get your free monthly credit score via TransUnion and Equifax from Credit Karma.
Suggestions for better loans: If your home loan isn't currently the best possible deal, Credit Sesame will give you some better options that you can apply for right through their site.
Conclusion
After signing up for Credit Sesame and trying it out for a short while, I think it's definitely worth signing up and using it as a part of your own credit monitoring plan. I'll be using it in conjunction with Credit Karma and AnnualCreditReport.com, all of which will give you a free credit report or score.
Keeping tabs on your credit doesn't have to be difficult – or cost you anything!
Credit Sesame is free to use and there is no obligation to continue using it if you don't want to, so you've really got nothing to lose.
Head on over today and give it a shot!
Sign Up For Your Free No Obligation Credit Sesame Account