My family canceled traditional cable TV just over a year ago.
Our cable TV contract had grown to over $155/month for TV and Internet. We dumped cable and have now switched to over-the-air and streaming only services for all of our entertainment needs.
This article takes a look at one of the new upstarts in the over-the-top streaming TV world, fuboTV.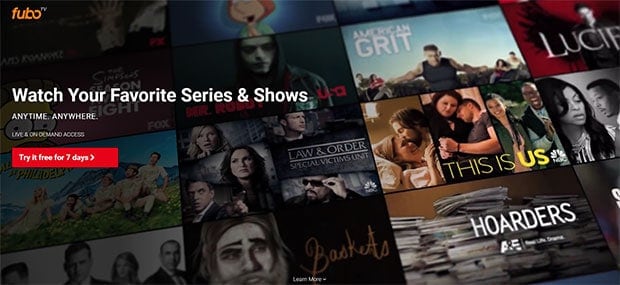 fuboTV Review Summary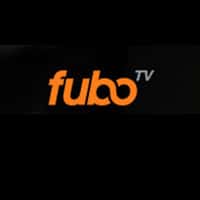 fuboTV was launched in 2015, and at the time was known mainly as a sports streaming network (mainly for soccer content), with channels like Fox Sports, CBS Sports, BeIN sports and more.
fuboTV has since been expanding their offerings inking deals with networks like Bravo, Lifetime, HGTV, Fox News, NatGeo, SyFy, Travel Channel, NFL Network and more. They have become a much more attractive offering, rivaling packages from services like Sling, Vue, Hulu, DirectTV NOW and other services.
Their packages start at just $64.99/month and when you sign up you get a month-to-month contract, which you can cancel at any time. So you can try it out for a few months if you want and then cancel at any time if it's not for you.
Some quick pros and cons of the service:
Pros
Affordable cost: Starting at $64.99/month for the basic package.
Availability of many of the most popular channels: fuboTV has most of the most popular channels that you could get with any cable TV package.
Cloud DVR: The service recently added a Cloud DVR to record your favorite streaming shows and movies. It currently has 250 hours of recording on the lowest plan, and you can upgrade to 1000 hours for $16.99/month.
Lookback viewing: If you miss your show when it airs live, you can watch the "lookback" version of the show for up to 72 hours after it airs, even if you didn't record it.
Month to month contracts: The service uses a month-to-month contract, so no worries about canceling at any time if you want to.
Compatible with many devices: fuboTV will work well with a variety of devices from Amazon Fire TV, to Apple TV to Android TV and mobile devices. They even have options for Mac and PC!
Cons
Limited live local channels: Many live local channels are not available via fuboTV, as well as ESPN networks.
Get Your 7 Day Free Trial With fuboTV
Why Should I Consider fuboTV?
Cable TV was really our only choice up until a couple of years ago, especially if you're a big sports fan like me.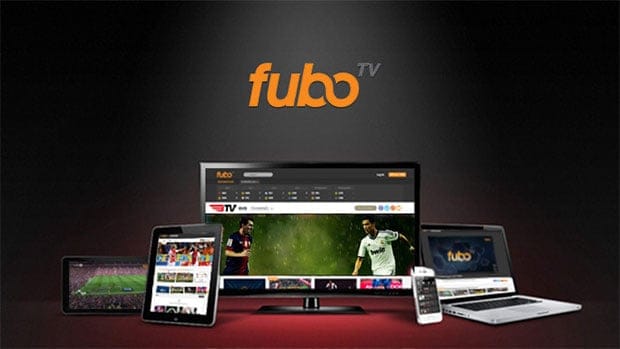 In the past 2-3 years streaming services like Netflix, Amazon Prime, Hulu, and others taking over. Traditional cable and satellite TV services have been replaced with streaming options like YouTube TV, Sling TV, and of course fuboTV.
I've tried out several of the services, used many of the devices and written about our cord cutting journey at our house. You can read the linked article to find out what tools we use, and why. But why should you consider fuboTV?
Low Cost
Leichtman Research Group, Inc, reported that the mean monthly spending on pay TV service is $103.10 (source)
The mean cable TV subscriber pays over $100/month for their pay TV package. When streaming competitors can offer many of the same channels for a fraction of the cost it's no wonder that so many people are switching. Just by switching to a service like fuboTV you can save hundreds of dollars a year!
You Love Sports (Especially Soccer)
One of the big reasons many people subscribe to the fuboTV service is because they are the premier place to go if you want soccer content, both internationally and U.S. In addition to that fuboTV has added a myriad of other sports networks for NHL, NBA, NFL and MLB. Their streams are high quality as well with 60fps at a resolution of 1080p, perfect for sports. They also have quite a bit of 4K content, one of the few places in the U.S. that you can get that.
Watch Your Shows On Mobile
fuboTV allows you to watch up to 2 streams at a time, no matter where you are. In your home, at work or on the go. Just download the app, fire it up and you're set to go.
So let's take a deeper look at one of the top up and coming streaming services, fuboTV.
Get Your 7 Day Free Trial With fuboTV
fuboTV: What Is It?
fuboTV is an over-the-top streaming television service that was launched on January 1, 2015. The service focuses primarily on channels that produce sports, news and entertainment content.
You pay one low monthly fee for fuboTV, and in return you get around 110+ channels or more depending on your package. The service can be viewed on your TV via any number of streaming devices.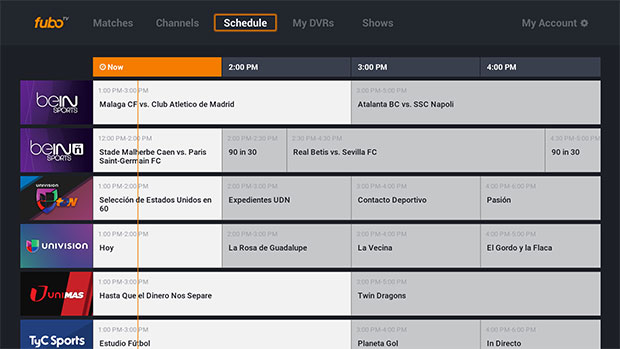 fuboTV is a month to month subscription service, so the contract can be canceled at any time. They offer a 7-day free trial, however, so you can ensure that the service is what you're looking for before paying the full monthly cost.
How Much Does fuboTV Cost?
So how much does the service cost? Let's take a look at the different packages and add-ons that are available.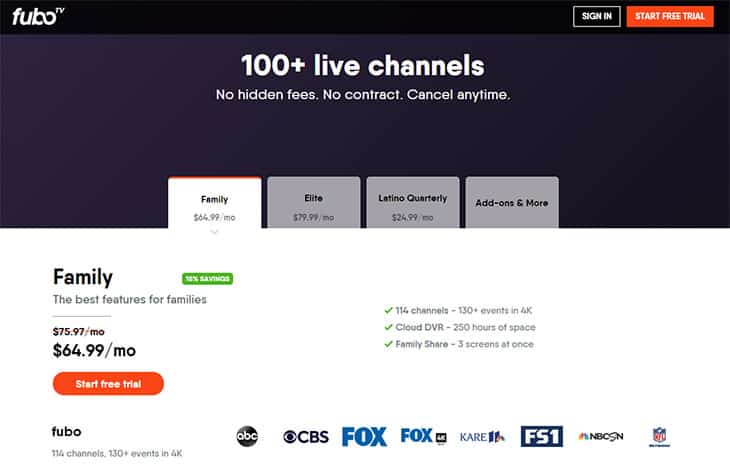 Family – $64.99/month
The basic package with fuboTV is fubo Family package. It starts with a free trial for 7 days, and then bumps up to $64.99/month. It includes 114 channels plus 130+ events in 4K. The cloud DVR has 250 hours of space for recordings.
It has a variety of live shows, sports, news, and more. Some of their most popular channels in this package include Fox Sports, CBS Sports, BeIN Sports, Bravo, Lifetime, FX, FXX, FXM, USA, Bravo, A&E, E!, National Geographic, Oxygen, Fuse, Lifetime, Sprout, History Channel, HGTV and more. (see currently available channels)
Elite – $79.99/month
This package includes 160 channels, plus 130+ events in 4K. It also includes 1000 hours of cloud DVR space and bumps the simultaneous screens up from 3 to 5. It also includes 46 entertainment channels, 9 Showtime channels, 24 extra sports channels.
Latino Quarterly – $24.99/month
This package gives you the best of Latin TV. 32 Spanish language channels from Univision and Fox Deportes to Fox Life and NatGeo Mundo.
fuboTV Add-on Packages
fuboTV has a variety of add-on packages that you can buy in addition to your basic package.
So what are the add-on packages?
Sports Plus – $10.99/month: includes a variety of sports networks like Fox College Sports, Red Zone, Fight Network and more.
fubo Extra – $7.99/month: Extra shows, movies, news, sports and music. Even kids' entertainment.
International Sports Plus – $6.99/month: Channels for streaming international sports.
Adventure Plus – $4.99/month: Revving engines, extreme sports and other thrilling pursuits.
Latino Plus – $19.99/month: The best of Spanish-language live sports.
Portuguese Plus – $14.99/month: 3 channels.
A variety of language and region specific channels $5.99-$14.99/month.
Cloud DVR
FuboTV recently added a cloud DVR for users to be able to record shows. You are able to record live TV programming, and then watch it 30 minutes after the program has ended.
Every package includes the basic cloud DVR which includes the ability to record up to 250 hours of programming. The recorded show is able to be saved indefinitely, or until it is deleted.
If 250 hours of programming isn't enough for you, let's say you want to record several seasons of a couple of different shows, you can upgrade to the advanced DVR with 1000 hours of space for $16.99/month.
Get Your 7 Day Free Trial With fuboTV
What Devices Can I Use With fuboTV?
If you're planning on using fuboTV the good news is that the service is compatible with a wide range of devices and platforms.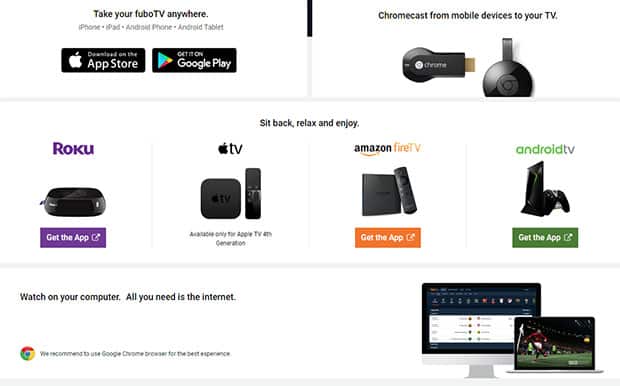 Here are the many of the devices that currently have apps available for watching fuboTV.
Samsung Smart TVs
Xbox
Browser on a Mac or PC
Mobile Apps
In addition to all of the devices above, there are also mobile apps available for iOS and Android devices.
You can find the apps here: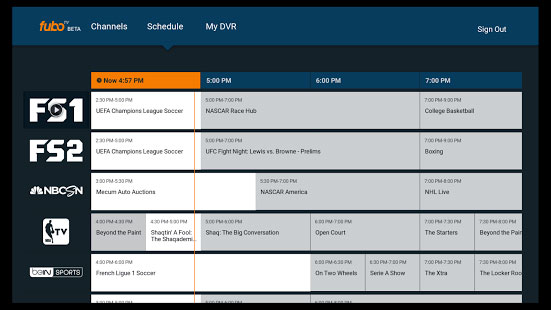 TV Everywhere Login
With an active fuboTV subscription, you can select fuboTV as your service provider and log in with your fuboTV account to over 30 TV Everywhere (TVE) network apps and sites.
The TVE app must be for a channel that's included in your active subscription. TVE login is a huge plus for fuboTV as not all services have this option, with PlayStation Vue being one of the few that allow your login to work with the apps for channels like A&E, BTN2Go, Bravo, Fox Now, and more.
Points To Be Aware Of With fuboTV
There are some things you need to be aware of when you sign up for fuboTV. There are some quirks to the service.
You can only stream to a limited number of devices: With fuboTV you can only stream to 2 devices whether at home or on the go.
Live broadcast networks not all available: Not all of the live local broadcast network stations are currently available, with mainly CBS and Fox affiliates currently being available. At our house, we use a Tablo over-the-air DVR to record all of our favorite over-the-air broadcast network shows, and we have an antenna on our main TV if we want to watch something live, so it isn't a deal-breaker for us.
Be sure your favorite networks are available: With fuboTV some networks you may see on most other services may not be available. For example, for my family, the ESPN networks and TLC are not currently available.
DVR is limited to 30 hours, or you'll pay extra: The basic DVR only has 30 hours of programming recording available. Any more than that and you'll need to upgrade to a higher tier plan.
fuboTV – The Sports Centered Streaming Service
When I first heard of fuboTV a while back I didn't really look into it very closely because they were so focused only on soccer content. In the past year or more they've begun adding network agreements that have allowed them to become a much more mainstream over-the-top streaming service with content for all of the major sports, news, and entertainment.
They also have advanced features that not everyone has like a cloud DVR, TV everywhere login, and the ability to watch your TVs and movies at home or on the go. At a price of only $64.99, they're not the cheapest streaming service, but the sheer number of sports channels and events available in 4K may make up for it.
I'd definitely recommend checking the service out.
With the 7 day free trial, you've got plenty of time to figure out how much you like the service.
Sign Up For Your 7-Day Free Trial With fuboTV Today