Have you ever thought how much money you waste because you simply haven't planned ahead?
Your doctor's appointment runs over so you've missed lunch and are hungry. You stop and get fast food because you neglected to pack a snack just in case. You've likely just cost yourself $5 or more because you didn't plan ahead.
We've seen this phenomena in action when it comes to weather. When I lived in the Midwest, every time there was a threat of a snow storm, people would make a mad rush to the grocery store.
I lived where winter storms were common, so it would seem prudent to have a stock of food and water just in case you get snowed in. But time after time, there would be a mad rush at the grocery store, and shelves would be bare.
If you plan ahead, you can save yourself a lot of money.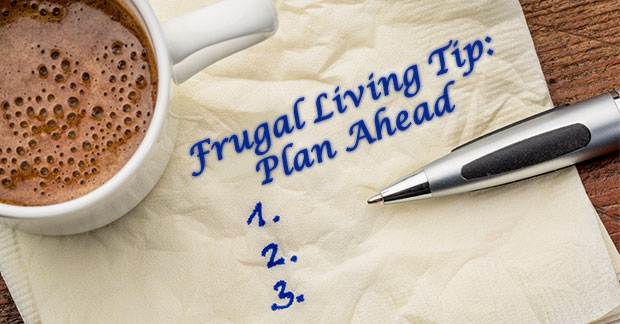 Buying Extra Back To School Supplies
My girls always seem to lose their scissors, they just disappear. Knowing this, I bought a few extra pairs at the back-to-school sales.
We're now only one month into the official school season, and guess what? That's right, their scissors have gone into the black hole wherever the rest of their scissors disappear to.
Thankfully, I could just go in my closet and pull out two new pairs that I bought for pennies, and in the end saved myself several dollars.
Pre-Cooked Freezer Meals
Families are busy, and some nights it's hard to get a home-cooked meal on the table, so planning ahead is vital. I knew that this September and October we would be very busy and that two nights of the week we'd only have 30 minutes to eat at home, right in between returning from one activity before going to another one.
I planned ahead by spending the three days of the Labor Day weekend stocking the freezer. After that weekend, we had 42 dinners in the freezer, enough to cover us for September and October. I just pull out a meal the night before and put it in the slow cooker in the morning.
If you don't have time for a big freezer cooking session, you can always spend some time on Sunday either making a few meals for the week or prepping the ingredients you'll need for your meals for the week.
Using this strategy, you won't be as tempted to just grab take out.
Buy Presents Throughout The Year
I don't buy all of my kids' Christmas presents in December, I plan ahead, create a Christmas budget and buy them throughout the year. Instead, I keep a list of the items that they're interested in, and as I see good sales, I buy them at the lowest prices I can find.
I have learned using this strategy, however, that I need to save some of my Christmas present money for November and December because I do continue to find some good sales then.
Budgeting For Big Expenses
I do not enjoy budgeting, but I don't enjoy scrambling to try to find money to pay a bill, either.
Nowadays, I take every irregular expense we have and save for it slowly. For instance, our auto insurance is due every six months. I take the total amount we'll have to pay and divide that amount by six. Each month, I put 1/6th of the payment away, so when the insurance payment is due, I have the full amount waiting in my account.
These are just some of the many ways I've learned to plan ahead, and, as a result, save our family money.
There are still times where life surprises me, and I have to pay more than I would like because I didn't plan ahead, but I try to minimize those times as much as possible.
How does planning ahead save you money? What strategies do you use? Have you had times where you didn't plan ahead, and you had to pay significantly more than if you had planned ahead?