Over the past couple of weeks we've been getting into crunch time when it comes to selling our house and working to finalize the build on our new house. It's been an extremely stressful past month or two, and it's been hard to think about much else besides getting the sale of our house finalized, and making sure our closing for our new house happens on time, and that the mortgage is closed on as hoped.
Because we've got so much going on trying to facilitate the sale and purchase of two homes, it has been extremely stressful the last few months. We haven't had a lot of free time, and even certain things that aren't normally an issue have been harder to get done.
For that reason it's been a godsend that we've been able to plan ahead and make many things in our family's budget automatic. Because a lot of things are planned for, and set on auto-pilot, they haven't become an issue now that times are stressful – and it's hard to think about much beyond what we're immediately focused on.
Planning Ahead With A Solid Financial Plan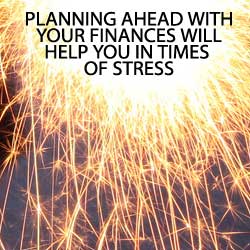 Planning ahead for a rainy day by making a solid financial plan is key to making sure that you can weather any storm. So what types of things should you be doing?
Setup a family budget: Make sure to setup a family budget where every dollar is accounted for and assigned to a spending, saving or giving category. If you've got a good budget setup, and a nice easy way to stay on top of it (like a budgeting software like YNAB), you should be able to let things slide a little bit, but still stay relatively on track when times are tough. At the very least you'll be able to see where you've gotten off track and adjust when possible.
Fully fund your emergency fund: Make sure that you setup a fully funded emergency fund for when times are stressful. When times are tough you may inadvertently let expenses get a bit high, or forget to pay a bill. Having that buffer built up will allow you to get current without causing issues.
Transferred risk through insurance: Make sure you've got all your insurance up to date so that if the stressful time is due to a death or health event, you'll be covered for the worst case scenario.
Automate where you can: When possible it helps to automate portions of your budget in order to ensure that bills get paid, and savings goals continue to get funded. Just because you automate, however, doesn't mean you should allow things to go un-attended for long periods of time. You should still stay on top of things.
Automate Your Finances Where Appropriate
One thing that can really help when times get stressful is to make sure that you've automated portions of your life so that they continue on, even when you're not able to pay much attention.
For example, a lot of your bills can be put on auto-pilot by doing automatic payments directly drafted from your checking account. Some people may not like giving their debtors that much control, and for some bills I may not do that – but for many of them I may do that just to ensure that they get paid every month – especially when times are stressful.
Another thing you can do to automate your bills, keep track of your bills, and remind you when they are due is to setup an account with a site like Manilla.com. Manilla is a site that will allow you to setup all of your online accounts, and send you reminders when bills are due. Utility bill due? Get a reminder. Mortgage due – get another reminder. They will also storehouse all of your bills and statements from your accounts so you can look at them later on – especially handy when you're coming out of a time of stress when you weren't paying close attention to your finances.
Also, as I mentioned above, automating your family budget using a software like You Need A Budget (YNAB) can really help when you don't have the time to manually figure out a budget in a spreadsheet. Or if you don't have time to enter all your receipts, you can just download your transactions online and enter them that way as a way to save time. By automating your budget that way, even if you're not able to completely stay in line with your budget during times of stress, at least you'll be able to see down the road where you let things get out of hand and fix them when times are less stressful.
Still Try To Stay On Top Of Your Finances, Even When Automated
While it's a good thing to automate things where you can, it's also important to stay on top of your finances when you come out of that time of stress, or when things finally settle back down and get back to normal.
Make sure to sit down and review all of your accounts, your budget and your finances in general, and get back to where you were before your stressful time happened.
What ways do you prepare for when times are hard or stressful? How do you ensure that stressful times don't harm your finances?