We've all probably been in a situation where it feels like we're getting a bill or statement from one company or another just about every day of the month. We end up with a big stack of bills and statements and in the end we have a filing cabinet full of paperwork, or a big huge pile on the desk.
I've always thought there had to be a better way to manage all of this, and now there is a company that purports to offer a solution to manage all of your online accounts, your bills, statements, loyalty programs and more.
At first glance I thought Manilla was going to be another Mint.com clone, an aggregator where you can manage your accounts, do budgeting and sign up for other accounts. What I found though was that it was much more focused on a specific niche – as a place to organize your accounts and manage your monthly bills. So today I decided to take a look and do a review of Manilla.com
UPDATE: As of July 1st 2014 Manilla.com will be ceasing operations. If you are using the product and would like to archive your documents and statements held with Manilla, you will need to download them all by June 30th, 2014. If you want, you can proactively delete your account by logging into your account, clicking on "manage profile" and then clicking on "Delete your Manilla account" at the bottom left.

Manilla History
Manilla.com was opened to the public in June of 2011. The site actually launched in February of 2011, going through several months of closed beta – by invitation only.
They've now been in full operation for several years and so far the reviews have been pretty good. They have received awards such as Time Inc's "10 NYC Startups To Watch", in addition to positive reviews on a variety of traditional media – online and on TV.
The site was started with the idea of making people's financial lives be less cluttered and confusing by keeping all your accounts, subscriptions and services all in one place, and making sure you always have access to the information you need like your bank statements.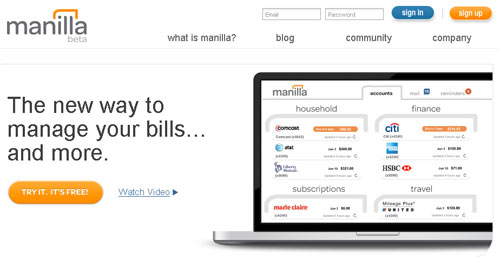 Free, Easy Signup With Manilla
Signing up for Manilla.com was extremely easy, and even more importantly – free.
Go to Manilla.com and click on the link to sign up.
Enter your name, zip, email, password and answers to 2 security questions.
You'll then be asked to confirm your account via email.
After the account is confirmed you can start adding new accounts to Manilla.
After I signed up for the site I proceeded to enter the details for my mortgage company, my banks, my satellite TV provider, phone company, and wireless provider. It also allows you to add magazine subscriptions, utility companies, Netflix subscriptions, loyalty programs, groupons and more.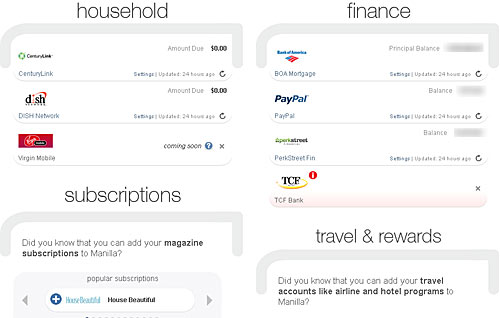 Once you add your accounts you'll see them all in your accounts screen (see above). Some of them may need you to take further action so that Manilla can access the account – like adding security questions or fixing mis-typed passwords.
The only accounts I wasn't able to connect to Manilla at this point was my Betterment account, along with my local utility provider for water and electricity. Hopefully they'll be adding them soon.
What Can You Do With Manilla?
Now that you've got all your accounts setup within Manilla, what things does the software allow you to do? To start with Manilla isn't going to be just another Mint.com or Adaptu.com clone, this site has a different function in many respects. Manilla's main point of interest is that it helps you in managing your monthly bills, subscriptions and accounts all while storing all your account statements and bills in your online account so that you don't have to have a million hard copies stored in your filing cabinet. Manilla doesn't have a bunch of budgeting or forecasting tools like Mint.com does, but for me that's ok because it's not meant to do those things. So what exactly does it do?
Manage All Your Online Accounts
First and foremost Manilla is a great way to manage all of your online accounts and subscriptions. When you have a large number of accounts it can be easy to lose track of them all, and forget logins for different companies that you use. It can also be easy to forget when bills are due, and if your account is already paid for the month. Manilla can help you to manage your bills and statements so that you don't forget – sending you reminders when bills are due, and giving you a handy "pay now" link to pay them when you need to pay. It does all this through one handy login to their secure site (using the same encryption that banks use).
The interface is simple and easy to use, with all of your accounts being listed on the accounts dashboard. You can view more details for each account just by clicking on the logo for that company.
In the details screen it will show you whether you have an amount due, what the date is of the current bill and a link to the company's site so you can make a payment. If it is a bank account it will show you the current balance and give links to your statements. A quick and easy way to access all the information that you need in one place, instead of having to dig through the filing cabinet or remember a user/password.
Bill Pay Reminders And Custom Alerts
Another cool thing about Manilla is how it allows you to setup custom email and SMS alerts to remind you that your bills have come due. You can set it to send alerts 1, 3 or 7 days before the bill is due, or when there is an overdue bill or account issue. If you autopay an account you can tell it that as well, and it won't send the reminders.
Your account will also show you reminders within your dashboard on the "reminders" tab. One thing I liked about that was the fact that it allows you to view your upcoming bills in either a list format, or in a calendar format. The calendar format is nice because you can see what bills you have coming up soon, and which ones to plan for later in the month. To pay the bill in either list or calendar format you just click on it and select "pay now".
Easy Organization Of Statements, Bills And Account Notices
One of the things I like the best about Manilla is how it allows you to remove some of the paper clutter from your life. Instead of receiving all your account statements and bills in the mail, it allows you to receive them in your Manilla account – all in one place for easy reference. No more need for monthly hard copies of statements that you stash in your filing cabinet for years. Instead you can just have all your statements sent to your Manilla account and have easy access to them if you need it at some point down the road.
Want to figure out where that bill is from 3 months ago for your cable provider so you can see if they were overcharging you? Go to your "mail" tab in Manilla, select to filter your mail to that company and you'll see your statements and bills from that company – stored in your account. The statements are available to download, print or send via email, and you always have free storage while you have an account.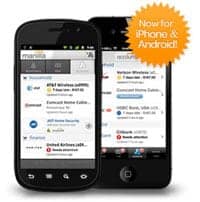 Mobile Apps For Android and Iphone
Manilla has also released mobile apps for their service. That makes it even easier to make sure you're on top of things while on the go or away from your desktop computer. Access all your important information and documents from your mobile phone or tablet!
How Is Manilla Free?
The first question that most people will ask right out of the gate is, "How much does it cost to use Manilla"?. The answer is:It's free!
Manilla is able to provide this as a free service because a lot of the service providers see Manilla as a cost-saving measure. It allows them to cut down on the amount of mail that they send out to customers, which is expensive. Companies spend on average .75 cents per piece of mail sent. The savings to companies for using a service like Manilla can be huge. Because of that they're willing to pay a fee to be included in Manilla, and the service can be provided for free.
My Impressions Of Manilla
I've only been using Manilla for a short time, but so far I really like the service. It makes it easy to access all your accounts in one place, store and manage bills and statements without the need for paper clutter that we've all grown so used to.
The site also makes it easier to track down information when you need it. Just find the service you're looking for in the "mail" tab and show your statements and bills for that company. No more rummaging through folders in your filing cabinet. Having bill pay reminders and alerts is just the icing on the cake.
Beyond all the cool features of the site, the fact that it's free to sign up and use means there really should be no reason for not giving it a shot. Sign up for your free account through the link below.
Sign Up For A Free Manilla.com Account