I was scouring my website's analytics this morning in search of some good topics to write about. One set of keywords I saw pop up several times in the logs was the "what is a good credit score". People were finding one of my posts on google that talked about how to improve your credit score, and a commenter had asked the question of "what is a good credit score anyway?". The question was asked, but I realized that I had never really answered the question of what a good credit score is.
Today I want to take a brief look at the question of how credit scores are created, what factors are taken into account and what exactly is defined as a good credit score.
A Good Credit Score Is..
There are several different credit scores floating around out there from different credit agencies, but the important one used by lenders is the FICO (Fair Isaac Corporation) score. FICO credit scores range from 300-850.
It's generally agreed that a good FICO credit score is going to be anything above a score of 700-720. Average credit scores are going to be around the 680-700 range, depending on your source. You'll be tagged as a poor credit risk if your score is 620 or below.
Here's a table showing approximate credit score ranges (There is no universally accepted credit score range).
| Credit Score | Description |
| --- | --- |
| 750-850 | Excellent credit. |
| 680-749 | Good credit. |
| 620-679 | Average credit. |
| 560-619 | Poor credit |
| 300-559 | Bad credit. |
What Goes Into A Credit Score?
One thing that confuses a lot of people is just what goes into your credit score. I searched around and on MyFICO.com I found the following explanation of what factors go into your credit score, and how much they count towards your total score.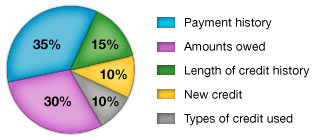 For a more detailed explanation of how your credit score is determined, check out the post on MyFICO.com.
What Effect Does A Credit Score Have?
So the question is, what kind of an effect can a credit score have on what you pay for a home loan, an auto loan or other type of loan?
Home Loan Credit Score Effect
Here's an example of what type of interest rate and payment you could expect to see depending on what your credit score range is. I created the following from a credit score calculator on MyFICO.com. It assumes a 30 year fixed loan for $200,000.

As you can see the total interest paid can vary pretty greatly depending on what your credit score range is. For example, someone with excellent credit can expect to pay $67,638 less in interest over the life of the loan than the person with poor credit. That's a big price to pay for having poor credit! Here's a look at how your payments would differ if your credit score were to drop from an excellent credit risk in our scenario above.

Auto Loan Credit Score Effect
For an auto loan, the effect is very similar. Here's a look at a $20,000 48 month used auto loan.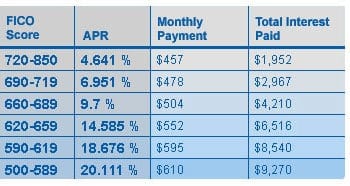 So the difference in interest paid for someone who is at the top of the range and the bottom would be around $7,318 over the 4 year loan. That's a big penalty for bad credit – it's enough to buy another used car!
Get Your Credit Score
Find out how to get free credit scores from the big three credit agencies (TransUnion, Equifax, Experian) via this post: Free Credit Reports And Scores
You can also find free non-FICO credit scores by using these free sites (with screenshots showing how your score will look):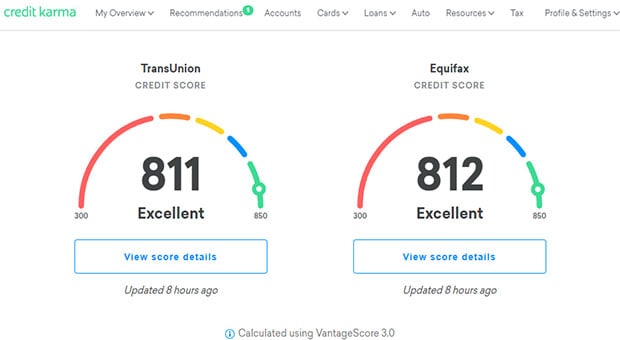 Get your actual FICO score (the one actually used by lenders) for free, or a one-time fee (It can be harder to find the FICO score for free):
Your Credit Score Is Important
Whether we like it or not we live in an age when having a good credit score is important. Having a good credit score can have an effect on whether you get a good loan, your insurance premiums are high or low, whether or not you can find a place to rent, whether you can get certain jobs, and whether or not you can sign up for certain services that require a certain credit score (cell, satellite, etc).
Whether or not you believe that credit scores are a good thing or not, the fact remains that they are becoming an integral part of our financial framework in this country. So you better know what you credit score is, especially if you want to get the best rates, the best job or a nice place to live.