When hard times hit financially, do you buckle down, cut expenses, and weather the storm? Or do you keep your same standard of living, certain that times will improve soon? Do you try to find more work so that you don't have to lower your standard of living?
I've been a big fan of the Little House on the Prairie books since I was in elementary school. When I heard that an autobiography of Laura Ingalls Wilder was to be released, I pre-ordered on Amazon.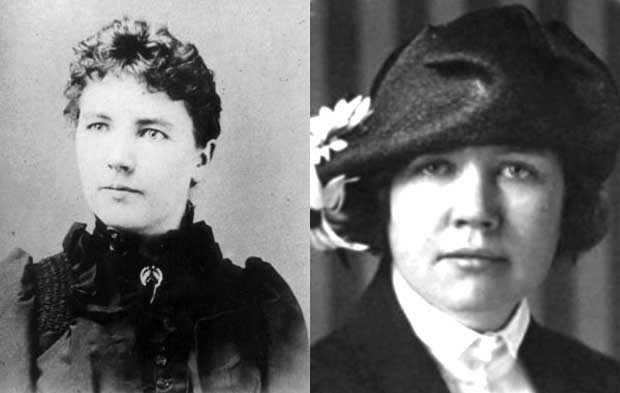 I'm not finished with the book yet, but I've enjoyed it so far, especially the early part of the book that chronicled Laura's tumultuous relationship with her only living child, Rose (above, right).
Right before the Great Depression hit, Rose had invested her parents' money in stocks that were making a lot of money for her. She had built her parents a home (which they didn't want) right next to the Rocky Ridge farmhouse where they had lived for years.
Shortly thereafter, the stock market crashed, and neither Rose nor her parents were making any money from their stocks. In fact, they lost a great deal of money. Rose was in serious debt.
Rather than cut her expenses, she continued to spend lavishly on travel and clothes, yet all the while, fretting about her ability to pay her bills.
Meanwhile, Laura's natural tendency was completely the opposite. Much to her daughter's chagrin, Laura preferred to severely cut her expenses, even going so far as to threaten to cut off her electricity so that would be one less expense she would have to pay. Laura had been through seriously hard times before, and she knew the best way through was to cut her expenditures.
In a fascinating article about the two, author Judith Thurman states, "Laura's martyrdom, as Rose saw it, was a reproach to her own way of life. 'My mother cannot learn to have any reliance upon my financial judgment or promises. . . Where is perseverance, thrift, caution, industry—where are any of the necessary virtues? Simply not in me'" (The New Yorker).
When hard times hit, Rose didn't want to lower her standard of living. She instead worked harder on her writing, hoping to publish more and make some money to relieve her financial strain. The trouble was that the publishers were also tightening their belts thanks to the Depression.
Maybe Laura and Rose's different approaches to financial troubles were a matter of youth versus old age. Maybe it was a matter of practical experience.
Yet, as much as I found myself baffled by Rose's behavior, I realized that I, too, have behaved like Rose in the past.
When I stayed home after my third child was born, my husband and I lived off his small teaching assistant salary and student loans. We should have been uber frugal, but we weren't.
We made some stupid decisions, like continuing to pay for our son's private education because we didn't want to pull him out in his last year. We continued to go out to eat, even though we didn't have the money for it. We didn't want our lifestyle to change, and for a year or two, it didn't. But that all changed when the debt caught up with us.
Now, we are much more akin to Laura. We're once again living on my husband's salary, and we've seriously tightened the budget. We're getting by just fine, albeit without some of the creature comforts of our neighbors.
Having spent time behaving financially like Rose and Laura, I can tell you, for me personally, Laura's way of handling financial crises is much better. Even though you may not have a lot of money or creature comforts, you can sleep at night knowing you're not going in debt.
Have you found yourself acting irrationally like Rose, or are you more like Laura when facing a financial crisis?