A short while after I started this blog I wrote a post talking about the best ways to watch all your favorite TV and movies without paying for cable or satellite TV.
At the time I was fed up with my cable TV provider, and I decided to research all the tools and streaming services available that would enable me to cut the cord. It was time to get rid of the constant pay TV price increases that seemed to have no end in sight.
While that post still has a lot of good information, in the past year or so we've seen a lot of big changes in the streaming TV world, and it has made dumping cable and satellite that much more feasible, without having to worry about losing access to your favorite shows.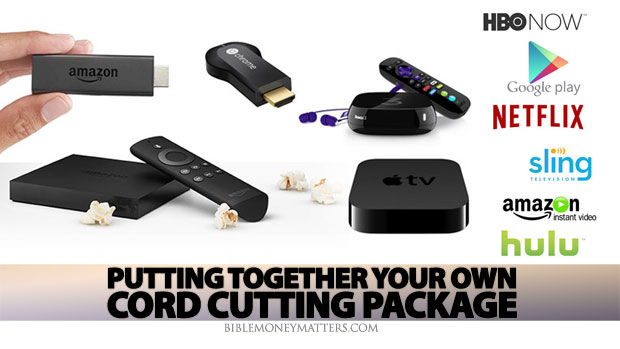 So what are some of the changes that we've seen in the past year or two?
We've seen the rise of over-the-air DVRs that make it easy to record high definition TV programming for no cost other than the cost of the DVR itself. We've seen several new streaming services pop up, like Sling TV and Playstation Vue, that promise to make cutting the cord much more pain free. And we've seen big cable TV empires like HBO, that traditionally are only available via a cable TV subscription, launch their own a-la-carte online streaming channels.
The TV landscape is changing, and it's easier than ever to drop your expensive cable subscription. So let's get started.
My Cord Cutting Setup
Over the past few years I've changed my setup a bit as the technology has evolved. Currently this is the setup that I use at our house to get all of of the TV programming we need.
So that's my current setup, although it's always subject to change as I receive new devices to review, or as new services launch.
Now that you've seen what I have and use in my cord cutting toolbox, why don't we look at some of the options when it comes to the best streaming services, over-the-air DVRs, streaming devices and more.
Best Streaming Video Services

One of the biggest advancements we've seen in the past few months is the launch of a few online streaming TV services that offer a cheap alternative to cable TV for those who don't want to pay an expensive monthly bill. The ones that made the biggest splash include YouTube TV, Hulu, Sling TV and HBO Now.
Philo – $20/month: Philo is quickly becoming the go to option for people who don't want to pay a lot and don't care about sports (they don't carry sports networks, making it cheaper). They are only $20/month for their basic package, with 58 channels from Discovery, TLC and History to HGTV. Read the full Philo review here.
Sling TV – $25/month: Sling TV is an online streaming TV offering from Dish Network that costs only $25/month and gives you premium live TV channels from the likes of ESPN, AMC (The Walking Dead anyone?), HGTV, CNN, Cartoon Network, Disney and more. For a limited time you can also get $50 off of a Roku Ultra or AirTV Player, or receive a free Roku Stick with 2 months prepaid! This is one of the few ways you're going to get ESPN or some of these other channels without paying for cable! They also now have a cloud DVR! Ready my full Sling TV Review here.
AT&T TV Now – $65/month: Launched at the end of 2016, this service is similar to Sling and Vue, and gives you 100+ channels for $65/mo. It was lower cost ($35/month) initially, but they have raised prices a couple of times. Includes HBO in package price if you're looking for that.
fubo TV – $54.99/month: fubo TV is a relatively new streaming service that has a ton of live TV stations, and specializes in sports content – including a lot of soccer. They currently advertise 73 channels of content, starting with a free trial, then back to the regular $54.99 price. Read a full FuboTV review here.
YouTube TV – $49.99/month: YouTube launched their own live TV service that starts at $49.99/month and includes sports channels, and live local channels in many markets. 5 day free trial is available.
HBO Now/HBO Max – $14.99/month: HBO programming has only been available via a cable TV package for the longest time. Since 2015 HBO Now has provided HBO programming outside of a cable package. If you're a fan of certain HBO shows this makes cutting the cord much more possible. In May 2020 HBO Max will launch at the same price, and have much more programming available.
Netflix – $8.99/month: Netflix has a wide variety of movies, TV shows and now original programming as well.
Disney + – $6.99/month: Disney's new streaming service will have a wide variety of Disney programming, available for an extremely affordable price. We found a pre-launch deal that gives it to us for 3 years at $3/month! Launches November, 2019.
Apple TV+ – $4.99/month: Apple's new streaming service is only $4.99/month, and will have mainly original programming from some pretty big directors, actors and other influencers.
Amazon Prime Video – $119/year: We pay for Amazon Prime anyway for the free 2 day shipping, and in the deal we get Amazon Prime Video as well. You can also buy or rent new release movies that aren't included for free, and you can now even download shows to watch on the go!
Hulu – $5.99/month or $44.99/month for Hulu + Live TV: If you want to get TV shows and movies that you may not have been taped over-the-air, you can usually find them here the day after they air on TV. They also have a free version, although that version only allows viewing on a computer web browser, usually for a limited number of episodes per series. They also recently launched a full cable and live TV replacement service, however, and I've been impressed with it.
Google Play Store: My wife and I tend to rent first run movies here and there from the Google Play store because it's easy and convenient to stream the movies from our tablets to the Google Chromecast. If we're getting a first run movie, however, we usually go to the Redbox for their $1 rentals.
CBS All Access – $5.99/month: CBS doesn't allow streaming of their shows through some of the other streaming services because they have their own over-the-top streaming service. They do have some good shows, however and are worth checking out.
Pluto TV – FREE: Pluto TV has an app for most streaming devices that allow you to watch a 100+ channels of free video entertainment from movies and music to TV shows. Pluto is the free TV streaming service.
PlayStation Vue: – $44.99/month: This service launched in 2015 and quickly became one of my favorite cable TV replacement streaming services. As of October 2019 the service announced it would close it's doors on 1/30/2020. Read my full PlayStation Vue review here, including the announcement about the company shutting down.
If you're looking for something even more affordable, check out our list of free TV apps and streaming services.
Best Over-The-Air DVRs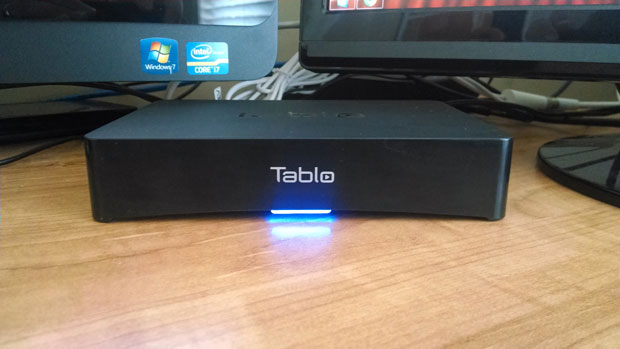 If you're going to be cutting the cord, you'll definitely want to take advantage of all the free over-the-air HD programming that is available to us these days. 94 of the top 100 shows are available over-the-air on broadcast network TV. If you're going to be watching broadcast TV it will be in your best interest to buy a DVR of some sort so you can record your favorite shows.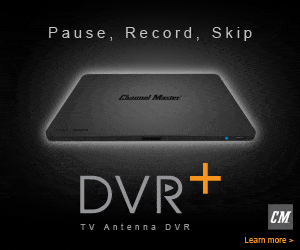 In my research there are several over-the-air DVRs that have caught my attention, and that seem to get the best reviews.
Tablo DVR: The Tablo DVR allows you to watch live TV, record shows or record series, much like a cable company DVR. It also allows you to watch recorded shows or live TV on all your devices like set top boxes, phones, tablets, etc. The only cost is for the DVR itself ($219-299), and a subscription cost for TV guide information and other premium features. Lifetime subscription costs $149.99, yearly costs $49.99 and $4.99 monthly. Read a full Tablo review here.
Channel Master Stream+: Channel Master Stream+ will allow you to record shows or watch live TV, in addition to viewing streaming video and music on any of the Android apps you can download. It also has full Chromecast ability. This unit is meant to be hooked up to one TV via HDMI unlike the other two which require an external streaming device of some sort. The cost is $149 for the basic model that doesn't include a hard drive, or $199 for the model with a 1TB hard drive. After purchasing the unit there are no more costs, episode guide information is FREE. Here's my review of their old device, the Channel Master DVR+.
HDHomeRun Extend Tuner & DVR: The HDHomeRun Extend is a network over-the-air tuner that will sync up with their HDHomeRun DVR software, or with a third party software like Plex to watch Live TV and record your favorite shows. I use it in conjunction with Plex Media Server and it works great! Read a full HDHomeRun Extend review here.
So the Channel Master, Tablo and HDHomeRun units all allow you to watch live TV and record your favorite over-the-air shows after you hook an antenna of some sort. The Channel Master is different in that it has an HDMI connection to the TV and is mainly meant to provide service and recordings to one television. You can add functionality to stream shows to other devices by adding on a Slingbox 500, but that will cost another couple hundred bucks at least. All three units will require an external hard drive as well, unless you buy the high end Channel Master Stream+ that comes with a 1TB drive.
Best HDTV Antennas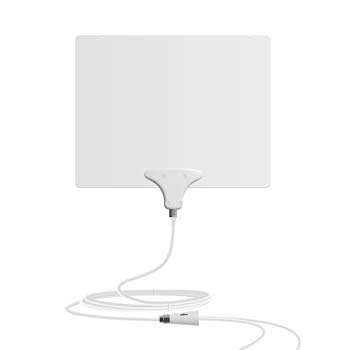 My favorite antennas to hook up your over-the-air DVRs, or your regular TV, are the ones from Mohu. There are other decent ones available as well.
Best Online DVR Software
Another option for watching and recording all of your favorite shows is to view and record them online. There are software that will allow you to watch and record on demand shows, as well as live broadcasts, and stream them on your computer or to a connected device like a Chromecast or Apple TV. Here's the best one I've found:
PlayOn: PlayOn is a streaming software that will allow you to aggregate video from a wide variety of online sources, and then have the video content available for viewing in one place. By upgrading to the PlayOn Plus software you can also record on demand and live video streaming sources as well, for later viewing. Have a show on Netflix you want to bring on your flight? Just set it to record the show to .mp4 and you're good to go! It even has a feature to skip ads from online content (like Hulu) called AdSkipper. Hook it up with your streaming device like a tablet, phone or TV with Chromecast or Fire TV Stick, and you're all set to go! I go more in depth about implementing Playon here.
Best Streaming Video Devices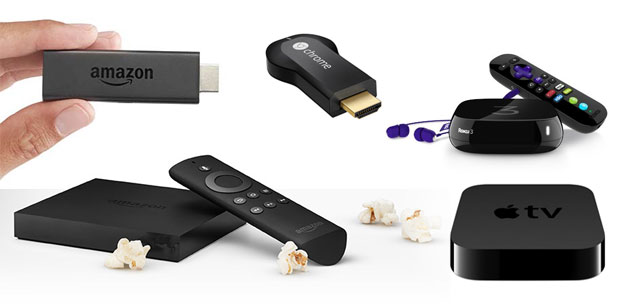 If you truly want to cut the cord, you'll probably want to buy a video streaming device of some sort. There are quite a few of them available out there, but you can find one as cheap as the Google Chromecast for around $30-35.
Fire TV & Fire TV Stick: As an Amazon Prime member I was able to buy one of the Fire TV Stick devices for only $19 when it was released and I love it. Even at it's current price of $39.99 for the 2nd gen device, it's a good deal. Works great for streaming Amazon shows, Netflix, Playstation Vue and Sling TV and select other services. I liked the Fire TV stick so much I ended up buying a Fire TV box as well. It's a top notch device and is a bit more expensive at $99.99, but it runs silky smooth and just works. Read a full Fire TV Stick review here and a Fire TV review here.
Roku Ultra & Roku Stick: Probably one of the most popular video streaming devices is the Roku3, and a lot of people swear by it. The Roku4 was just released and is even better.
Chromecast: The Google Chromecast plugs into the back of your TV, and plugs into the wall. From there you can stream TV, movies and music from a variety of apps on our phones and tablets directly to the TV. We love the Chromecast, and Google has now released a second gen device! Read a full Chromecast review here.
Apple TV:If you're heavily invested the Apple sphere, this is likely the video streaming device you'll want to get. It will also work natively for the HBO streaming service, so if you want to get that you'll need this device (or an iPad or iPhone).
Nvidia Shield: This 4k device will allow you to run just about any streaming app you can think of, and it can even be setup to be a Plex Media Server. It is a bit pricier than some other streaming devices, but it can also do more, including gaming.
One of the devices above should work if you want to stream video to your main TV at home. Of course, if you've already got an Playstation 4, Xbox One or other console, those may work for streaming video as well.
Figuring Out Your Ideal Setup
Getting your cord cutting system all setup can be a bit confusing, but you don't have to do it all at once, and you don't likely need to have every component that I do, or that others do. These days the key is to figure out what shows, movies and other video content you like to watch, and find out where that content is available. Then figure out which devices that content is usually available on.
For example, if you like watching a lot of HBO content, you may want to sign up for the new HBO Now service, and get an Apple TV since those will work best for you in your situation. If you like watching House of Cards and Orange is the New Black, having a Chromecast and Netflix may work best for you.
For us, since we like watching current TV shows – most of which are on broadcast TV – the best setup for our scenario included having an over-the-air DVR like the Tablo. We have a 9 year old son and 1 year old daughter, and the plethora of children's content on Netflix also works well for us.
What You'll Need
No matter what your ideal setup is, in most cases you'll need the following things to take advantage of all possibilities.
High speed internet
Streaming device
Streaming video services
DVR
Antenna
Figure out which ones are the best for you, and get it setup according to the manufacturer's directions. You'll be watching TV and movies in no time!
Is It Cheaper Than Traditional Cable TV?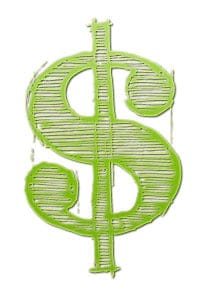 After going through all of these details, the question is this: Is it truly cheaper to dump your cable TV bill and get your TV entertainment via other sources? The short answer – it depends.
If you pay for all the streaming services, buy a bunch of devices and pay for a variety of shows on their own, it can get pretty expensive.
If, on the other hand, you pick and choose which services you subscribe to, which devices you buy and what shows you pay for, you'll almost surely come out ahead.
Our Situation
For our situation we were previously paying $154/month for TV and internet, $80 of that for the TV portion. With our cord cutting setup we're paying $64.13 less per month than we were previously:
$29.92/month total for subscription fees to Philo and Amazon Prime
$54 one time cost for Chromecast and Fire TV stick.
$154.98 for 2 Fire TV devices.
$240 for Tablo DVR and Mohu antenna. Disclosure: I received the Tablo DVR and Mohu antenna for free in return for reviewing them, so we didn't have to pay the cost for those.
So for an up front cost of about $448.98 for the streaming devices and DVR, and a monthly cost of about $29.92, it is decidedly cheaper than paying for cable TV for us. It would take you about 7 months to recoup the startup costs (if you didn't already have some of the devices you'd need – or get a free device through a streaming service) and then you'd be saving money every month.
In our situation, after repaying your startup costs in those first 7 months, we'd be about $320 ahead in that first year alone. $769.56 or so in the second year.
What Are You Missing?
There is one caveat to cutting the cord in that there is some content that still may not be available to you (at least legally) if you're not paying for cable TV.
Sports: In many markets sports are not available online or on broadcast TV. The only way to get it may be to sign up for cable TV. For me that meant signing up for cable to get Fox Sports North through my cable provider. With the release of a variety of providers like Hulu + Live TV, YouTube TV, Sling TV, fuboTV and others, that is no longer as much of a problem.
Some pay channels: There are still some pay channels that are not available outside of a cable TV package. The only way around that in many instances is to purchase the shows individually from a service like Amazon Prime Video, or Google Play.
Cut The Cord And Start Saving Money!
If you're willing to forgo sports content, or to pay for a show now and then, cutting the cord can mean hundreds of dollars in savings every year. The new streaming services, streaming devices and other new technologies are helping more and more people to cut the cord and save hundreds of dollars every year.
So what would you do with the hundreds of dollars you could save? Could you find a use for that money?
Have you cut the cord at your house? Tell us what your setup is, and how you're saving by cutting the cord? What technologies, services and devices have we missed that you think should be mentioned?