If you're tired of spending too much for your cable or satellite package, and are in need of some good alternatives to cable TV, you've come to the right place.
Our family cut the cord on cable TV years ago, and ever since we've been using a combination of live TV streaming services, antenna TV, free streaming services and our own Plex media server to satisfy our entertainment needs.
The average cable TV bill, according to the Leichtman Research Group (source) was $107 in 2018. When all is said and done, 78% of households subscribe to pay TV, down from a peak of 87% a decade ago.
More and more people are switching from expensive cable TV packages, to one or more of a variety of low cost streaming TV services.
Our family has gone from paying $160+ for traditional TV and Internet a few years ago, to paying closer to $70 for Internet and streaming TV now. That's a savings of over $1000/year! That's pretty significant!
The features and functionality of today's online streaming services are often above and beyond what you would get with a traditional cable or satellite TV provider. So even though you're likely to be paying less, you are probably getting more bang for your buck.
So let's jump in with both feet and take a look at some of the best cable TV alternatives available today.
Cable TV Alternatives Can Save You Money
Over the past 5-10 years the digital entertainment landscape has changed pretty drastically.
Whereas in the past you only had a couple of choices for television entertainment, either broadcast TV via an antenna or cable TV, these days you have many more options for your video viewing pleasure.
Today there are live TV streaming services, over-the-air broadcast HDTV, free streaming apps and video websites. There is no shortage of cable TV alternatives.
The only caveat to the situation is If you're not careful you could easily sign up for multiple services and end up paying more than you did previously with cable TV only.
So make sure to sit down with your family, figure out which services best fit your needs and viewing patterns, figure out where the shows you watch are streaming, and sign up only for the services that you absolutely need.
Which Streaming Services Fit Your Needs? Our Situation
The first thing to do when cutting the cord on cable TV is to sit down with your family and talk about which TV shows, and which networks, you absolutely can't do without.
At our house my wife loves watching shows on TLC, Hallmark, HGTV, Animal Planet and a few other channels. For me, I enjoy watching our local sports teams, so I would like to find something that includes our regional sports networks. For our kids, they enjoy kids programming on PBS, Nickelodeon and Disney channels, although not having one or more of these networks isn't necessarily a deal breaker.
After discussing our options, we found that subscribing to Philo TV would give us all of the channels and shows that my wife and kids need, while I can subscribe to either Hulu or YouTube TV as needed to watch my Minnesota sports teams.
In months where we subscribe to Philo only, we pay $20/month for our cable TV alternative. If I'm subscribed to another service for a month or two, it can cost closer to $50-70.
Another perk that we like having is that Philo has access to "TV Everywhere" app logins, so you can login with your Philo credential in the 31 different TV channel apps and websites. This allows you to watch more than the max number of streams for the service if you want, plus view other on demand shows that might not be available on Philo itself.
For example, my wife can go onto the TLC Go app with her Philo login to view old episodes of her favorite show, while I can go to Fox Sports Go with my Hulu login. Many live TV streaming services take part in "TV Everywhere" logins, so make sure you figure out if the one you are considering does (we'll make a note of ones that do down below).
Our Ultimate List Of The Best Alternatives To Cable TV
So what are the best alternatives to cable TV, and what does each service have to offer?
Here are some of the best options that we've found to replace an expensive cable TV package.
To be included in our list they had to be affordable, and have a good amount of programming available for their cost.
The table below gives a quick overview of some of the services we'll look at in this article.
The services range from the free services like Pluto TV, all the way to the slightly more expensive end with DIRECTTV STREAM, which even at $74.99 is still probably cheaper than some traditional cable TV packages.
So let's take a closer look now at the alternatives to cable TV listed in the table above.
Let's start with my current favorite, Philo.
Philo TV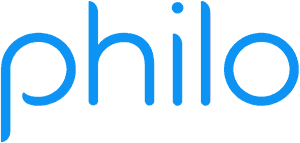 Philo is an over-the-top streaming cable television service. It gets it's name from Philo T. Farnsworth, the man who invented television in 1930.
Philo offers only one programming package, a low-cost, $25/month, 70+ channel package.
The channels included in the service are a listing of traditional cable TV channels, with everything from Nickelodeon and AMC to TLC, HGTV, History, A&E and even Hallmark.
The only things missing? Channels that traditionally make a cable TV service expensive, the sports and news channels. They also don't have local channels, although at our house we just use an antenna with over-the-air DVR for that.
Head over to our Philo review for a complete Philo channel listing to see if everything you need is there.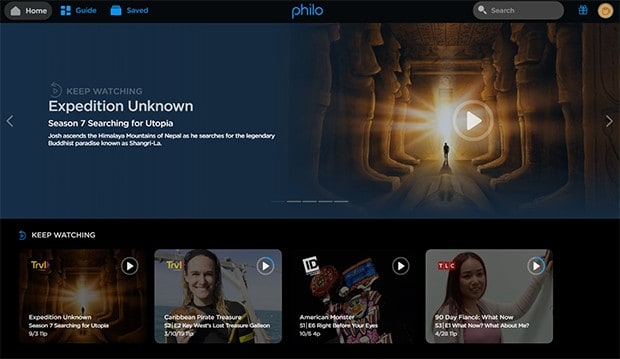 In addition to having a good selection of channels, Philo also has an unlimited cloud DVR included for no extra cost. You can save as many TV shows and series as you want to your account. The only caveat is that the shows are only saved for 30 days.
The service allows you to set up unique users, so each member of your family can save and watch their own favorite shows within their own account. You can stream the service on up to 3 separate devices at a time as well, which some of the more expensive services don't even do.
We've been using Philo as our main cable TV alternative for over a year now. Highly recommended!
Philo - Best Low Cost Cable TV Alternative
Starting Price (per month): $25
Channels (in entry-level package): 58
DVR: Yes
On-Demand: Yes
Device Support: Android, iOS, FireTV, Apple TV, Android TV, Computers, Roku.
Simultaneous Streams: 3
TV Everywhere Apps: 31
Full Review: Philo Review
Sling TV
According to Comscore, Sling TV is the #1 live TV streaming service. Sling also has one of the lowest cost cable TV packages around.
Their packages start at just $35/month, and the contracts are month to month so you never have to sign a long term contract. There are two $35 packages, Sling Blue and Sling Orange. The two packages share some channels, however, the orange package has ESPN, Disney and some other Disney owned channels. Blue on the other hand typically has regional sports teams and some local programming.
You can bundle the two packages for $50/month. When you have both packages you can stream to up to 4 devices at once. Stream to 1 device for orange package channels, and up to 3 devices for blue package channels.
If you want to have a cloud DVR with Sling TV you will get 10 free hours of DVR, or you can add on 50 hours of DVR storage for $5/month. With the DVR you can access those recordings anywhere, on the go.
In addition to the two main channel packages you can purchase stand alone channels like HBO, Showtime, Cinemax among others.The more you add, the more it will cost!
Sling is available on just about every major platform, from Apple TV, to Android and iOS, Chromecast to Fire TV.
I have had a membership with Sling and grew to really like the service, watching it on our FireTV. I bought it mainly because they had our regional Fox Sports networks, so that I could watch the Twins, Wild and Timberwolves. Due to a contract dispute recently, however, their regional Fox Sports networks are currently not available. When they become available again, I'll likely sign up again.
Sling TV - Best Low Cost Service With Sports
Starting Price (per month): $35
Channels (in entry-level package): 33/48 (51 if bundled)
DVR: Yes
On-Demand: Yes
Device Support: Android, iOS, FireTV, Apple TV, Android TV, Chromecast, Computers, Roku, Playstation, Xbox.
Simultaneous Streams: 1-4 depending on package.
TV Everywhere Apps:19
Full Review: Sling TV Review
Hulu + Live TV
In the past Hulu didn't have live TV service, it was mainly an on demand video service, streaming TV shows and movies on demand.
There were two versions, the ad supported Hulu Basic ($7.99/mo), and the ad-free Hulu Premium ($17.99/mo).
Recently Hulu added live TV service, which gives you everything Hulu had before, but also adds in live TV streaming.
Hulu + Live TV has 65+ channels and counting, including many regional sports networks, news stations and some local channels.
The website and apps for Hulu + Live TV are all beautiful, it probably has the best looking interface of any streaming service.
Hulu allows you to setup multiple user profiles in your account so each member of your household can save their own favorite shows.
The account as a whole has 50 hours of free cloud DVR storage for all users. For an extra fee of $14.99/month you can upgrade the cloud DVR to 200 hours, which also gives you the ability to watch Hulu on unlimited screens, instead of the limit of 2 screens that the starter account comes with. To bump up the DVR only it costs $9.99/month.
I currently am paying for Hulu + Live TV because they have the regional sports networks that I need to watch my favorite sports teams, and they are among the cheapest to have that option. I'm enjoying the service quite a bit and would definitely recommend it, especially for those who watch a lot of sports.
Hulu + Live TV - Best Low Cost Full Featured Streaming Service
Starting Price (per month): $76.99
Channels (in entry-level package): 65+
DVR: Yes
On-Demand: Yes
Device Support: Android, iOS, FireTV, Apple TV, Android TV, Computers, Roku, Playstation 4, Xbox One, Nintendo Switch.
Simultaneous Streams: 2
TV Everywhere Apps: 33
YouTube TV
YouTube TV is a relatively new service having just launched in April of 2017 in select markets. Since then it has grown and it went nationwide in early 2019.
The service has over 70 live TV channels, including many local channels.
It's strength is in it's long list of sports channels like ESPN, Fox Sports, Big Ten Network, SEC Network, MLB Network, regional sports networks and more. If you love sports, you will want to check out YouTube TV.
YouTube TV also has an unlimited DVR so you can save as many show recordings as you want. Many of the services place a limit on storage for their cloud DVR, but YouTube TV does not, which is a huge plus. Recordings may be kept for up to 9 months, although some report that recordings get replaced by on demand episodes with commercials sometimes.
Up until somewhat recently the service was only available on Chromecast devices, and other devices with built in casting functionality. That was part of the reason why I didn't even consider the service. Recently, however, they announced support for a whole host of new devices including Fire TV, Roku, Apple TV and more.
I've tested the service out on the FireTV app recently using their 5 day free trial. I watched a Minnesota Twins playoff game, and it worked flawlessly for me. No buffering, the app was smooth and overall the service was great.
While it costs more than some of the other services, a lot of people I talk to prefer this service as their go to cable TV replacement, especially if they're a big sports fan. You definitely can't go wrong with them.
YouTube TV - Best Sports + Unlimited DVR
Starting Price (per month): $72.99
Channels (in entry-level package): 70+
DVR: Yes
On-Demand: Yes
Device Support: Android, iOS, Chromecast, TVs with Chromecast, some smart TVs, FireTV, Apple TV, Android TV, Computers, Roku, Xbox, PlayStation
Simultaneous Streams: 3
TV Everywhere Apps: 31
fubo TV
fuboTV has become one of the go-to streaming services for people who like live sports programming, especially soccer. It's also one of the few ways to get 4K sports content in the U.S.
Their service starts at $74.99, and they have a free 7 day trial so that you can try the service out to see if it's for you.
They have 71 channels in their standard package for $74.99, which includes a ton of sports related channels. Channels like FS1, FS2, NBCSN, NFL Network, NBA TV, beIN Sports, Pac-12 Network, CBS Sports Network, Big Ten Network, Golf Channel, Olympic Channel and regional sports networks. They also have 130+ events streaming in 4K.
The standard plan comes with 30 hours of cloud DVR. You can bump that up to 500 hours by paying an extra $2.50/month.
You can stream to up to 2 devices per account, but if you pay an extra $1.50/month you can stream to up to 3 devices.
I was able to try out fuboTV for a review for this site a while back, and it worked great on FireTV. While I didn't have a use for all of the extra sports content, for some that might be a big bonus.
Their add-on Latin packages would be good for Spanish speakers as well.
Their 7 day free trial should give you an idea if it's a good fit.
Starting Price (per month): $74.99
Channels (in entry-level package): 70+
DVR: Yes
On-Demand: Yes
Device Support: Android, iOS, FireTV, Apple TV, Android TV, Computers, Roku
Simultaneous Streams: 2
TV Everywhere Apps: 26
Full Review: fuboTV Review
DIRECTTV STREAM
DIRECTTV STREAM was launched as Direct TV Now in late 2016, and was then called AT&T TV Now. It is now just DIRECTTV STREAM.
At the time the service was popular because it launched with 100 channels for only $35/month. They also gave away free Apple TVs to new customers to attract subscribers.
The service has gone through some changes recently, unfortunately. Their channel selection has been pared down to 45 channels for the starter "Plus" package, and the price is now $74.99 a month. That certainly makes them less attractive than some of their lower priced competitors including Hulu, Philo and YouTube TV.
If you bump up to the "Max" package, you'll get an additional 15 channels, and HBO and Cinemax are both included for the $85 price.
The one thing that may make AT&T TV more attractive to some users is that they have HBO included in the starter package price. So if HBO is on your must haves list, it may still be a streaming service to consider.
With their service you can stream to 2 devices simultaneously, and up to 3 if you pay an extra $5/month.
While their higher pricing makes them a tough sell, if you want HBO anyway you might want to check DIRECTTV STREAM out.
Starting Price (per month): $74.99
Channels (in entry-level package): 45+ Includes HBO
DVR: Yes
On-Demand: Yes
Device Support: Android, iOS, FireTV, Apple TV, Android TV, Chromecast, Computers, Roku
Simultaneous Streams: 2
TV Everywhere Apps:22
Disney +
Disney always seems to do things right, and when they announced that they would be releasing their own streaming service in November 2019, most people were pretty sure it would be a success.
The service, which has now launched, has a lot of great content from the vast Disney Universe. There is content from Disney, Pixar, Marvel, Star Wars, Fox and National Geographic.
The service also has a whole host of original programming. Among the most anticipated is the original Star Wars TV series, The Mandalorian, only available on Disney+. I've watched the first 2 seasons and it's a lot of fun if you're into the Star Wars Universe.
The basic service costs $7.99/month or $13.99/month for premium. Premium costs $139.99/year if you buy your subscription annually. It allows you to stream to up to 4 devices at a time, and you can download shows or movies to view anywhere without a connection. When the service launched it had over 600 movies and TV shows available. All of the content will be at most PG-13.
Disney+ is available as an add-on to Disney owned Hulu, if you have an account there. In addition, you can also buy a combo package with Disney+, ESPN+ and Hulu for $14.99/month through the Disney+ site.
The service supports a wide range of devices from Fire TV, Roku and Apple TV, to Chromecast, Android TV and gaming consoles. For a complete list, check their support site.
I've already purchased a 3 year subscription to Disney+ via an online deal that gave a 50% discount on the monthly cost. I'm already enjoying watching with my kids!
Starting Price (per month): $7.99 or $139.99/yr
Channels (in entry-level package): N/A
DVR: No
On-Demand: Yes
Device Support: Android, FireTV iOS, Chromecast, Apple TV, Android TV, Computers, Roku, PlayStation 4, Xbox One, Smart TVs
Simultaneous Streams: 4
Netflix
Netflix is one of the oldest services among the group we have listed, having launched as an online video rental service over 20 years ago back in the late 1990s. Netflix successfully made the pivot from renting physical DVDs to becoming one of the top online video streaming companies today.
While they don't have live TV as part of their offerings, they do have a huge catalog of of over 10,000 streaming TV shows and movies, as well as original content. For many their original shows are where it's at with shows like House of Cards, Stranger Things, or one of my favorites, Peaky Blinders.
Starting at only $6.99, for an ad-supported account that can stream in standard definition to 2 devices, the service is a bargain for the amount of content that they have. Pay $15.49 and your account won't have ads.
If you want to bump it up to 4k+ HDR definition, with the ability to stream to 4 screens, it's $22.99.
The only downside to Netflix in my opinion is that at times some of the movies in their catalog can tend to be second run, B movies, with a few hits sprinkled in.
I tend to subscribe to Netflix once or twice a year just to watch some of my favorite original shows, and then cancel again when I'm done.
Starting Price (per month): $6.99
Channels (in entry-level package): N/A
DVR: No
On-Demand: Yes
Device Support: Android, iOS, FireTV, Apple TV, Android TV, Computers, Roku, Xbox, PlayStation.
Simultaneous Streams: 1
Amazon Prime Video
Amazon Prime Video is the on demand video streaming service that you get for free when you sign up for an Amazon Prime account with Amazon.com.
An Amazon Prime account costs $119/year ($9.92/month) and gets you free two day shipping, along with a host of other free Prime services like free Prime Video, Prime Reading, Prime Music and more. Pay for it monthly and it costs $12.99. If you want to pay for Prime Video only, you can get it for $8.99/month.
Amazon Prime Video boasts a hefty video library of more than 14,210 movies and 2,317 TV shows (source), the largest library of TV shows and Movies of any competing service.
Like Netflix they've invested heavily in original programming as well, with shows like Tom Clancy's Jack Ryan, Man in the High Castle or comedy specials like the one from Jim Gaffigan. After a deal with the NFL they even stream Thursday Night Football live on Amazon.
We've been Amazon Prime members for years because we shop for things online a lot ( because we get a lot of free Amazon gift cards!), and because we love the Prime services. I'm sure we'll continue being subscribers moving forward.
Starting Price (per month): Prime $119/yr or $12.99/mo. $8.99/mo Prime Video only.
Channels (in entry-level package): N/A
DVR: No
On-Demand: Yes
Device Support: FireTV, Android, iOS, Apple TV, Android TV, Computers, Roku, Smart TVs.
Simultaneous Streams: 2
HBO & HBO Max
HBO has long had a lot of premium and exclusive content that people seem to love. Shows like Game of Thrones, Curb Your Enthusiasm or Westworld.
In the past the only way you could get a subscription to HBO was by adding it to your traditional cable TV package. That all changed with the introduction of their standalone streaming service, HBO Max.
Now you can buy HBO and all of their original programming through through HBO Max, or as an add on channel via other services like Amazon Prime Video.
If you really like HBO's programming, your best bet is to sign up directly for HBO Max.
HBO Max has all of HBO's original content, new "Max Originals" specifically made for HBO Max, in addition to content from Warner Media's other brands, such as Warner Bros, TNT, TBS, and CNN. The cost for the new service will be the same as what people currently pay for the channel or for HBO streaming, $14.99. So you'll be getting a whole lot more content, for the same price.
It is definitely worth checking out, especially if you're an HBO fan.
Starting Price (per month): $14.99
Channels (in entry-level package): N/A
DVR: No
On-Demand: Yes
Device Support: Android, iOS, FireTV, Apple TV, Android TV, Computers, Roku
Simultaneous Streams: 3
Apple TV+
Apple TV+ is a new on-demand video streaming service that was launched by Apple on November 1st, 2019. Apple has had some ups and downs when it comes to creating a streaming service, and there have been rumors of one for several years. But as of November 1st, it has officially launched.
The service costs $4.99/month, and features all original programming from a star-studded cast of stars and directors.
Stephen Spielberg is set to make two TV series, Oprah Winfrey will produce several shows, and at launch several big budget TV series with big Hollywood stars will be streaming.
"The Morning Show" starring Jennifer Aniston, Steve Carell and Reese Witherspoon is the flagship show. "For All Mankind" is an alternate history drama exploring what would have happened if Russia had landed on the moon first. "See" is a post-apocalyptic drama. A few other interesting shows are available at launch, and more will be released in coming months.
While Apple doesn't have a huge back catalog of shows or movies to fall back on like competing services Netflix, Amazon or Disney+, they're hoping that their ambitious slate of new original programming and the low cost of the service will bring in a lot of people.
The service will be available on on a variety of devices, although it's unclear if Windows and Android devices will be supported right away. You'll be able to do up to 6 simultaneous streams per account, so everyone in the house can watch shows on their own devices at the same time.
If you're buying a new iPhone or iPad, Apple is now offering a free year of Apple TV+ with many new devices, so keep your eyes peeled.
Starting Price (per month): $4.99
Channels (in entry-level package): N/A
DVR: No
On-Demand: Yes
Device Support: Apple TV, iOS, FireTV,Computers, Roku, Smart TVs.
Simultaneous Streams: 6
Pluto TV
Pluto TV is a free live streaming TV service that has over 100+ themed channels that offer entertainment in categories like news, sports, lifestyle, comedy, kids, tech and other genres. They even offer free streaming music channels like cable does.
The service doesn't really carry traditional networks like ESPN or HGTV, but instead offers content it has licensed from Hollywood Studios, TV networks, news organizations and streaming internet channels.
The company's parent company is Viacom, so content from networks like MTV, VH1, Nickelodeon and Comedy Central are featured prominently.
In addition to their live TV channels, they also offer on demand movies, TV shows and documentaries. While there aren't many first run titles, they do have some good legacy content. For example they are currently streaming all of the older James Bond films.
When watching content on the service you will have to watch commercials, which is how the service makes their money. While some people might not like that, others understand if you're getting something for free you'll have to put up with commercials.
The Pluto app is available on pretty much any device or platform you might want it on.
Pluto TV is definitely a good app to add to your streaming portfolio, even if it's just in addition to any other services you might use.I find myself watching it all the time, for the Mystery Science Theater 3000 re-runs and so my son can watch some of my old favorite 1980s cartoons. It's free, what do you have to lose?
Starting Price (per month): FREE
Channels (in entry-level package): 100+
DVR: N/A
On-Demand: Yes
Device Support: Android, iOS, FireTV, Chromecast, Apple TV, Android TV, Computers, Roku, Chrome web app.
Simultaneous Streams: N/A
Sony Crackle
Sony Crackle is another free on demand streaming service. They were bought by Sony a while back, and this year were sold to Chicken Soup For The Soul Entertainment, and will be run as a joint venture with Sony.
The service mainly has Sony Entertainment movies, TV shows and a slate of original shows. While it doesn't have a ton of variety, it does have some good content, and it's free.
Sony Crackle originated the Jerry Seinfeld series Comedians in Cars Getting Coffee, the original show Startup, and a few others as well.
You can get the service online via a web browser, via iOS or Android, Chromecast, Fire TV, Apple TV, Xbox, PlayStation and a few other methods.
While the future of the service is a bit unsure, for now it's another good free option for streaming entertainment.
Starting Price (per month): FREE
Channels (in entry-level package): N/A
DVR: N/A
On-Demand: Yes
Device Support: Android, iOS, FireTV, Chromecast, Apple TV, Android TV, Computers, Xbox One, Playstation 4.
Simultaneous Streams: N/A
Paramount +
CBS is one of the few networks to wall off their content to create their own live TV and on demand streaming service. If you enjoy the content on CBS and Paramount Networks, then Paramount + might be the service for you.
$4.99/month gets you access to the full archive of CBS programming, films and shows from Paramount Networks, live sports and over 10,000 TV episodes to date. You also get access to watch live CBS content as it airs with your live CBS affiliate, CBSN, CBS Sports HQ, ET Live 24/7.
If you want to watch the on demand shows commercial free, you can pay $9.99/month and you'll also get the ability to download videos to play while you're offline as well.
You'll also get access to a bunch of Paramount original shows, including the new Star Trek: Discovery, The Twilight Zone and Why Women Kill amongst others.
Starting Price (per month): $4.99/mo
Channels (in entry-level package): 4
DVR: No
On-Demand: Yes
Device Support: Android, iOS, FireTV, Apple TV, Android TV, Computers, Roku
Simultaneous Streams: 2
Stream TV Via Network Apps & Websites
One underrated way to get free content when you're cutting the cord is to watch TV shows via the apps for the big broadcast networks, or stream them via online portals.
Most people don't realize this, but 94 of the top 100 TV shows are on broadcast TV, and many of them you can get for free through their apps or websites.
Most of them will unlock the episodes a day, to a week after they air. You can usually watch 4-5 of the most recent episodes. If you are paying for another streaming service like Hulu for example, sometimes you can login to the network app with your "TV Everywhere" login and unlock all episodes.
Here's a breakdown of the network sites, and links to where you can watch shows online, or where you can get their video app.
Antenna TV - The Free Cable TV Alternative!
One of the best things you can do if you're trying to cut entertainment costs is to just enjoy the free alternatives like Antenna TV.
Broadcast TV isn't like it used to be back in the day, with a snowy picture and 3-4 good channels.
These days over-the-air TV gives a crystal clear HDTV picture, often with 40-50 channels or more within range if you live in a large metro area.
To see how many channels you have in range, use the tool at AntennaWeb.org.
Antenna TV Starter Kit
What do you need to get started watching over-the-air TV?
A TV
A HDTV tuner (either built into your TV, a set top box or a network tuner)
A HDTV antenna. (Like this Mohu Leaf 50 Antenna)
An over-the-air DVR if you want to record shows (Like our Tablo DVR)
A hard drive to record your shows if you use a DVR
That's really all you need.
If you want to get more fancy you can setup a home media server, like we did with Plex, where you can record over-the-air shows and movies,and keep them on your home network for future use. But that's a bit more advanced.
Check out our Plex setup here for more details if you're interested.
For a complete look at what cord cutting setup we use at our house, and more details on how you can get started, check out our comprehensive article on cord cutting here:
You Can Save Money With Cable TV Alternatives.. If You're Careful
The days of having to pay an arm and a leg for an expensive cable TV package in order to get some decent TV channels are quickly disappearing.
With the abundant live TV and on demand streaming options, most people can save 50-60% off of their monthly bill or more, just by cancelling their existing cable TV subscription and signing up with one of the new streaming services.
Which one you choose really comes down to what networks and shows you absolutely have to watch, and whether or not you can get them for free over-the-air.
For some people free options might not be enough, especially if you're a sports or news junkie. Thankfully there are plenty of low cost live TV services that can help you with that. So let's get watching!
Which service(s) are you using? How are they working for you? How much less are you paying now versus what you were paying in the past? Tell us in the comments!
Frequently Asked Questions
What can I use instead of cable TV?

If you want to drop cable TV, but still want to have plenty of entertainment options, there are a lot of options these days. Usually all you need is Internet access, a streaming media player like Apple TV, Fire TV or Roku player, and a streaming service. Streaming services can cost anywhere from a few dollars a month up to $60-70/month, depending on whether or not they have live TV channels, premium networks and more.


What is the best alternative to cable or satellite?

The best alternative to cable or satellite TV will depend on what you're looking for in a streaming service. If you're looking for a lot of traditional cable TV channels like A&E, HGTV, TLC, History and others, Philo is a good choice starting at only $20/month. If you would like to have premium news channels like CNN, Fox News or MSNBC, or premium sports channels, either YouTube TV or Hulu are both affordable options that carry many of the most popular national and regional networks.

How can I watch TV without cable or satellite?

If you want to watch TV without cable or satellite TV, you can use a free or premium streaming service like Philo, Hulu, YouTube TV, Pluto TV or Sony Crackle, or watch antenna TV for free using a HDTV antenna. There are a ton of free and low cost entertainment options to make doing without cable TV an easy task.


How can I get local TV without cable?

To get local TV without having cable you have a few different options. First, you can install an HD antenna and watch your local channels on over-the-air broadcast TV. If you're in a large metro area you can often expect anywhere from 40-70 HD and standard definition channels to be received by your tuner. If you want to be able to record your shows you can purchase an over-the-air DVR to record all of your favorites. Second, if broadcast TV isn't available, you can often access shows from your local networks on the network websites and apps, usually a few days after they are shown on broadcast TV. Finally, you can sign up for a pay streaming service. Services like Sling TV, fuboTV, Hulu and YouTube TV all often have live local TV channels as part of their packages.

Is streaming better than cable?

Many people would argue that streaming services are better than cable. They are often cheaper than traditional cable and satellite service, offer more on demand and original content than cable, they have better features and functionality for recording and viewing your content online, in apps or via multiple types of streaming devices. You are also better able to un-bundle specific channels or services and pick and choose the ones that you want.