For the last few years this site has talked a lot about cutting the cord and finding ways to dump your expensive cable or satellite TV package.
There are a growing number of entertainment options beyond just watching traditional cable TV. You can watch your shows online via one of the new streaming services, using a device like a Fire TV. You can set up a software like Playon to record and aggregate all of your online video programming, similar to how you would with a traditional DVR. You can even watch your favorite shows via digital broadcast TV!
On a review I published a while back about the digital antenna I use to get HDTV programming, it was brought up that if you want to cut the cord there aren't many options to replace a traditional cable company DVR with a similar device for over-the-air content.
At the time I wasn't aware of any good options, but thankfully I have found a few good ones in the meantime that I can recommend, including the subject of today's review, the HDHomeRun Extend Tuner & DVR from SiliconDust.
The HDHomeRun Network Tuner and DVR is a nice little device that I've heard positive things about for a while. This past month SiliconDust, the company that makes the HDHomeRun, reached out to me and asked if they could send out a device for me to review. Of course I said yes!
So let's take a look at the HDHomeRunOver-The-Air HDTV Tuner & DVR!
Unboxing HDHomeRun Over-The-Air DVR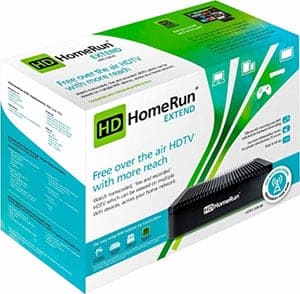 I received the HDHomeRun over-the-air DVR in a plain brown shipping box. Once I opened the package there was another box inside, one with a nice blue and green design extolling the virtues of this over-the-air HDTV device.
When you open the container there is a "Quickstart Guide" one-sheet on top giving you the basics of setting up the device, as well as information about how to download the HDHomeRun DVR app for your devices.
Underneath the quick start sheet is the device itself. It is a nice looking device, with a black metal shell that looks a bit like a CPU heatsink and doubles as a heat dissipation tool (previous versions of this device used a fan, which tended to get loud. This one does passive heat dissipation).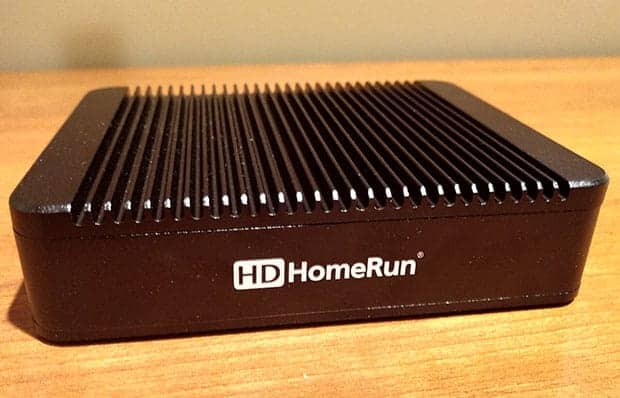 After taking your HDHomeRun Extend out of the box you'll find two other things in the box besides the device itself. There is a power adapter, and a 3 foot ethernet cord for connecting it to your home network.
The device itself doesn't have a remote of any kind, so no need to look for that. The device is controlled over your home network by the HDHomeRun app on your tablet, smartphone or PC.
If you turn the HDHomeRun device around, you'll see 3 different connections on the back. From left to right you'll have antenna connection, the ethernet port and a plug for your power brick. Not too complicated.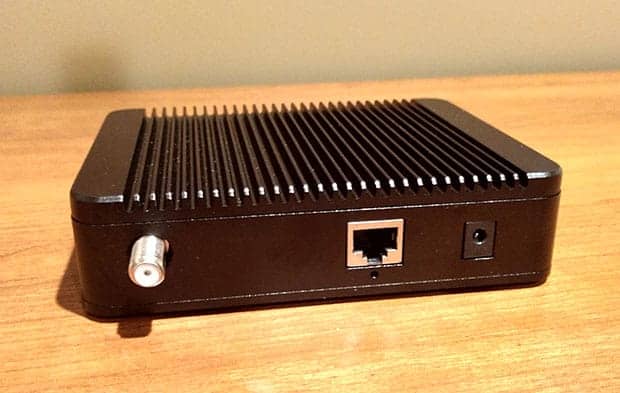 If you're expecting to see an HDMI port to connect the device to your TV, there isn't one. The device streams your live TV signal to your connected devices over the home network where you can watch TV with a compatible live TV app or software. You can also use the DVR software on a connected computer or NAS to record your scheduled recordings to a hard drive. You can then watch recorded shows on a tablet, phone or streaming device connected to your TV. It sounds a bit complicated, but it's really not. Let's take a closer look at the device.
HDHomeRun TV Device Specs & Features
So let's take a look at a few of the specs for the HDHomeRun Extend device. First of all, just how big is it?
Size: 10.5 x 3.5 x 7.0 in
Weight: 2.0 lbs.
The device isn't too terribly large as you can see from the pictures, but it is made of metal and feels substantial and well made in your hand.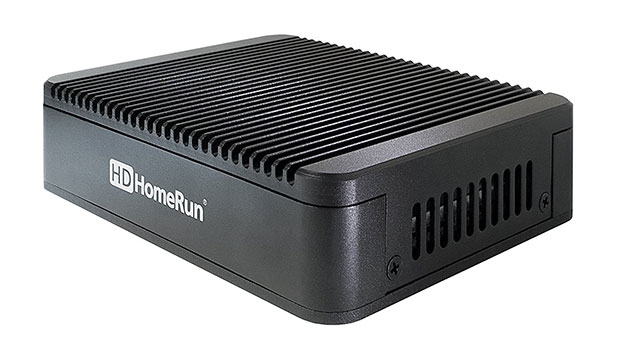 Here are a few more specs for the Extend:
2 tuners
8-VSB (ATSC over-the-air digital TV)
QAM64/256 (unencrypted digital cable TV)
100BASE TX high-speed network
Built in hardware transcoding for more efficient WiFi streaming
1 year warranty
HDHomeRun Extend DVR Features
94 of the top 100 shows are available over-the-air on broadcast network TV. (source)
So what are some things you can do with the HDHomeRun once you've connected it to a compatible Live TV or DVR software?
Watch, pause and record live TV
Schedule recordings
Manage existing recordings
Record up to 2 shows simultaneously
Watch on up to 2 devices simultaneously
Stream live AND recorded shows anywhere in the world
iPad & Android tablet app interface
Essentially, the HDHomeRun Device allows you to record all of your favorite over-the-air shows and watch them on all of your home devices whether it's the TV, tablet or smartphone. You can watch live TV as well, or record a show and start watching it late before it's done recording so you can skip commercials. You can also set it up to stream the shows so you can watch remotely.
It's easy to set up, and I'm loving using it!
Things You'll Need To Use HDHomeRun Extend
There are a few things you'll need to get the HDHomeRun DVR up and running.
HD HomeRun Extend DVR & Accessories
Digital antenna
Hard drive on a connected PC or Network Attached Storage (NAS) device
Computer, tablet, smartphone or streaming device.
There are apps currently available for Mac, PC, iOS, and Android.
Setting Up The HDHomeRun Extend DVR
Setting up the HDHomeRun device was one of the easiest technology experiences I've had in a while. Here are the steps to follow:
Connect your HDTV antenna.
Connect the device to your home network's router, hard wired via the ethernet port.
Connect the power cord, and plug in your device.
I used a Mohu Leaf 50 digital antenna (review here) as the antenna for my device. Then I hooked up the device to my router via a direct ethernet connection. Finally I plugged in the device to power it up.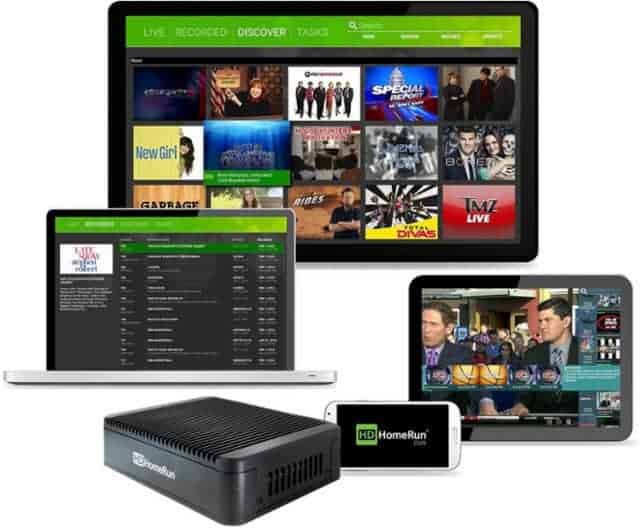 Once the device is powered up and connected to your network, the next step is to go to my.hdhomerun.com. The setup site will detect your device and allow you to set it up, including scanning for channels.
Next, you'll want to go further down the page mentioned above and choose to download the client and recording software for your computer, Windows or Mac.
When you download and install the software it will take you through the setup process on your computer. It will detect the device, upgrade the firmware if needed, and then help you to configure the device for use on your computer.
If you've purchased the add-on DVR software ($35/year), you'll also tell the software if you want to use your PC for making recordings, or if you want to use a NAS device to view and record shows. If you end up using a NAS device you'll likely need to follow a separate process to install the HDHomeRun recording engine on your NAS.
Using The HDHomeRun App
Using the HDHomeRun TV DVR is extremely simple. To get started you just fire up the app on your preferred device, or on your computer, and the Live TV interface will appear. It will look essentially the same on whatever platform you're watching on.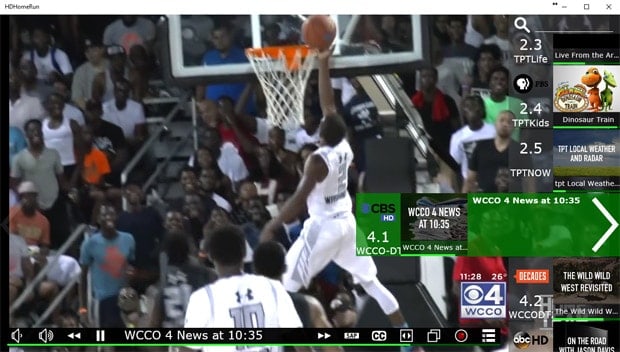 Watching Live TV
Once the interface comes up watching live TV is extremely simple. Just click on the screen and on the right side a menu of channels will appear. Just click on a channel and that show will start playing. If you want to get more details about a show you just click on the right pointing arrow on that item and it will give you details about that show, or if you click it a few more times it will show you details about shows that are coming up next. It's a very simple interface, but it works.
If you're signed up for the DVR service, you can also pause live TV or record your favorite shows. If you aren't paying for that you'll still get guide data, but only for 24 hours worth of programming. If you're paying you'll get 2 weeks worth of guide data.
Recording Shows
If you've signed up for the DVR service you can browse through two weeks worth of programming and setup scheduled recordings for all of your favorite shows.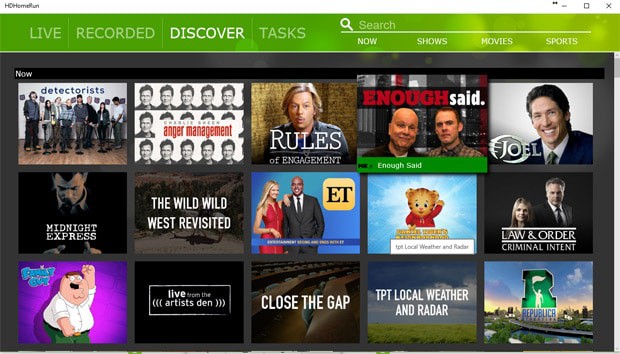 To record a show you go to the "Discover" tab, find a show you're interested in and click into the detail page.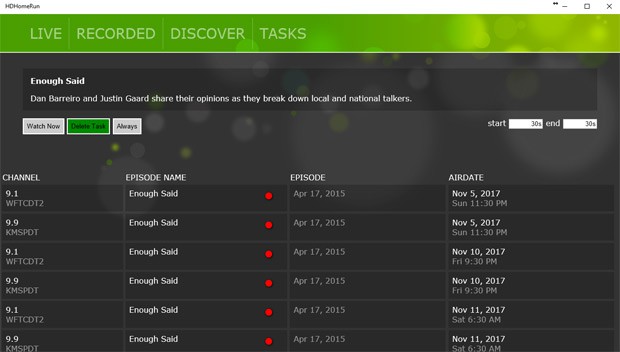 Once you're in the detail page for that show you can set it to record the show always, only recent episodes, or a single episode. You can also set it to start early or late on a recording which can come in handy when you're recording things like sports.
Once a show is recorded you go to the "Recorded" tab and click into the show to watch it. Piece of cake.
Later on if you decide not to record a particular program anymore, you can just go to the "Tasks" tab and delete that scheduled recording.
Using HDHomeRun With Plex Media Server
Plex, if you're not familiar with it, is a home media server that you can use to aggregate all of your movies, TV shows, music, photos and everything else into one convenient place. You can then view them all on your connected devices. With the addition of a HDHomeRun tuner Plex also becomes a place where you can watch live TV and record all of your favorite shows.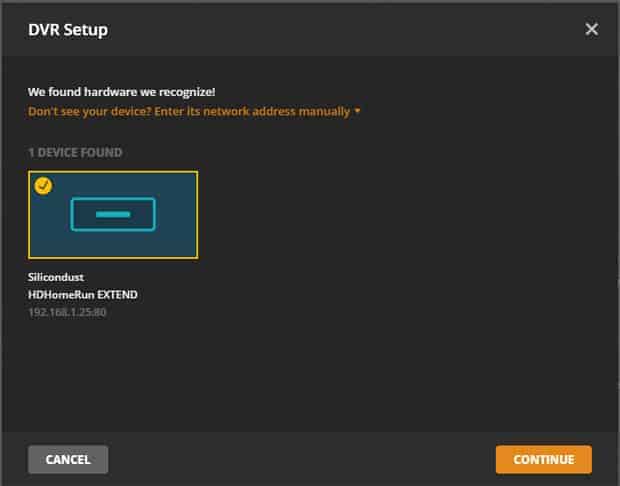 To use the Live TV and DVR features of the software you have to be a Plex Pass subscriber. A Plex Pass can cost anywhere from $4.99/month to $39.99/year. Or if you know you're going to use it a lot like me, you can pay for a lifetime pass for $149.99 like I did a few years ago.
Once you've gone to your settings and setup Plex to use your HDHomeRun device, it will search for channels, and save them to your interface. It will then download 2 weeks of guide data. Once your guide data is downloaded you can start watching live TV, or setup scheduled recordings for programs airing in the future.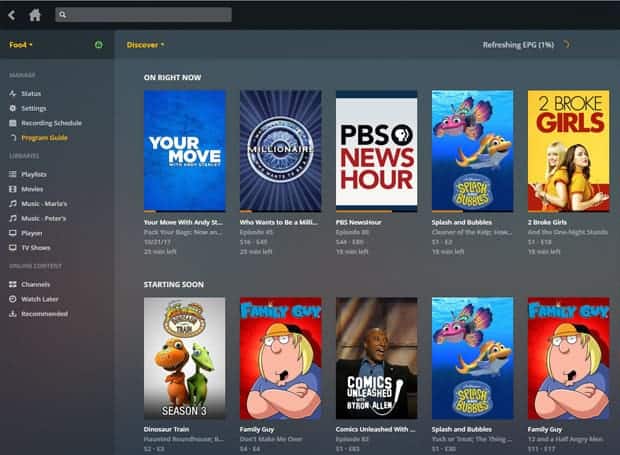 Once your scheduled recordings are set to go, Plex will record your shows when they air, and then add them directly to your TV Shows library on your computer. I've been using it for a week or two now and I works pretty seamlessly.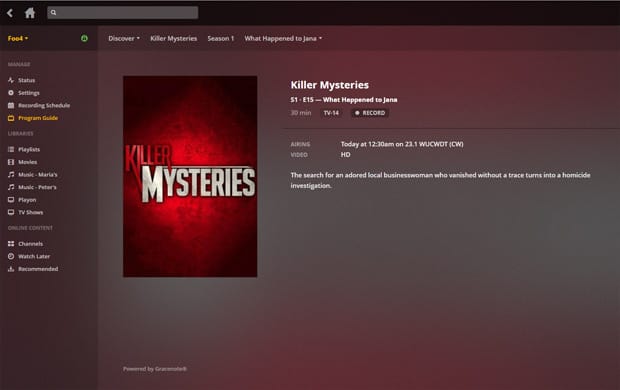 How Much Does It Cost?
When you buy your HDHomeRun DVR you'll be paying for two separate things, the HDHomeRun DVR up front, and then a subscription cost if you want to use the HDHomeRun DVR Service with 14 days of guide data.
HDHomeRun DVR Cost
The cost for the HDHomeRun DVR itself varies depending on which one you buy. Currently there are 5 different versions that I'm aware of.
If you shop around you may be able to find it for a lower price.
HDHomeRun Subscription Cost
The HDHomeRun tuners work best when you pay for a subscription to their program guide data and DVR service. What do you get when you pay?
HDHomeRun Program Guide & DVR Features:
14 days of guide data
Rich cover art
Series and episode synopses
Schedule and record live TV
Pause and rewind live TV
Watch live TV and record another channel at the same time
Schedule full series recordings
Pause on one device and resume watching on another
The cost for the subscription is pretty affordable, and the subscription costs are per account, not per HDHomeRun. So if you have more than one HDHomeRun device, you only pay the one fee. The cost is an annual fee:
So there is a recurring cost that you have to figure into the equation, but when compared to competing services, it still comes out to be a more affordable alternative in most cases.
HDHomeRun DVR – A Cord Cutters Dream Machine For Over-The-Air Content
If you're looking to cut the cord but you still want to be able to watch and record all of your favorite over-the-air shows, the HDHomeRun Extend network tuner might be a good option to check out. Not only does it work well with it's own HDHomeRun live TV and DVR app, but it pairs nicely with other third party software like Plex.
If you're looking to cut your entertainment costs, I'd recommend giving it a try.
Check out the HDHomeRun Over-The-Air DVR