A big focus on this site over the years has been finding ways to reduce your entertainment costs without having to give up your favorite shows or movies.
The pace of change in the video entertainment landscape has been picking up, and people have more options than ever to cut back on their monthly bills.
Streaming cable TV replacement services like PlayStation Vue and Sling TV have launched recently, and are quickly adding subscribers because of their wide range of options, low cost and availability on a variety of low cost streaming devices.
The number of devices that you can use to enjoy streaming video has skyrocketed, especially within the past couple of years.
Set top boxes that have been among the most popular include the $149 Apple TV, $125 Roku 4, the $35 Google Chromecast (Chromecast review), Fire TV Stick (Fire TV Stick review) and the Amazon Fire TV.
I currently own both a Fire TV Stick and Chromecast, and have been using and enjoying both for the past year or two. They both have their benefits, but I wanted something that was a bit more powerful since both are a bit underpowered.
Since we were planning on canceling cable and going with PlayStation Vue for TV service, we were thinking about getting the 2nd gen Fire TV from Amazon. It had received favorable reviews as one of the best devices for using that service. When I saw that the Fire TV was on sale this past week I decided to grab one.
Here's a review of the Amazon Fire TV, a look at it's features, and a discussion of it's pros and cons.
What Is The Amazon Fire TV?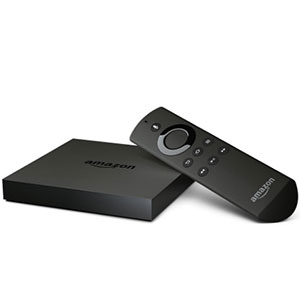 The Amazon Fire TV device is a set top box that sits next to your TV and connects via HDMI in order to stream a plethora of TV shows, movies, music, games and more from a variety of different services. It's essentially a home entertainment hub that can become the centerpiece of any cord cutter's video entertainment package.
The Fire TV is one of the more powerful of the latest generation of set top boxes coming in with 2GB of memory, 8GB of storage (expandable up to 200GB via MicroSD) and a faster quad-core processor that gives this device 75% more processing power than the dual-core 1st gen Fire TV.
It will play video in up to 4K Ultra HD, and it has a something called ASAP (Advanced Streaming and Prediction) that will learn what shows and movies you like and get them ready to watch – so you shouldn't have to wait 10 seconds or more for the video to buffer like on some other devices.
Not only all that, but it comes with a nice voice remote that allows you to hit a button, say what you want to watch, and it will bring it up on screen. Very handy! In addition it comes with Alexa – a digital voice assistant that can give you the weather, sports scores, news updates and more. If you have an Amazon Echo like I do, it will be very familiar.

The device comes in a nice black box with blaze orange interior that includes the following items:
Power adapter
2 AAA batteries (don't you love it when companies include the batteries?)
Quick start guide

The only thing you won't have in the package is an HDMI cable, although I think most homes probably have one of these laying around.
The Fire TV itself is smaller than I thought it was, being about 4 1/2″ square, and extremely light at only 9.5 oz. It could easily be placed in a cabinet, mounted to the back of the TV, or anywhere else you want to put it. It isn't very big.
Here are a few photos of the device and it's packaging as I took it out of it's packaging: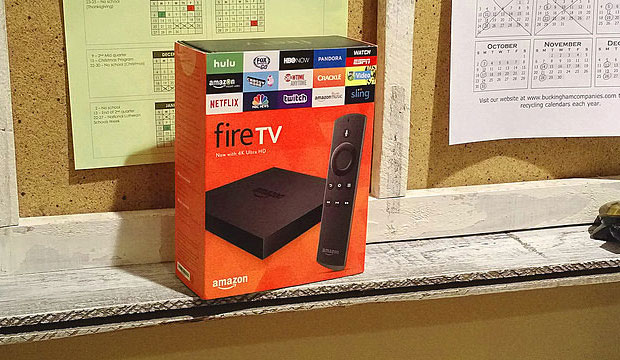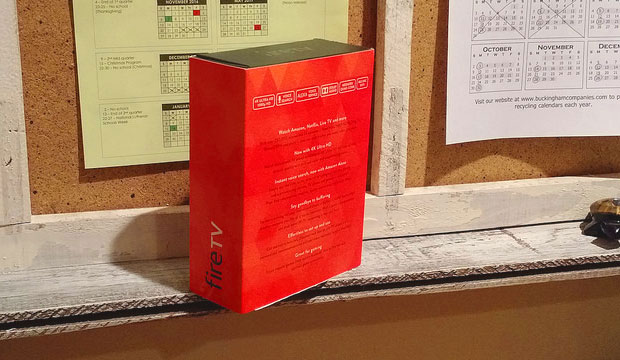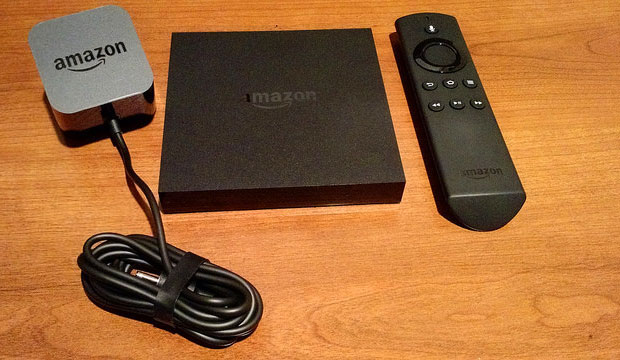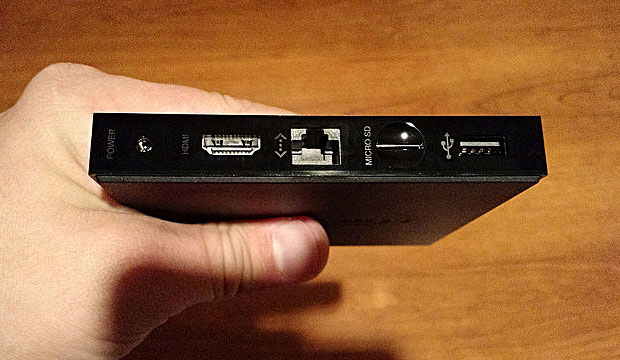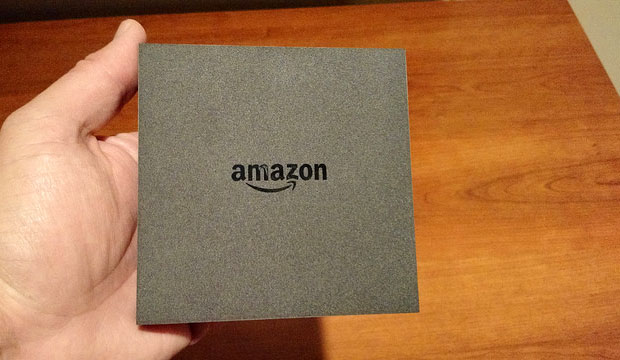 Specs Of The Fire TV
For the tech heads, here are some of the specs of the Amazon Fire TV.
Size: 4.5″ x 4.5″ x 0.7″ (115 mm x 115 mm x 17.8 mm), 9.5 oz.
Processor: MediaTek Quad-core up to 2 Ghz Dual-core @ 2.0 GHz + Dual-core @ 1.6 GHz
GPU: Power VR GX6250
Storage 8 GB internal
Memory 2 GB
Wi-Fi: Dual-band, dual-antenna Wi-Fi (MIMO). Supports 802.11a/b/g/n/ac Wi-Fi networks.
Bluetooth: Bluetooth 4.1 + LE
Ports: DC Jack, HDMI output, 10/100 Ethernet, microSD slot, USB 2.0
Audio Support: Dolby Audio, 5.1 surround sound, 2ch stereo, and HDMI audio pass through up to 7.1
Output Resolution Supported: 2160p up to 30fps; 720p and 1080p up to 60fps
Getting The Amazon Fire TV Up & Running
Getting the Fire TV up and running was extremely simple. Other devices I've bought typically come pre-registered from Amazon with your account information, but in my case the Fire TV wasn't for some reason. Here are the steps I took to get up and running.
Plug in power: The Amazon Fire TV has a power adapter that you plug into the wall. Plug it in first.
Plug it into your HMDI port: Find an available HDMI cord, plug it into your device, and then plug it into an available port on your TV.
Turn the TV on and select the right input: Once you've plugged the device in and given it power, it should be set to go. Turn on your TV and make sure it's on the right input.
Insert the included batteries in the included voice remote. Install the included batteries in the Fire TV Voice Remote and it will become discoverable and will automatically pair with the Fire TV. If it doesn't, just press the home button on the remote for at least 5 seconds. Mine connected instantly without issues.
Connect to WiFi: Once your Fire TV boots up you'll need to enter your WiFi network credentials. I did and mine connected right away.
Install firmware updates: once you're connected the device will check for firmware updates and install any that are found. This is highly recommended as it will fix bugs in the software, as well as provide new features and functionality. My Fire TV found 2 available firmware updates that had come out in the past month or two. It took several minutes to install them, rebooting the device twice. This was the longest part of the setup process for me.
Enter your account information and start watching: After updates are installed the device will ask you to login to your Amazon account. After logging in the device started up and took me through a welcome video, explaining how the device works. After that completed it took me to the home screen.
Setting the device up was extremely easy, but it did take about 15-20 minutes from start to finish since there were two large updates I had to install. Your startup process may be quicker if the device you buy was updated with the latest software before being sent.
Tip: Download the Amazon Fire TV Remote App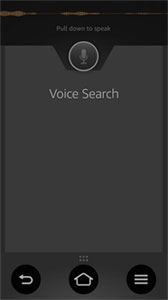 The Amazon Fire TV has a remote app that is available for your Android device.
The app will give you all the same functionality as the Fire TV remote, but via your phone. Just download the app, connect to the same WiFi network, and then select the device you want to control. If you have more than one Fire TV device like I do, you'll see a list of available devices.
The app also allows you to do voice searches for content, just like the voice remote.
For example, if you want to watch the movie "Blazing Saddles", you just hold down the microphone button in the app, and say the name of the movie. It will pull up a list of options for viewing, purchasing or renting it.
If it is available for free viewing via your Amazon Prime account, that will be shown as an option.
Natively Supported Apps and Video Services
So what video and other entertainment services support the Amazon Fire TV Stick right out of the box? Most of the major services are available via Fire TV. They have over 4,000 channels, apps and games that you can download.
Video & Music Apps
Here are a selection of my favorite apps that can be downloaded from Amazon for the Fire TV :
Amazon Instant Video – Watch your free Prime shows and movies, or purchase or rent other movies from the Amazon store.
Amazon Music – Listen to your pre-purchased music, or your free Prime music.

Netflix – View your Netflix shows and movies.
PlayStation Vue – Watch live and on demand TV on your Fire TV, including a cloud DVR. Full Vue review here.
Sling TV – Sling TV is another service that gives you live streaming TV and on demand content.
Pandora – Support for Pandora app.
iHeartRadio – Radio stations, music and more.
Tunein – Radio content from your local stations.

Hulu+ – Hulu allows you to stream TV shows and movies.

Plex – Plex organizes all of your media, wherever you keep it, so you can enjoy it anywhere.

HBO Go – HBO Max for all your favorite HBO shows.
Crackle – video content from Crackle, including Jerry Seinfeld's web show.
Showtime Anytime – Shows from the Showtime network.
Watch ESPN – ESPN sports content.
I've downloaded most of the apps above, and have tested them on the new Fire TV box that I installed this week. So far all of them run smooth as silk, and I haven't encountered any of the hiccups or slow loading that I did on the Fire TV Stick.
In the past I thought the slowness I was experiencing was due to slowness of the internet or of the app itself, but now I'm realizing it may have been the slowness of the device itself. Things just run smooth on this device.
Games
The Fire TV does have the ability to play games, and if you're so inclined you can buy the Fire TV game controller, or just buy the Fire TV Gaming Edition from the start. It costs about $139.99 for that package.
I've played a few games on the device with the included voice remote, but it isn't overly intuitive. I think if I were to be using this as a gaming device I would probably upgrade and get the game controller. Without it, the remote just isn't very good for gaming.
The game themselves run very nicely, and games like my favorite – Leo's Fortune – look amazing on the big screen.
Alexa Voice Assistant
Amazon Fire TV allows you to instantly search TV shows, movies, actors, and genres using just your voice. Just press the microphone button on your remote, say what you're looking for, and Fire TV finds it.
In addition to voice search, Fire TV now also has access to the Alexa personal voice assistant that has become so popular via the Amazon Echo bluetooth speaker.
Alexa is a cloud-based voice service that answers questions, plays music, checks local theater times, gives sports scores, tells you the weather forecast, gives you a flash news briefing, and more. Just ask your question and Alexa will answer.
We use Alexa via our Echo speaker all the time, and it's nice to use it via Fire TV now as well. It comes in more handy than you might think.
Hacking The Fire TV To Use An IR Remote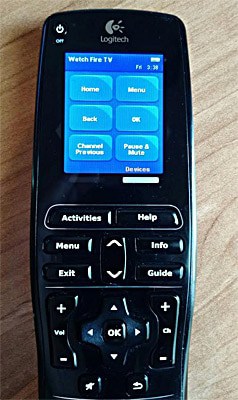 One thing that I didn't like about the Fire TV is that it has no IR port so that you can use an existing universal remote.
We've had a Logitech Harmony One remote for years that allows us to setup all our devices on one remote and use that remote for different activities like "Watch TV" or "Play Xbox" or "Watch Chromecast". It turns on the appropriate devices, sets them to the right inputs, and controls the devices when watching.
Since Fire TV has no IR port I thought I wouldn't be able to include the Fire TV in an activity for my IR remote. Then I found a website giving details on a hack. Essentially, you can add an IR port to the Fire TV via the available USB port on the back of the device. The device you plug in, called the FLIRC, basically emulates a keyboard to the Fire TV, converting your IR commands into keyboard keystrokes. Once installed it controls your Fire TV like any other IR device.
In case you're interested in giving this a try in your system, you can find it here:
I installed the device on my Fire TV and now it works with our Harmony remote without a hitch. Definitely something to check out if you have a similar situation.
Conclusion
The Amazon Fire TV 2nd generation is an awesome set top box. It has all of the options that you would want in a entertainment device including a plethora of entertainment options, good amount of memory and great performance, and a wide range of games, apps and other tools on the device like Amazon's Alexa.
At our house we're always on the lookout for ways to cut the cord, and Amazon Fire TV is one of the best options available currently for a one stop entertainment hub for your entertainment needs. Not only will you be able to access all of the most popular video services like Amazon, Netflix, Sling and Vue, but you'll be able to play games and music as well.
All that would be secondary if the device didn't perform well, but in all of my tests so far it is an awesome device that streams video without any hitches. It just works.
If you're looking for an entertainment hub for your home, I'd definitely suggest checking the Fire TV out.
Have you already bought the Amazon Fire TV? What has been your experience with the device, and do you have any tips or tricks?
Check out and buy the Amazon Fire TV Box on Amazon.com
Related Cord Cutting Content