Cutting the cord on cable TV has been a popular topic on this site for quite some time. I think most people are just tired of paying huge $100+ bills every month to get antiquated cable boxes and hundreds of channels they don't even watch.
The problem is up until recently there just hasn't been a good cable tv alternative.
I've done reviews of quite a few cord cutting services, devices and tools over the years. I have even done a bit of show and tell on money saving cord cutting setup that we have at our house – and why we use the tools that we do.
This past week I was given a tip by a friend about a service that they had started using recently that enabled them to completely cancel their cable TV subscription, and in the process not lose any of the channels that they typically watch, including local sports networks.
The service is called PlayStation Vue.
PlayStation Vue Service Cancelled
It was announced at the end of October 2019 that the PlayStation Vue service would be shut down by Sony Interactive Entertainment as of January 30th, 2020. Here is their statement:
Over four years ago, we made a bold decision to change the rules and revolutionize the traditional TV-viewing experience in the U.S. with PlayStation Vue. We set the bar high and sought to innovate an established industry by delivering a modern TV experience. By completely rethinking live and on demand television, we offered an incredible user experience that allowed viewers to discover and watch content in completely new ways.

Today we are announcing that we will shut down the PlayStation Vue service on January 30, 2020. Unfortunately, the highly competitive Pay TV industry, with expensive content and network deals, has been slower to change than we expected. Because of this, we have decided to remain focused on our core gaming business.

PlayStation fans can continue to access movie and TV content through the PlayStation Store on PS4 and via our partnerships with top entertainment apps. With 100 million PlayStation 4s in the market today, our community continues to grow and thrive. We will continue to deliver the best entertainment experiences across the network, along with other key gaming services, including PlayStation Now and PlayStation Plus.

We are very proud of what PlayStation Vue was able to accomplish. We had ambitious goals for how our service could change how people watch TV, showcasing PlayStation's ability to innovate in a brand-new category within the Pay TV industry. We want to thank all of our customers, some of whom have been with us since PlayStation Vue's launch in 2015.

We appreciate your continued support as we move through this transitional period and look toward the future.
So if you currently have service you will continue to enjoy all the benefits of PlayStation Vue until they shut down on 1/30/20.
They will not be taking new subscribers on at this point.
PlayStation Vue Alternatives
Looking for an alternative service now that PlayStation Vue is no longer an option? Here are a few of our favorites:
Check out our exhaustive article taking a look at some of the best alternatives to cable TV.

Playstation Vue: What Is It?
PlayStation Vue is a live HDTV streaming service that was launched by Sony in 2015. It is essentially an alternative to paying for an expensive cable or satellite TV package with package fees, equipment rental, HD fees, etc.
You pay one low monthly fee for Vue (anywhere from $44.99-$79.99 in my area), and in return you get anywhere from 45-90+ channels of live TV entertainment, depending on which package you buy. Even in the basic package you'll get channels like Fox News, CNN, TNT, CBS, FOX, Disney, ESPN, NFL Network, AMC, HGTV, Discovery and more.
Vue is a month to month subscription service, so you aren't required to sign a contract like you are with some cable TV providers. You can cancel at any time, and with a 5-day free trial, you can make sure that you like the service before jumping in full force.
What Devices Can I Use With PlayStation Vue?
When I first heard the name PlayStation Vue the first thing I wondered was whether the service was a PlayStation console specific service. Would the service be available to people who don't have a PlayStation? Thankfully, the answer is yes.
PlayStation Vue Compatible Devices
Here are the devices that currently have apps available for watching PlayStation Vue.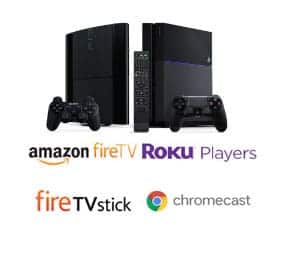 I currently use the service on my 2 Fire TVs, and on a Fire TV stick. It runs amazing on the Fire TV boxes, while it can lag a bit on the 1st gen Fire TV stick. From what I've heard the interface is the best on the Fire TV and PlayStation 4.
Mobile Apps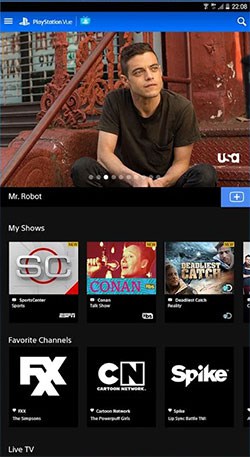 In addition to all of the devices above, there are also Vue Mobile apps available for iOS and Android devices. It should be noted that there are some restrictions on viewing live TV and on demand content via your mobile device, with some shows or channels not being available when viewing via the Mobile app. You are also required to have one of the above media devices activated before you can use the apps on your mobile devices.
You can stream TV on up to 5 devices in a household at one time. (Sling TV only offers 1 at a time unless you upgrade I believe).
You can find the apps here:
Features Of The PlayStation Vue Service
Services like Amazon Video, Netflix and Hulu and have all grown in popularity in the past few years due to their large libraries of video content, but for many folks they aren't a true cable replacement because you can't watch live TV programming. With Vue you not only get a healthy complement of on demand content like those other services, but you can also view your favorite shows when they first air -without having to wait for it to appear on those other services.
Vue has one of the best feature sets of any of the streaming services, which in my opinion sets them head and shoulders above many of the rest.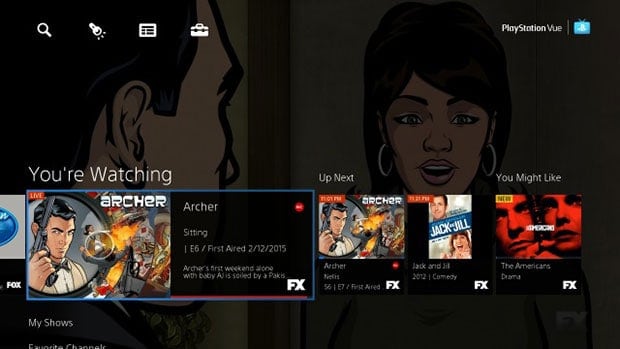 Watch Live TV: The main feature is that you can watch all of your favorite shows in real time as they air on your favorite networks. In many respects it's just like cable TV.
My Shows – Cloud DVR: One of the top features of PlayStation Vue that sets it apart is that you can bookmark all of your favorite shows, and it will record all future airings of those shows for you in the cloud. The shows will be saved for up to 28 days. In other words it's DVR functionality, like you had with your cable company, but the space is unlimited (even if the recordings do expire).
On Demand Shows: Not only can you watch live TV and record your favorite shows on Vue, but there is also a wide array of on demand content available for viewing for some shows and networks. For example, I was watching a show on CNN, and after saving it to "My Shows" I saw that there were several episodes available for that show on demand as well.
Catchup Episodes: Some shows have catchup episodes available for viewing. So for example, let's say you missed last week's airing of your favorite show, and want to view it before the current week's show airs. Just go to the listing for that show, and if available click on the "catchup" episode to view it. Easy. You can also see in the grid guide that some shows are highlighted with white text as being available for viewing – even though they are no longer airing live. So if you missed an episode live by arriving home an hour late, you can still view those highlighted catchup episodes on demand.
Favorite Channels: You can tag certain channels as favorites, and then when you view the grid guide, or the "channels" section, those channels will show first in the list. Very handy for quick viewing when you only typically watch a few channels.
Timeline – Recent Shows: When you login to Vue, on the home screen you'll see a listing of your most recently viewed shows. When you highlight a show it will show you the next upcoming episode of that show so you save it to your favorites and remember not to miss it.
So you can view live TV, watch recorded shows, watch on demand content, watch shows that you inadvertently missed and more.
What Is the Cost Of PlayStation Vue?
At this point you're probably wondering just how much the service costs.
Depending on just what package you sign up for – and whether you sign up for additional standalone channels, the cost can vary. Let's take a look at the different packages.
What Packages Are Available With Vue?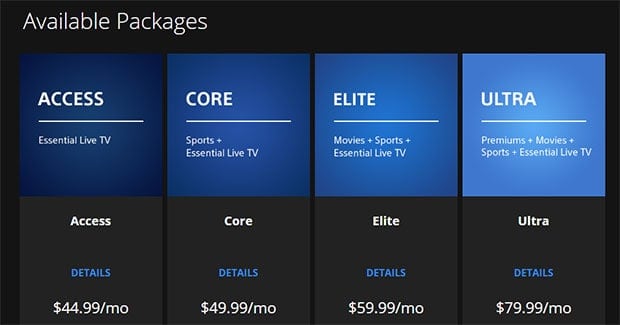 Depending on what package you choose the cost for Vue can vary. So what are the packages?
Access Package $44.99/mo: This package includes 45+ popular cable, movie and sports channels in HD.
Core Package $49.99/mo: This package includes 60+ HD channels – includes all Access Slim channels plus regional and national sports networks. I got this package so that I could watch my local sports teams on Fox Sports North and Big Ten network. (local sports packages may vary in your area).
Elite Package $59.99/mo: This package includes 90+ HD channels – includes Access and Core package channels, plus more sports, movie and entertainment networks.
Ultra Package $79.99/mo: This package includes 90+ HD channels included in Elite Slim package, but also includes HBO and Showtime.
Channels available in any package on Playstation Vue include: AMC, Animal Planet, BBC America, Bravo, Cartoon Network, CNBC, CNN, Destination America, Discovery, Discovery Family, Disney Channel, Disney Junior, Disney XD, diy Network, E!, ESPN, ESPN2, Esquire Network, Food Network, Fox Business, Fox News Channel, FREEFORM, FX, FXX, HGTV, HLN, Investigation Discovery, msnbc, National Geographic Channel, NBA TV, NBCSN, NFL Network, NFL Redzone, OWN, oxygen, Pop, SCI, Syfy, tbs, TLC, TNT, Travel Channel, tru TV, USA, VH1, and WE.
Depending on which package you choose and your market, additional local, live and premium channels may also be included in the list. Of note, A&E network channels are not a part of the Vue service.
UPDATE November 8, 2016: Playstation Vue was not able to come to an agreement with Viacom Networks, and as such their stations are no longer included with Vue service. Popular stations no longer available include Comedy Central, BET, Spike, MTV, Nick Jr. and others.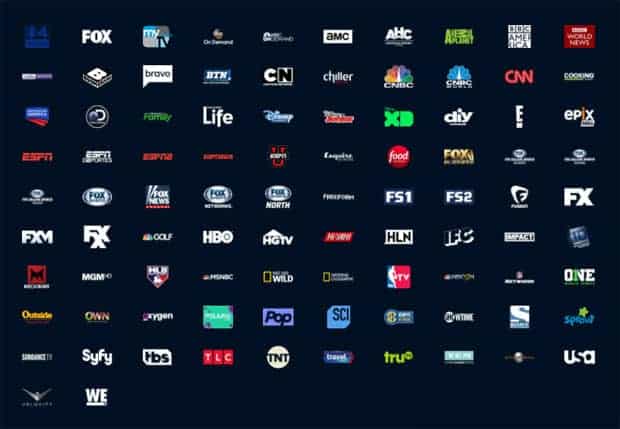 Standalone Channels
In addition to the 3 regular channel packages there are 4 standalone channels that you can purchase. They include:
HBO $15.00/mo
Showtime $10.99/mo
Cinemax $15.00/mo
HBO/Cinemax $21.99/mo
Fox Soccer Plus $14.99/mo
Machinima $1.99/mo
Showtime/Epix Premium Pack $13.99/mo
Polaris $2.99/mo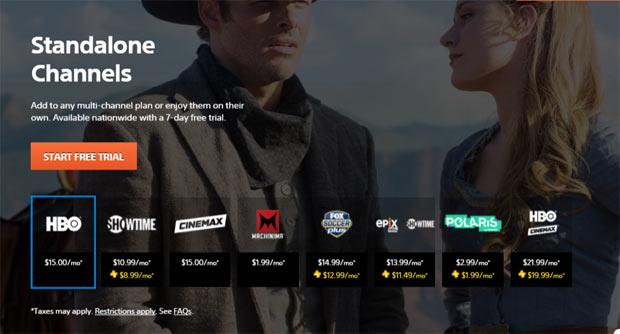 So when it comes down to it, for PlayStation Vue you're going to be paying anywhere from $39.99 on the low end to $74.99 for the premium package on the high end. (or more if you add standalone channels or have the option for live network channels in your market) That's considerably less than we pay with our current TV provider – hundreds less!
While Vue may not be as cheap as the basic $25 service with Sling TV for example, when you consider all the extras you're getting including the unlimited cloud DVR and additional channels, the price seems pretty reasonable.
PlayStation Vue Apple TV Integration
If you're a devotee of Apple products, PlayStation Vue may be the live TV streaming service for you.
Apple just announced that PlayStation Vue will be the first live TV streaming service to be integrated into the Apple TV app on Apple streaming devices.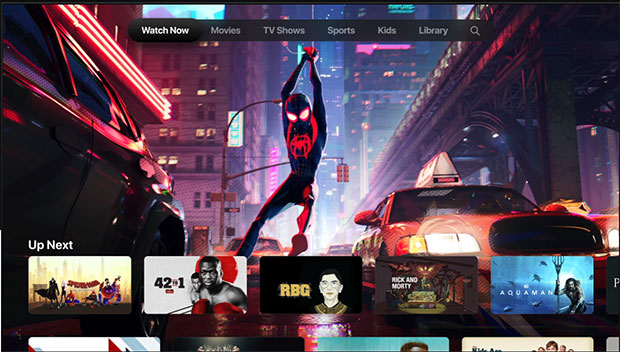 The TV app basically gives users a TV guide of sorts that curates all of their favorite content from video on demand sources like Amazon Prime, Showtime, CBS and others, while also integrating live TV from PlayStation Vue. While other live TV streaming services will probably be integrated down the road, for now Vue is the only Live TV service available with close integration in the TV app.
While a Vue app has been available on Apple TV since 2016, this new integration means that live TV content from Vue will be available in the home screen on Apple TV, and in the Apple TV app – not just in the Vue app. Definitely very cool if you're an Apple user.
Things To Be Aware Of With Vue
There are some things you need to be aware of when you sign up for Vue. There are some quirks to the service.
You can only watch Vue in your home location: When you signup for the service it will detect your designated "home location" by recording the IP address and zip code that your device uses when you first subscribe to the service. Vue will not work across multiple IPs, so if you move, you'll need to verify the new home address the first time you login at the new address. So if you were hoping to take your Fire TV stick to the cabin with you when you go, watch TV, and then bring it back home to watch – that won't work. You'll need to subscribe using one home location. Content viewed on the Vue mobile app can be viewed outside your home location, but with restrictions. If you switch your home location more than once it can get you banned from the Vue network – so keep that in mind. I've already had issues with this when we switched internet providers – we had to call to get our service reset. We've also had issues constantly with our regional sports network disappearing from our channel lineup, only reappearing after we call to get it fixed. Something to be aware of.
Live broadcast networks not available in all areas: Some areas have deals for the live local broadcast networks, but in other areas only on demand channels are available for the broadcast networks. In my area, for example, CBS and Fox affiliates are live, but ABC and NBC only have on demand channels. That's not a problem for me as I already use a Tablo over-the-air DVR to record all of our favorite over-the-air broadcast network shows, and we have an antenna on our main TV if we want to watch something live.
Still a new service with some glitches: I've noticed a couple of weird issues on shows I taped where the show's playback started, played for a few minutes and then started over again (while the progress bar showed i was several minutes into the show). When I checked I was able to confirm the recorded show had the start of the show on the recording twice. Very strange, and some others have reported similar issues. In addition we've had issues with the IP location services of Vue causing us to lose certain sports channels and other things at times. I'm sure some of these issues will get ironed out soon.
PlayStation Vue: Best Of The Streaming Cable Services
When I first heard of PlayStation Vue a while back I mistakenly thought that the service was only for owners of PlayStation consoles, and because of that I didn't really look into it.
Thankfully a friend alerted me to the benefits of the service and mentioned how much he was enjoying it. He told me just how much he was saving while giving up none of the channels he had previously – even local sports networks.
After looking into it I discovered that this no contract service is definitely onto something, with it's competitive lineup of channels, great DVR functionality and plentiful on demand content. While I'm not in love with the fact that I can't bring my Fire TV stick with me on the go and watch TV at the cabin or elsewhere, that small downside isn't enough to sway me from using the service.
So far I've loved the service. The shows stream in high definition without any buffering, the interface is intuitive (once you get used to it), and it has everything we needed in order to cut the cord on cable TV, including games for my local sports teams. In my opinion it's the best of the over-the-top streaming services.
While the service is still relatively new, it continues to get better over time. If you haven't already, I definitely recommend checking PlayStation Vue out.
Sign up for your 5 day free trial with PlayStation Vue today