Our family cut the cord on traditional cable TV a couple of years ago.
We were paying almost $160/month for TV and Internet before we switched.
We now pay only for $59.99 for internet, and up until recently we also paid for $44.99 for Playstation Vue (Vue is now being shut down).
After PlayStation Vue once again notified us that they were going to be raising our rates to $49.99/month for their service (the second time they've bumped prices by $5), we decided to shop around for a lower cost streaming service.
In my search I discovered a relatively new service that is one of the most affordable over-the-top streaming TV services, Philo.
Let's take an in-depth look at this live streaming TV provider.
Philo TV Review Summary
Philo is an over-the-top streaming service that offers one of the lowest cost cable TV packages available anywhere. Their packages start at just $20/month!
Some quick pros and cons of the service:
Pros
Low cost for basic cable TV packages: Philo only costs $20/month for the 61 channel package.
Availability of many popular channels: Philo TV has many popular channels that you could get with any cable TV package.
30 day cloud DVR: Philo allows you to save unlimited recordings for up to 30 days at no extra cost. Just set it to save your favorite shows and you're good to go.
No contracts: With Philo you're always on a month to month contract, so no worries about canceling at any time if you want to.
Compatibile with most popular devices: Philo currently works on web, Roku devices, Apple TV, Fire TV, iOS and Chrome on Android.
7 day free trial – with no credit card needed to start: Start your free trial instantly with just a phone number (no credit card needed).
Cons
No sports: Philo doesn't have any premium sports channels, part of the reason why they're so affordable.
No live local channels: No live local channels are available via Philo. You'll likely want to setup an alternative option for live broadcast TV. I use Tablo over-the-air DVR and a Plex server with live TV DVR to get my live local channels.
Get Your 7 Day Free Trial With Philo
Philo TV: What Is It?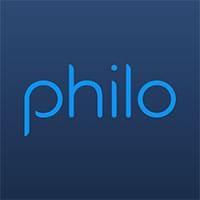 Philo is an over-the-top streaming cable television service that was launched in 2009 by Harvard seniors Nicholas Krasney and Tuan Ho. It is named "Philo" after Philo T. Farnsworth, who invented television in 1930. It has functioned as a streaming service mainly to university students up and until the launch of it's new service in November of 2017 (source).
Philo began as an experiment using aluminium foil as a makeshift satellite dish in order to "pick up TV signals and deliver them wirelessly to their laptops via a jerry-rigged server". At its launch, the project was intended to be a way to circumvent the fact that Harvard did not provide cable TV service for its students. When the service was made available to others in 2011, half of the Harvard resident population registered for it within the first few weeks of the offer. As of September 2015, the service was available in 42 universities .

On November 14, 2017, Philo launched a new OTT streaming television service in the U.S. The service includes channels from programming groups that include A&E Networks, AMC Networks, Discovery Inc., and Viacom, but not 21st Century Fox, The Walt Disney Company, NBC Universal, CBS Corporation, or Time Warner, and therefore includes no sports. The service is available via TVs, computers, tablets, and phones.
Philo TV is a month to month subscription service, so you aren't required to sign a contract like you are with some cable TV providers. You can cancel at any time, and with a 7-day free trial, you can make sure that you like the service before jumping in full throttle. You don't even need a credit card to start the free trial, just a phone number!
Why Consider A Streaming Service Like Philo
In the past 5 years we have seen streaming services like Netflix, Amazon Prime, Hulu, and others be widely adopted. Traditional cable TV services are now also being replaced by many with lower cost streaming options like YouTube TV, Hulu + Live TV, AT&T TV Now, Sling TV and of course Philo.
I've used a lot of the cord cutting services, devices and tools over the years, and have done reviews of them on this site. I even share my full cord cutting setup here, and talk about why we use the tools that we do.
So why should you use a service like Philo?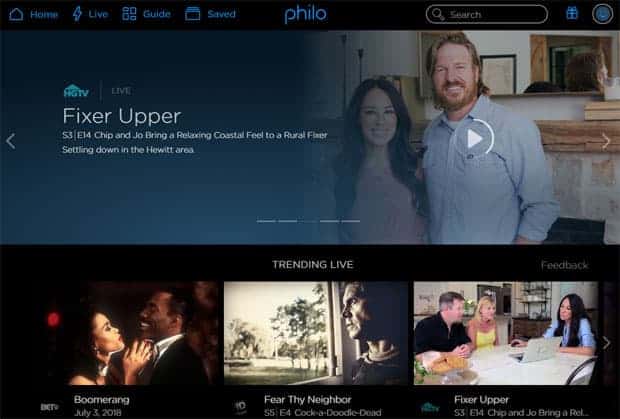 Low Cost
Over the past decade, prices for TV service have risen almost twice as fast as inflation, according to an analysis of government data. Data provider S&P Global Market Intelligence says customers' cable and satellite TV bills have soared 53% since 2007, to $100.98 in 2017. (source)
More and more people have been adopting streaming cable TV services because they cost a lot less than their traditional cable competitors.
The average cable TV subscriber pays about $100.98/month for their cable TV package.
If you subscribe with Philo, you can get a TV package very similar to what you would get with the cable companies, for only $20/month. You could save hundreds of dollars per year by streaming!
Pay Only For What You Watch
Price isn't the only reason streaming services are popular, however. They've become increasingly popular because you're better able to pick and choose the channels you want, instead of only being able to buy huge premium packages that contain a lot of channels you just don't watch.
For example, if you don't watch sports you can subscribe to a non-sports package. With Philo the service is so affordable in part because they don't offer sports packages. Sports packages are one of the most expensive parts of a cable bill.
Watch On The Go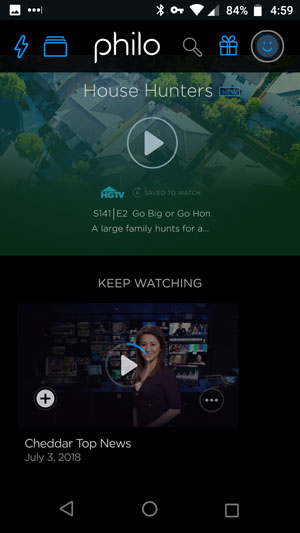 Philo is also much more portable and mobile ready than an experience with a traditional cable TV provider. You can watch your shows wherever you are on your mobile device – as long as you have an Internet connection. With Philo you can watch your subscription anywhere in the country with no restrictions.
If you were to try to watch your shows on the go with a traditional provider you'd likely need special hardware like a Sling Box.
So why consider a streaming service like Philo? Because they are low cost, allow you to pay only for what you need, and are so much more compatible with watching your shows on the go.
So let's take a deeper look at the most affordable streaming service, Philo.
Get Your 7 Day Free Trial With Philo TV
Paying $20/mo for Philo can save you over 80% off the average pay-TV cost of $100.98!
Click To Tweet
What Is the Cost Of Philo TV?
So how much does the service cost? Right now the only channel package with Philo is the lowest pricing I've seen for pay TV. It's only $20/month!
There is a caveat, however. One of the reasons Philo is able to offer such a low cost package is because they don't offer any sports programming. There are no ESPN, Fox Sports, NBC Sports or regional sports networks included in any of their packages. They also don't have live local channels in their lineup.
Sports channels are one of the reasons why traditional packages from other providers are so expensive. Cut them out and you have a lower cost streaming service!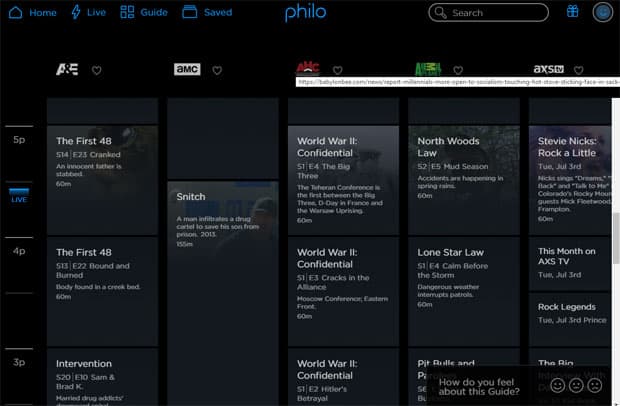 Philo TV Package – 61 Channels $20/month
While the basic $16/month package is no longer available, the $20 package (the only package available as of May 2019) has a ton of channels. It includes the following 61 channels.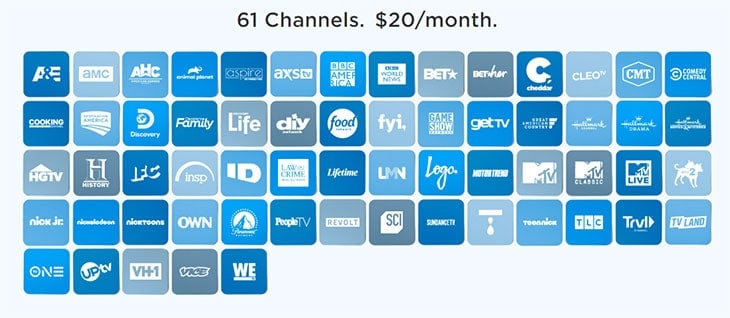 Philo Channel Lineup – 61 Channels And Counting
A&E
AMC
Animal Planet
AXS TV
BBC America
BBC World News
BET
Cheddar
Cheddar News
CleoTV
CMT
Comedy Central
Discovery Channel
DIY
Food Network
FYI
getTV
GSN
Hallmark Channel
Hallmark Drama
Hallmark Movies & Mysteries
HGTV
History
IFC
INSP
Investigation Discovery (ID)
Lifetime
Lifetime Movies
Motor Trend
MTV
MTV2
MTV Classic
Nickelodeon
Nick Jr.
OWN
Paramount Network
People TV
Science
Sundance Channel
Tastemade
TeenNick
TLC
Travel Channel
TV Land
TV One
VH1
Viceland
We TV
American Heroes Channel
aspireTV
BET Her
Cooking Channel
Destination America
Discovery Family
Discovery Life
Law & Crime Channel
Logo
MTV Live
Nick Toons
REVOLT
UPtv
I know my wife mainly watches shows on TLC, Lifetime and HGTV. All three of those networks are included in the $20 Philo package! Add to that the fact that they added the Hallmark channels just in time for Christmas, and my wife is happy.
The cost for all of these channels? $24.99 less than the YouTube TV package we were paying for previously. I think we may have a winner!
$16/Month Plan No Longer Offered
When the service launched Philo had a basic channel package that cost only $16/month. That package, however, is no longer being offered to new subscribers.
The $16/month package was phased out in May 2019. If you are a grandfathered existing customer you can still switch back and forth between the $16 and $20 plans, but for new customers the lower tier $16 plan is no longer an option.
Cloud DVR
With Philo you are able to record all of your favorite shows, with no limits on the number of shows you can save. Save as many shows as you want, the only limit is that the episodes are only saved for 30 days.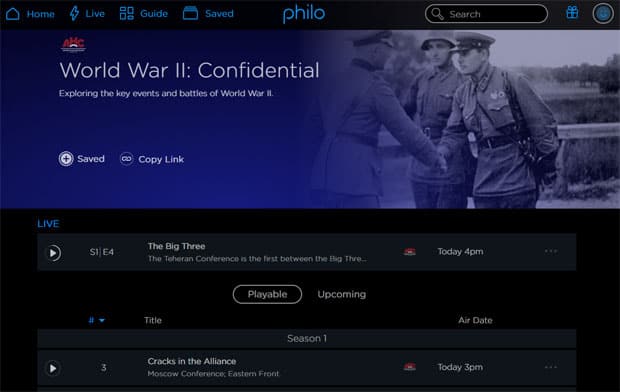 What's the cost of this 30 day DVR? It's included free in the price of your package. Gotta love that!
Get Your 7 Day Free Trial With Philo TV
What Devices Can I Use With Philo TV?
If you're planning on using Philo the good news is that the service is compatible with several of the most widely used platforms, including Roku, Fire TV and Apple TV. It is also available on any web browser, iOS and Chrome on Android.
Here are the devices that currently have apps available for watching Philo.
Mac using a supported browser
PC using a supported browser
iOS on mobile app.
Android 7.0 using Chrome browser
All Roku devices
Amazon Fire TV
Apple TV
Android TV
The bad news is that Philo is currently not available on Apple TV, Android platforms or Fire TV.
The CEO of Philo recently announced that in the summer of 2018 they will release apps for Apple TV and Fire TV. So that means they should be available any time now. When I asked their team when it would be released, they said it would be available "soon". Stay tuned for that.
UPDATE: As of 7/10/18 Philo is now available on Fire TV and Apple TV in addition to Roku and supported browsers!
How Many Streams At Once?
The Philo TV package allows you to stream to up 3 devices at once, so you can stream in the living room, office and basement all at the same time!
Some providers will cap you at 1 stream on certain packages, which can be a pain in households with multiple TVs. No worries about that here.
TV Everywhere Access Using Philo Login
One thing I really liked when I was signed up for Playstation Vue was the fact that you could use your username/password to login to a variety of TV network apps. For example, my wife could login to the TLC app in order to watch her favorite reality shows when we were on vacation.
With Philo, you get the same TV Everywhere (TVE) access to the following network apps:
AMC, BBC America, IFC, Sundance Channel, WeTV, AHC, Animal Planet, Destination America, Discovery Channel, Discovery Family, Discovery Life, Investigation Discovery, Science, TLC, Velocity, GSN, Cooking, DIY, Food, HGTV, Travel Channel.
So my wife will continue to have that same TVE access for the network apps listed above. That's a nice bonus as not all the streaming services provide this feature/functionality, even on more expensive plans.
Things To Be Aware Of With Philo
There are some things you need to be aware of when you sign up for Philo. There are some quirks to the service that may or may not be deal breakers for you.
No sports channels: If you're a sports lover, Philo is likely not the streaming service for you. Their service is able to offer such low rates because they don't offer any of the ultra expensive sports channels like ESPN, Fox Sports, etc.
None of broadcast networks or network owned stations: ABC, CBS, NBC, Fox, and any non-sports channels owned by the same companies (Disney Channel, NBC owned Bravo, TNT and TBS) are not available on Philo. At our house we can get all the network stations over-the-air, so it's not an issue. We also don't really watch Disney, Bravo or TNT or TBS, but if you do, beware.
Not all channels available: While the main channels not available on the service are sports related channels, there are also some other things like news channels (Fox News, CNN, etc) that are also not available, as well as other things like Disney network channels.
Philo – The Most Affordable Streaming TV Service
When I first heard of Philo I didn't jump right in because the service sounded like a flash in the pan that wouldn't be around for very long.
After doing a bit of research, however, I learned the service has a solid history with it's Philo EDU product. While the new service only launched in 2017, the product is more mature than that.
Philo has a strong offering of cable channels, what is currently among the very lowest prices for a streaming service, and as of July 2018 has released even more mobile and streaming device applications for the most popular devices like Fire TV and Apple TV.
While the lack of sports content will be a deal breaker for some, our family has been happy with Philo for well over a year now.
If you want to get started, their free 7 day trial with no credit card required, means you have nothing at all to lose.
Sign Up For A 7-Day Free Trial With Philo