My wife and I have been cable TV free for the past year or so.
We canceled our traditional cable TV contract where we were paying almost $160/month for TV and Internet, and we have now switched to over-the-air and streaming only services for all of our entertainment needs.
This article is a quick overview of one of the first and best over-the-top streaming TV services, Sling TV.
Sling TV Review Summary
Sling TV is the #1 live TV streaming service according to Comscore, and they also have one of the lowest cost cable TV packages available. Their packages start at just $35/month. Unlike traditional cable providers, Sling TV has a month to month contract, which means you can cancel at anytime.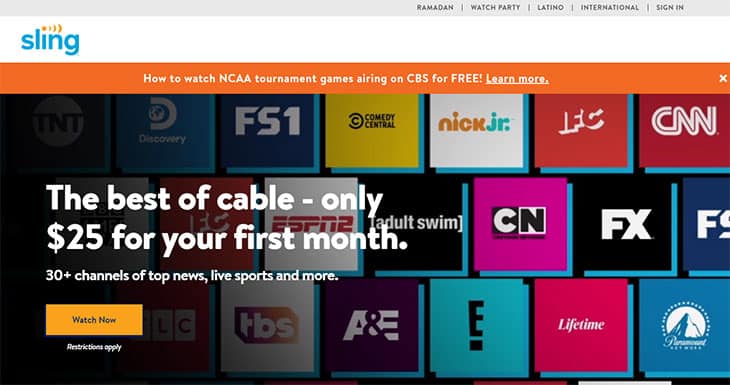 Some quick pros and cons of the service:
Pros
Low cost for basic cable TV packages: Starting at $35/month for basic Sling Orange and Blue TV packages.
Availability of many of the most popular channels: Sling TV has most of the most popular channels that you could get with any cable TV package.
Cloud DVR: Sling recently added a Cloud DVR to record your favorite streaming shows and movies.
Low cost add-on channels: Add channels onto your package a la cart, at low cost. Add channels like HBO or Showtime, and add only the ones you want.
No contracts: With Sling TV you're always on a month to month contract, so no worries about canceling at any time if you want to.
Compatible with many devices: Sling TV will work well with a variety of devices from Amazon Fire TV, to Apple TV to Android TV and Xbox One. They even have options for OSX and Windows 10!
Cons
Limitation on number of streaming devices: Sling Orange only allows you to stream to 1 device, while Sling Blue allows 3 devices.
Limited live local channels: Many live local channels are not available via Sling.
Get Your 7 Day Free Trial With Sling TV
Why Consider A Streaming Service Like Sling TV
Up until a couple of years ago there just weren't a lot of good alternatives to cable TV, especially if you're a devoted sports fan like I am. If you wanted to watch your favorite teams, you had to sign up for cable TV.
In the past 2-3 years we have seen streaming services like Netflix, Amazon Prime, Hulu, and others taking over. Traditional cable TV services have been replaced with streaming options like Playstation Vue, DirecTV Now, and of course Sling TV.
I've used many of the services and have done reviews of quite a few cord cutting services, devices and tools over the years. If you're so inclined you can even check out our cord cutting setup at our house, and read about why we use the tools that we do.
Low Cost
According to consumer research from Leichtman Research Group, Inc, the mean reported monthly spending on pay-TV service is $103.10 (source)
One of the main reasons that streaming cable TV services have gained in popularity is because they are usually much lower cost than their traditional competitors. The mean cable TV subscriber pays about $103.10/month for their cable TV package. Streaming competitors on the other hand have similar packages starting at around $35/month for many of the same channels. Depending on what channels and packages you go with, you can save hundreds of dollars per year by streaming!
Paying Only For What You Want
Price isn't the only reason streaming services are popular, however. They've become increasingly popular because more and more you're able to choose to subscribe to only the channels you want, instead of only being able to buy huge packages that contain a lot of channels you just don't watch. For example, if you don't watch sports you can subscribe to a non-sports package. Want to watch HBO shows? Just subscribe to the individual channel instead of an entire premium package.
Watch On The Go
Streaming services also have the added flexibility of being portable. You can watch them wherever you are on your mobile or streaming device – as long as you have an Internet connection. With traditional cable TV you'd likely have to have an added expense and special hardware in order to watch your shows on the go.
So with the benefits of streaming services being low cost, paying only for what you want to watch and your subscription being mobile, let's take a deeper look at one of the top streaming services, Sling TV.
Get Your 7 Day Free Trial With Sling TV
Paying $35/mo for Sling TV can save you almost 70% off the mean pay-TV cost of $103.10!
Click To Tweet
Sling TV: What Is It?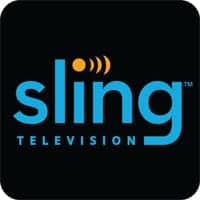 Sling TV is an over-the-top streaming television service that was launched in January 2015. It is owned by Dish Network, and as of June 2017 it has over 2 million subscribers.
You pay one low monthly fee for Sling TV, and in return you get around 30-50 channels or more depending on your package. The service can be streamed to your TV via any number of streaming devices.
Sling TV is a month to month subscription service, so you aren't required to sign a contract like you are with some cable TV providers. You can cancel at any time, and with a 7-day free trial, you can make sure that you like the service before jumping in full throttle.
What Is the Cost Of Sling TV?
So how much does the service cost?
Depending on just what package you sign up for, and whether you sign up for add-on channels or bundles, the cost can vary. Let's take a look at the different packages.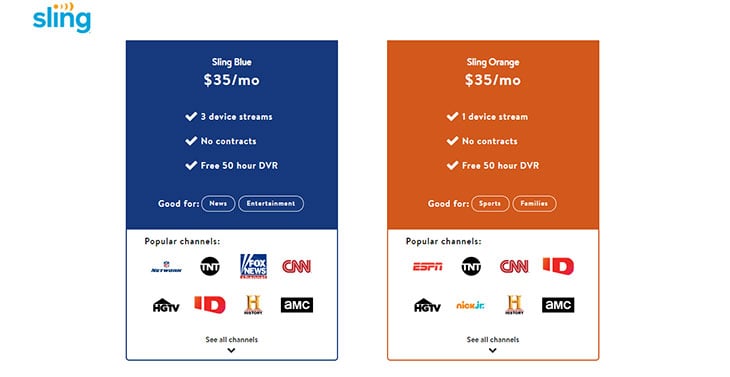 Sling Orange – $35/month
The basic package with Sling TV is the Sling Orange package. It starts at $35/month and includes a variety of live shows, sports, news and more. Some of their most popular channels in this package include ESPN, AMC, CNN, HGTV, Comedy Central, History Channel, Disney Channel, TNT, A&E, Lifetime, Travel Channel and more. In all there are 28 live channels included with the basic orange package.
Sling TV Channel Lineup – Orange:
ACC Network
A&E
AMC
BBC America
Bloomberg Television
Cartoon Network
Cheddar
Cheddar Big News
CNN
Comedy Central
Disney Channel
Epix Drive-In
ESPN
ESPN 2
ESPN 3
Food Network
FreeForm
Fuse
HGTV
History Channel
IFC
Lifetime
Newsy
TBS
TNT
Tribeca Shortlist
Travel Channel
Viceland
One of the big caveats with this package is that you are only allowed to stream to one device at a time. So if you have a main TV in the living room, and a second one in the office, you can't watch TV on both at the same time with this package.
Sling Blue – $35/month
The Sling Blue package is $35/month, and has a lot of overlap with the Sling Orange package, although it's notably missing the ESPN, Disney and some other Disney owned channels. What it's lacking in that area, however, it makes up for by having regional sports and local live networks, so that you can watch your regional sports teams and local programming. In my area that means having Fox Sports North and the local Fox affiliate. It also adds in a few additional channels including Fox News, NBC on Demand, Bravo and some others.
The Sling Blue package allows you to stream to more than one device, you can stream on up to three devices at the same time.
Sling TV Channel Lineup – Blue:
A&E
AMC
AXS TV
BBC America
BET
Bloomberg Television
Bravo
Cartoon Network
Cheddar
Cheddar Big News
Comedy Central
CNN
Epix Drive-In
Food Network
FS1
FS2
Fox (select markets)
Fox News
Fox Sports (select markets)
Fuse
FX
FXX
HGTV
History Channel
HLN
IFC
Lifetime
Local Now
MSNBC
National Geographic
Nat Geo Wild
NBC (select markets)
NBC Sports (select markets)
NBC Sports Network
Newsy
Nick Jr.
NFL Network
SYFY
TBS
TNT
Travel Channel
Tribeca Shortlist
TruTV
USA
Viceland
Sling Blue + Orange – $50/month
If you have to have all the channels included in both packages, you can combine the two packages into one. It will cost you $50/month to combine the two and have all the channels.
With Sling Blue + Orange you'll have three streams available for Blue channels, and 1 for Orange channels, so up to 4 streams at a time.
Sling TV Add-on Packages
Sling TV has a variety of add-on packages that you can buy in addition to your Sling Blue or Orange.
So what are the add-on packages?
Cloud DVR – $5.00/month: Record multiple programs at the same time. Get 10 hours of DVR for free, but for the $5/month add-on you'll get 50 hours of DVR storage and the ability to access all recordings on the go.
Sports Extra – $10.00-$15.00/month: includes a variety of sports networks like NBA TV, NHL Network, Golf Channel and more.
Kids Extra – $5.00/month: Channels like Nicktoons, TeenNick, Sling Kids, Boomerang.
News Extra – $5.00/month: Headline News, MSNBC, CNBC, BBC World News, RT and more news channels.
Lifestyle Extra – $5.00/month: VH1, E, DIY, Hallmark, Cooking Channel and more.
Hollywood – $5.00/month: TCM, HDNet Movie, Sundance TV and more..
Heartland – $5.00/month: Get the best of outdoor sports, rural lifestyle and family entertainment.
4 Extras – $12.00/month: Includes the Kids, Comedy, News, and Lifestyle packages.
Best of Spanish TV – $5.00/month: All the best soccer channels, telanovelas, children's programming and movies in Spanish.
A variety of language and region specific channels $5.00-$15.00/month.
Standalone Channels
In addition to the above mentioned add-on channel packages there are some premium standalone channels that you can purchase. They include:
HBO: $15.00/month
Showtime: $10.00/month
Cinemax: $10.00/month
Starz: $9.00/month
Epix: $5.00/month
CuriosityStream: $6.00/month
UP Faith & Family: $5.00/month
Pantaya: $6.00/month
NBA League Pass: $28.99/month
NBA Team Pass: $17.99/month
Stingray Karaoke: $7.00/month
Dove Channel: $5.00/month
Outside TV Features: $5.00/month
So for Sling TV you're going to be paying anywhere from $35-$50 for the basic packages, and then anywhere from $5-$15 more for each additional add-on package.
Cloud DVR
In addition to extra channels and channel packages, you can now add on the ability to record your favorite shows, a DVR of sorts. It costs $5.00/month, and it allows you to record up to 50 hours of programming. While it's too bad it isn't unlimited hours of programming like YouTube TV, it's still better than nothing.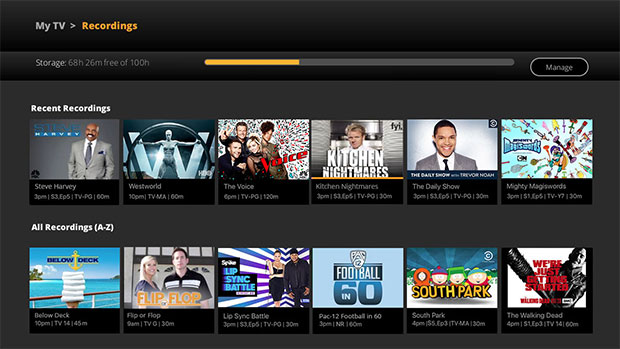 When it comes down to it, $35-50 for a basic streaming cable TV service is extremely reasonable. In fact, it makes Sling TV one of the most affordable over-the-top streaming cable TV replacements.
Get Your 7 Day Free Trial With Sling TV
What Devices Can I Use With Sling TV?
If you're planning on using Sling TV the good news is that the service is compatible with a wide range of devices and platforms.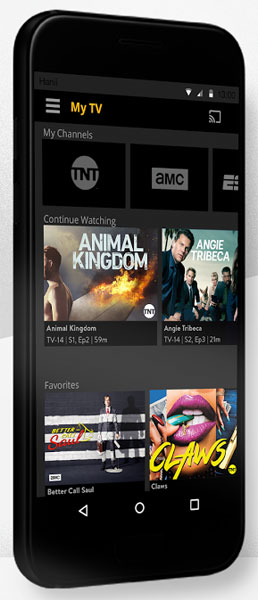 Here are the many of the devices that currently have apps available for watching Sling TV.
Amazon Fire TV (what I use.)
Amazon Fire TV Stick (We use one of these too.)
Android TV
AirTV Player from Sling
PC with Windows 10 and newer
Apple computers with Lion 10.7 and newer
I currently use the service on my Amazon devices, 2 Fire TVs and a Fire TV Cube.
The Fire TV boxes and Cube run Sling no problem, while it can lag a bit on the older devices like the 1st gen Fire TV stick. I've heard it works well with Roku devices as well, although I can't attest to that.
Mobile Apps
In addition to all of the devices above, there are also Sling TV Mobile apps available for iOS and Android devices.
You can find the apps here:
Free Device Offers
If you're thinking about signing up, it might be worth your time to look into the free and reduced price device offers that Sling TV has available. As of the writing of this review you can get the following offers:
AirTV Mini Player – FREE ($79.99 value): Prepay for 2 months of service and get the AirTV Player and remote for free!
Over-the-air Antenna – FREE ($44.99 value) : Prepay for 2 months of service and get the antenna for free!
AirTV 2 + HD Antenna – $49 ($149.94 value): Prepay for 3 months of service and get the AirTV 2 and an antenna for only $49!
AirTV Anywhere + HD Antenna – $99 ($244.98 value): Prepay for 3 months of service and get the AirTV Anywhere and an antenna for only $99!
Any one of these deals looks like a great idea if you're planning on using the service for more than a month or two. I especially like the Fire TV stick deal, definitely worth checking out. To get the deal, click on the link below and then go to the bottom of the page and click on the link for the offer you want to take advantage of.
Things To Be Aware Of With Sling TV
There are some things you need to be aware of when you sign up for Sling TV. There are some quirks to the service.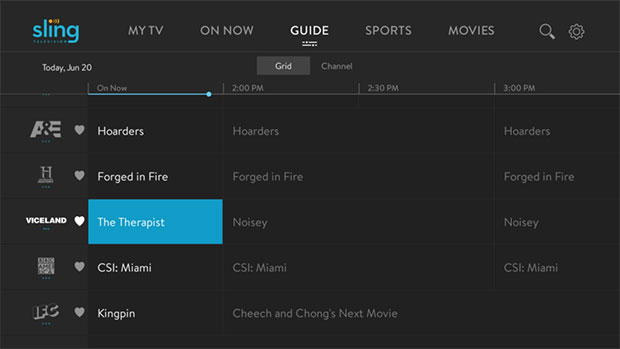 You can only stream Sling TV to a limited number of devices: With Sling Orange you can only stream to 1 device, and with Blue you can only stream to 3 devices. If you have a large household with a lot of devices, this could be a deal breaker.
Live broadcast networks still not available everywhere: With Sling TV and some other providers, one thing that has seen slow adoption is the addition of live local broadcast network stations. This may or may not be an issue for you. At our house we already use a Tablo over-the-air DVR to record all of our favorite over-the-air broadcast network shows, and we have an antenna on our main TV if we want to watch something live, so it isn't a deal breaker for us. If it is an issue for you, you may want to look into Sling TV's AirTV Player that gives you an add on of an over-the-air tuner so you can watch live local TV channels right in the same interface as Sling TV.
Still a new service with some glitches: With Sling TV we've seen a number of issues with the most common problem being service slowdowns or outages, especially during popular shows. For example, one time during The Walking Dead premiere the show was almost unwatchable due to buffering and slowdowns. The issues they've had in the beginning have gotten better over time, however.
Sling TV – The Most Affordable Streaming TV Service
When I first heard of Sling TV a while back I didn't jump in with both feet because of some of the shortcomings I had heard about the service, including a lack of a DVR, and the bugs that were still being worked out with stream quality and buffering issues.
Thankfully the service has gotten better over time, and they've added a lot of functionality including a grid guide (like on a traditional cable box), and now a cloud DVR.
While the service is still relatively new in the grand scheme of things, it continues to get better over time. They're definitely one of the lowest cost and most popular streaming services available. If you're looking to cut costs, they should probably be at the top of your list.
I definitely recommend checking Sling TV out. With the free trial there's nothing at all to lose.
Sign Up For Your 7-Day Free Trial With Sling TV Today