Watching your favorite TV programs doesn't have to be expensive.
For the longest time I've searched to find a good way to ditch our cable. A couple of years ago I wrote a post (one of the more popular articles on this site) that detailed how to watch TV without having to pay your cable or satellite company.
In that post I talked about the cheap setup we were using at our home in order to stream tv shows, movies and a bunch of other online video direct to our home theater system via a streaming software called Playon.
We looked at some of the affordable set top boxes that you could buy in order to stream online video straight to your TV. Among the options listed were game consoles (since a lot of people already had them), Roku boxes, smart TVs, various mobile devices like Ipads and Android tablets.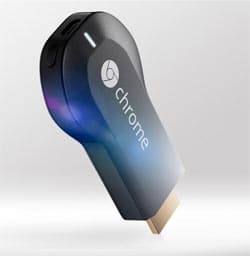 While some of the options work great and are affordable if you already have them, if you don't have one of the devices already you'll be forced to buy one. That could cost you anywhere from $60 to upwards of $500 or more.
This past summer Google announced a new streaming device called the Google Chromecast that will allow you to view your video content on your TV – but at an even more affordable price. The Google Chromecast costs only $35, and it can do a lot of the same things much more expensive boxes do.
This past week I had some unused Amazon gift card credit and I decided to buy one of the devices to test out since it was so cheap. Let's just say I was impressed!
This is my review of the Google Chromecast – and how it can save you money on your entertainment expenses.
What Is Google Chromecast?
Google Chromecast is an HDMI device that allows you to stream your online video and music straight to your TV. You use it in conjunction with your existing Android, iOS, Windows or OS X device to choose content and then send it to your TV.
Here's a quick video with an unboxing of the Google Chromecast, a walkthrough of setup and a look at how it works:
Setting Up The Google Chromecast
Setting up Google Chromecast was extremely easy, and I think most people – even non tech savvy people – should be able to set it up pretty quickly. Here are the steps.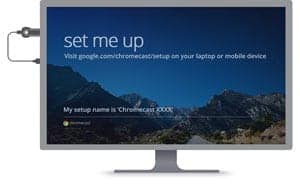 Plug in the device to your HMDI port: Find an available HDMI port and plugin your device.
Supply power: Some TVs with HDMI 1.4 support won't need an external power source. If yours doesn't have that (mine doesn't), plug in the Mini-USB cord into the Chromecast and plug it into the USB port on your TV, or into the wall with the supplied power adapter. Some people suggest plugging it into the wall so that the device can turn your TV on and switch it to the right input automatically. (It does this for me)
Turn the TV on and confirm the device is ready to setup: Once you've plugged the device on and given it power, it should be set to go, and ready to be setup. The screen will say "set me up".
Setup the device via your phone, tablet or desktop computer. Just go to the setup website and install the app for Windows, Android, OS X or iOS and it will walk you through setting up your device's wi-fi connection, naming the device and a couple of other settings.
Allow device to download and install updates: Once your wi-fi is setup, your device may need to download the latest firmware and software updates. Mine did. It downloaded the updates, rebooted and installed the update within about 5 minutes or so.
Start casting! You should now be ready to start viewing your video content on your TV by casting it from your tablet, smartphone or connected computer using the Google Cast extension for Chrome.
I found the device setup to be about as easy and painless as it can get these days. It was basically just plug it in, set it up on their website, and allow any automatic updates to happen. It all happened in about 5 minutes or less, and worked seamlessly from then on.
Natively Supported Apps and Video Services
So what video services support the Google Chromecast right out of the box? The following companies currently have apps that will support Google Chromecast.
Netflix – mobile app and website
TabloTV – The Tablo over-the-air DVR has an app that casts seamlessly to Chromecast.
YouTube – mobile app and website
PlayOn – PlayOn media hub has Chromecast functionality. (PlayOn Review)
Google Play Movies & TV – mobile app (Android only)
Google Play Music – mobile app (Android only)
Pandora – Support for Pandora app was just released.
VEVO – Music videos and VEVO originals.
Red Bull.TV – Extreme sports content

Songza – Music content

Plex – Plex organizes all of your media, wherever you keep it, so you can enjoy it anywhere.

PostTV – Washington Post video content

Viki – Discover Korean dramas, Japanese anime and movies, telenovelas, music videos & more.

RealPlayer Cloud – Watch your personal video collection on your TV. No wires.
HBO Go – HBO content.
I've tested many of these services on my Google Nexus 7, and the ones I've tried work flawlessly. I watched a movie from Google Play store the first night we owned it, and it streamed without any slowdowns or buffering. I also set up the YouTube app to stream a playlist of Thomas the Train videos for my son and it worked great, keeping him occupied while I worked on something else. The Pandora app works great for listening to music, and I was able to listen to my MP3 collection via my 7000 songs on my Google Play Music account.
Everything just worked perfectly! I didn't really have any hiccups to speak of, there was no buffering, stuttering or freeze ups on my device. So it seems like any bugs they had when they launched have been worked out via firmware updates, etc.
Via Tab Casting You Can View Other Video Sources
Some folks have complained that the apps that are natively supported by Chromecast leave out some of the big ones like Amazon Instant Video, video from the major networks and the free online Hulu service. I was one of those folks. I found out, however, that the Chromecast has a great feature built in that will allow you to stream video content from your computer's Chrome browser directly to your Chromecast device. That means that basically any video you can play in your web browser can be streamed over to your Chromecast!
To get started casting from your desktop, all you need is the following:
Once you have installed the browser and the cast extension you should then be able to have most video and audio content played on our Google Chrome browser "tabcasted" to your Chromecast.
All you have to do is click on the "cast" button in your browser, and select which device to send the video and audio stream to (if you have multiple Chromecasts). Once I select the device, it automatically turns on my TV and switches it to the correct input, and starts streaming. Piece of cake!
Using this functionality I was able to view movies and TV shows from my Amazon Prime account, as well as several other video services. The only caveat is that you'll have to start or stop any videos playing via your desktop browser, and it will then have to transcode and stream the video to your Chromecast. So you'll want to make sure you have a decent network connection, and a computer fast enough to do the work.
Some of the video and other services that will work with Google Chrome tabcasting functionality:
Amazon Instant Video; ABC; AOL; CBS
Crackle; Fox; Google Plus photos/slideshows
Justin.tv; NBC
MLB.TV; Plex; Post TV
Qello; Rdio; Revision 3; Slacker
Songza; Spotify; Vimeo
For some, like Amazon Prime videos, you may need to uninstall Microsoft Silverlight in order to properly cast that tab to your Chromecast. Apparently I never had the Silverlight installed as watching Amazon Prime videos via tab casting worked right out of the box. Other video – like Quicktime video via Itunes won't work and for the forseeable future probably won't be.
Other Tips And Tricks when Using Chromecast
There are a few things you can do to make your experience with Chromecast more enjoyable.
View videos on your local hard drive via Chrome tabcasting: Some users have discovered they can watch local movies and tv shows or home movies on their hard drive just by opening them in Chrome. If it plays in the Chrome browser, it can likely be played on the Chromecast.
Use Chromecast for screencasting entire desktop (no audio though): There is a setting in the Google Cast extension that allows you to stream your entire desktop to your Chromecast. For now it is a beta feature, and no audio is available like with tabcasting. Use it for slideshows, powerpoint or whatever else you can think of.
Some TVs will allow the Chromecast to turn on the TV and switch it to the right input. If yours does, it will just happen. My TV allows the Chromecast to turn it on and switch to the right input once it has received a request to broadcast something. Pretty slick. I believe it must be plugged into an outlet and not the TV for this to work.
Use Plex media server to serve your other media content via a Chrome tab: Plex Media Server can categorize all your digital movies on your hard drive and allow you to tabcast them via Chrome.
Optimize your video via tabcasting by changing settings. If your video being streamed from your desktop to the Chromecast isn't as smooth as you'd like, you can optimize your video quality settings. Just click on the cast extension button and click on options. Next, under "tab projection settings", select "Standard (480p)". That should make your stream a bit easier to stream over slower networks.
Use Playon. The Playon video streaming service I discussed in this post is now compatible with Chromecast as well. I've used it and love it with my Chromecast!
Conclusion
The Google Chromecast is super cheap at $35, and when paired with a variety of online streaming video sources it can be a decent replacement for your cable or satellite TV service.
Granted, some things like live sports won't be available, but otherwise it'll save you a ton of money. You can go from paying $50-100+ every month, to paying for only the services you want. If you pay for Netflix and Hulu Plus it'll be in the neighborhood of $16/month. Not too shabby!
Have you already bought the Google Chromecast? What has been your experience with the device, and do you have any tips or tricks?
Check out and buy the Google Chromecast