Cutting back on your entertainment expenses can be an effective way to keep your monthly budget in line.
In the past I've written about how we cut the cord to avoid paying high cable or satellite TV costs. I went in depth into what streaming services and cord cutting products we recommend. We use a Tablo over-the-air DVR to record over the air broadcasts via our Mohu Leaf 50 antenna. We then watch the recordings on our Fire TV and Chromecast.
Cutting the cord is easier than ever these days with the cord cutting entertainment options being more readily available than ever via streaming services and digital TV broadcasts. If you decide to go down the road of using mainly over-the-air broadcast television, there are tens of available free broadcast channels available in most areas. In our area we get close to 40 channels, many of them in crystal clear 1080p picture quality.
Today I thought I would look at just how easy it is to setup a digital over-the-air HDTV antenna, and get amazing HD programming without paying a monthly subscription fee. In our case we chose to use the green and sustainable ReLeaf® from Mohu. Not only is it a great antenna, but it is environmentally friendly as well!
Over-The-Air TV Gives Tons Of Entertainment Options
A misconception that a lot of people have about over-the-air network television is that it doesn't provide a lot of good entertainment options. In fact, 94 of the top 100 watched shows are available over-the-air in 1080p HD! That means for many of your favorite network shows you may in fact be getting a 1080P signal by using an over-the-air antenna versus a 720P signal using your cable provider, since most of them air their signals in 720P.

Depending on where you're located the number of over-the-air TV stations available to you will vary widely. To find out what stations are available to you in your area, do the following:
Go to GoMohu.com
On the homepage enter your zip in the "find the right antenna" box near the top.
On the page that comes up you can view a full list of channels that should be available in your area, and which antenna might be the best fit for your location.
When I run the test on Mohu's site it says I should be able to receive up to 44 channels from 17 over-the-air stations in my location. Of course, when you remove a few of the channels you'll never watch, for me it's closer to 35 channels or so.
You can also run your zip code and address through other sites as well. For me the others sites gave much the same answer. I should be able to receive somewhere around 44 channels including all of the big networks, public television, and various other channels.
Unboxing The Mohu ReLeaf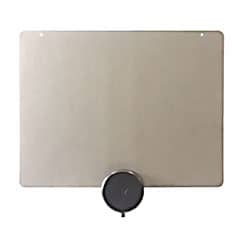 After connecting with me in the past on reviews for some of their other products, the folks at Mohu were kind enough to send out one of their ReLeaf® digital antennas for me to review.
The ReLeaf® HDTV Antenna that they sent is a paper thin antenna made from recycled cable boxes (isn't that appropriate?), and other recycled or sustainable components. The antenna is advertised as having a 30 mile range, so if you're within 30 miles of the TV towers in your area, this antenna should do the trick. I'm about 25 miles from most of the towers, so this antenna will work for all but about 4-5 of the stations.
Some bullet points from Mohu:
Up to 30 Mile Range
High VHF | UHF
Multi-Directional
1080 HD | 4K Ultra HD Ready
75 ohm F Connector
Dimensions: 9″ x 11.5″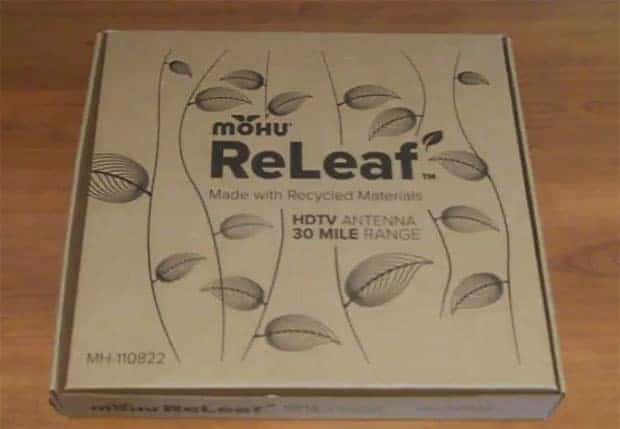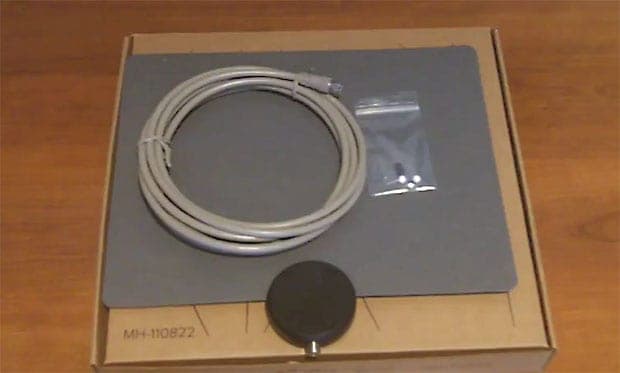 After receiving the box in the mail from Mohu, I did a quick unboxing video to show everything that comes in the package.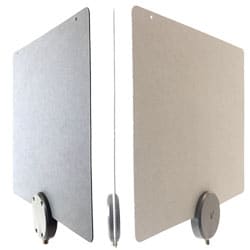 Inside the box you'll find the following:
1 Mohu ReLeaf® HDTV Antenna
10 ft antenna cable (that you attach to the back of your TV and connector on the antenna)
Pushpins to hang your antenna.
Cardboard box that can be cut out and used as an antenna stand.
The antenna is super light, paper thin and easy to mount just about anywhere you want. I was able to mount this antenna behind our TV to the wall using the included pushpins. Easy peasy.
Setting Up Your Digital Antenna
Setting up your digital antenna shouldn't take more than a few minutes. For me it took about 5-10 minutes from start to finish.
First, I removed the parts from the box, and assembled the antenna. That involved one step – screwing the coaxial cable to the input on the antenna.
Next, you hook up the antenna to the back of your TV, over-the-air DVR or other device. In my case I screwed it on to the coaxial input on my TV.
Next, I put the antenna in a position that I thought would be ideal behind the TV.
After everything was plugged in and ready to go, I went into my TV's setup menu to scan for channels. The TV scanned the channels and five minutes later it was complete. In the end it found about the number it said it would, somewhere in the neighborhood of 40+. I think a couple of the smaller low power stations were actually further away than my general zip code search made it seem, so they were out of range of this 30 mile antenna.
Mohu ReLeaf® Is Made From Recycled & Sustainable Materials
A lot of people are more concerned than ever about reducing their environmental footprint, and do their best to buy products that are sustainable and environmentally friendly. Mohu ReLeaf® is a product that those people can feel good about buying since it's made in large part from recycled components.
For example, the one of the biggest components of the Mohu ReLeaf, the so called "clamshell" where you connect the coax cable, is made completely from crushed cable boxes!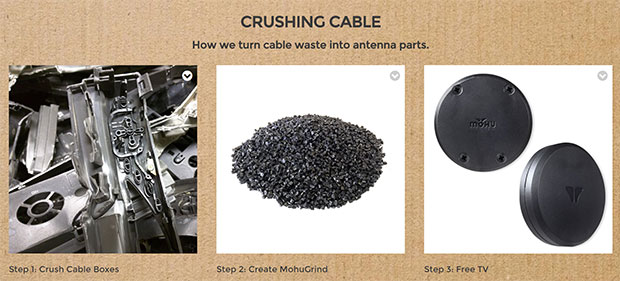 According to Mohu there are currently "more than 224 million cable TV set-top boxes in US households, these devices are major contributors to the e-waste problem." Mohu found a way to take the plastic from crushed cable boxes, create plastic pellets from the ground up plastic, which is then melted and molded into the plastic clamshell that makes up the bridge between the antenna and the coax cable.
It doesn't stop there though.
The ReLeaf™ carries with it a number of environmental certifications.
FSC® Certified, ensuring all environment papers meet the mark of responsible forestry.
Green-e Certified, ensuring all environment papers are made with 100% renewable green electricity.
Green Seal™ Certified, ensuring all environment papers are made with a minimum of 30% post consumer fiber and that mill processes, including packaging, are environmentally preferable.
Carbon Neutral Plus, ensuring a reduction in carbon emissions plus a commitment to conserve the environment.
All 100% post consumer colors are Processed Chlorine Free (PCF).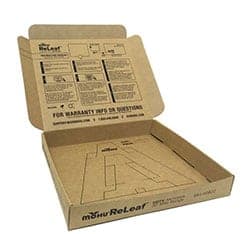 The ReLeaf™ antenna itself is made from 30% post-consumer recycled cardboard, and even the box is made from 100% recycled cardboard. The instructions for your antenna are actually printed on the inside cover of your box to avoid printed paper manuals, and they even print an antenna stand onto the box that you can cut out with an X-ACTO knife.
An Over-The-Air Antenna Can Save You Money, And Be Socially Responsible
If you're looking to cut the cord, one of the first things you'll need to buy is an antenna for your TV or DVR. Mohu makes some of the best over-the-air antennas available today, and they're constantly innovating with new cord cutting products.
The ReLeaf™ antenna from Mohu is a great antenna if most of your stations are within the 30 mile range (They say they're hoping to create 50 mile and longer range versions).
It's also made in an environmentally sound way that means a good amount of it's components are made from recycled and sustainable parts. If you want to cut down on waste, and buy a product that takes environmental stewardship seriously, Mohu ReLeaf™ should definitely get a second look.
Get your own Mohu ReLeaf and start saving on cable today
Mohu ReLeaf® Antenna
$39.99