Our monthly bill for Internet service went up this past month.
Again.
The cost started at $50/month, then went up to $60. Now it's closing in on $80/month.
We need Internet service, so we can't just cancel our monthly subscription.
The only option at this point is to try and negotiate our bill with our provider.
What if you don't have the time or the inclination to negotiate your monthly bill on your own?
In the past few years a variety of bill negotiation services have popped up that will take on the challenge of negotiating your bills for you.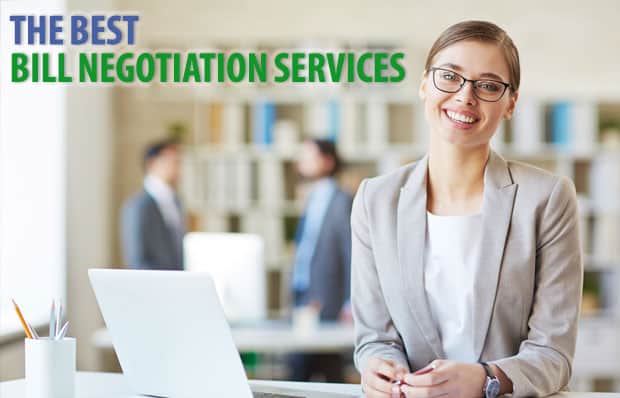 If they're successful (and quite often they are), you just have to pay a portion of monthly savings to the negotiation company. They find you savings, and you pay them a portion of the savings.
If you don't have the time to negotiate your bill why not give a bill negotiation service a try?
For this article we rounded up some of the best bill negotiation services. We'll take a look at them all, and figure out which ones give you the best bang for your buck. So let's get started.
Ask For A Discount, Save Money On Your Monthly Bills
It should be stated up front, what these bill negotiation companies are doing isn't exactly rocket science (even if they do have some tricks up their sleeve).
If you have the time and inclination, you likely would be able to do much of what they're doing on your own, and save yourself the fees.
With that said, I think a lot of people just don't have the time or the will to negotiate their own bills. Not only that, they don't have the inside information that gives them insight into which companies have discounts available and which tactics are more likely to provide a cut in your monthly bills.
Best Bill Negotiation Services
Bill negotiation services will negotiate your bill on just about any service that you pay on a regular basis. Most of them will work with companies that provide:
Internet service
Cable TV service
Phone service
Wireless services
Gym memberships
Landscaping, pest control and trash services.
Satellite radio services
Security services
Obviously the most common companies that have sky high monthly bills include cable TV services, Internet providers and wireless cell phone providers.
No Savings, No Fee
Most of the bill negotiation services have a "no savings, no fee" promise. In other words, if they can't lower your bill, you won't have to pay anything. If they do find a way to lower your bill, you'll just pay a percentage of your savings to the negotiation service.
Some of the services will bill you for the savings up front, while others will charge you in monthly installments.
So which bill negotiation services are the best? Let's take a look at several of the most popular.
Bill Shark
I discovered Bill Shark by accident when I sat down with my wife to watch one of her favorite shows, Shark Tank.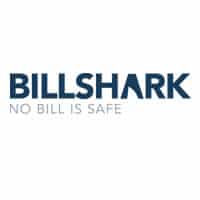 On the show, they talked about how consumers are overpaying on many of their bills and explained how they could save millions of dollars for people. Mark Cuban was impressed and invested in the product.
I decided to give the site a try as well. We don't have a ton of bills that I thought we could save money on, but one of them was our Internet bill. I took a picture of our bill, uploaded it through their secure site, and waited for them to get busy negotiating.
Bill Shark says that they have an 85% success rate negotiating bills for cable TV, wireless phones, satellite TV, Internet access, satellite radio, and home security.
In my experience, I've found that to be true. If you look at my Bill Shark account below, you can see it says we've saved $336.40 since we started using the service.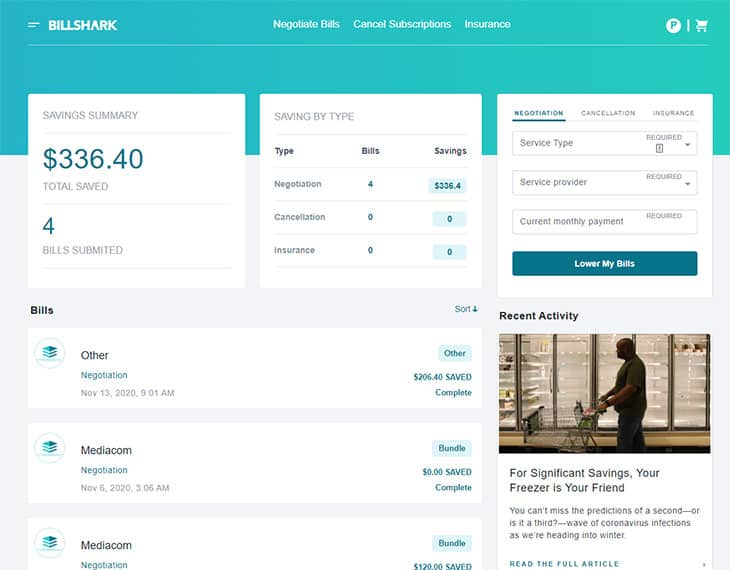 I submitted my Internet bill to them in March of last year. At the time they weren't able to secure an ongoing reduction in our bill since our bill was already relatively low. They were able to get us a $10 one time credit, however.
In October of last year, they went to work again on our bill again. This time they secured a $10/month reduction in our bill for 1 year, coming out to a total of $120 saved for the year.
In November of this year, they saved us $206.40 on our Waste Management bill as well, via a credit on our bill.
It should be noted that the hard-fought savings on my account of $336.40 were not free. The savings were reduced by 40% to pay the costs for the Bill Shark service, so our total savings for using Bill Shark was $201.84. We paid Bill Shark via three separate invoices totaling $134.56.
While it seems like a lot to pay, if we hadn't used them we'd still likely be paying $336.40 extra this year, so in the end, we're coming out ahead.
Cost: 40% of annual savings (up to 2 years).
Get Started With Bill Shark
BillCutterz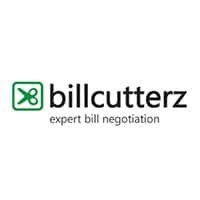 BillCutterz has been helping people save money on their monthly bills since 2009, so they've been around for a while.
Their "savings experts" are specially trained to find you the best rates possible on your monthly bills.
They lower your bills by calling your providers and getting a reduction in your rates. How does it work? Once you sign up you just upload a bill through their site or by sending it via email. They get to work right away calling your providers, negotiating, and finding you a better deal.
They say their process usually takes less than 48 hours, although they sometimes might need an extra day or two.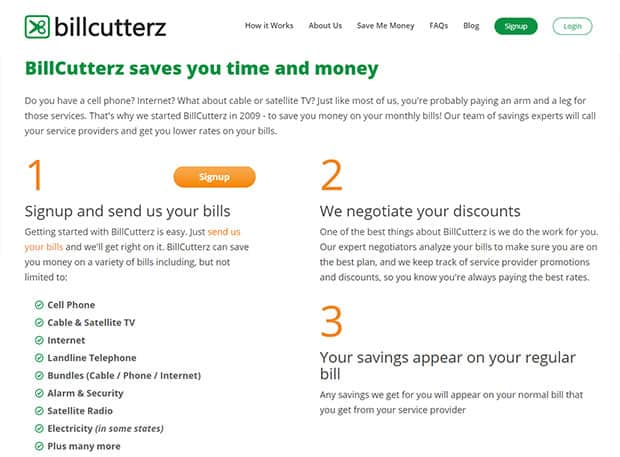 When BillCutterz finds savings for you, they'll charge you 50% of your first year's savings. After the first year, the savings are no longer split. You can be billed monthly, and pay the cost over a year, or if you prefer to pay in full upfront you'll get a 10% discount.
Cost: 50% of 12 months of savings
Get Started With BillCutterz
Rocket Money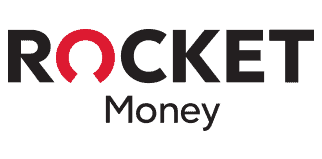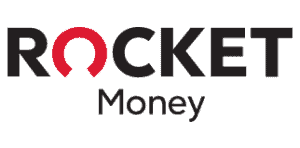 Rocket Money is all-encompassing financial tracking software that helps you to manage your spending, keep track of your subscriptions (and cancel them if they're no longer needed), get refunds on fees, and for outages, and lower your bills through their negotiation service.
To date, they say they've saved over 3.4 million members over 245 million dollars and counting, which isn't half bad! They say they have an 85% success rate in lowering people's bills.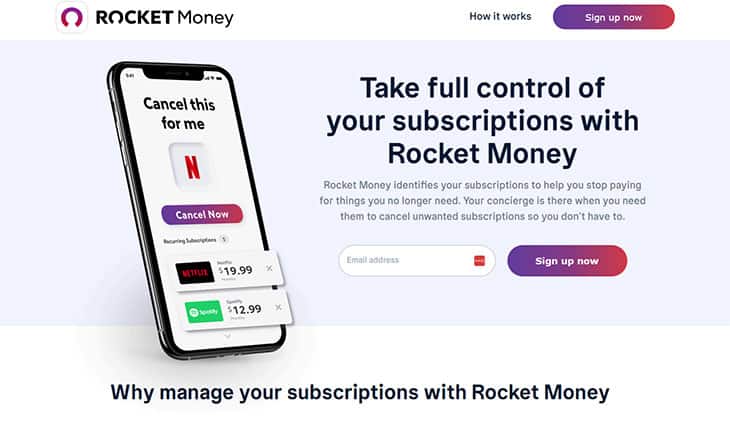 So how does the bill negotiation process work?
First, you either connect your billing account to Rocket Money, or you snap a photo of your bill and upload it. Next, they get to work finding any hidden discounts or promo rates available for you. Then they negotiate your bill. They never downgrade or remove services without your permission, instead, they find the best possible rate or get one-time discounts added to your account.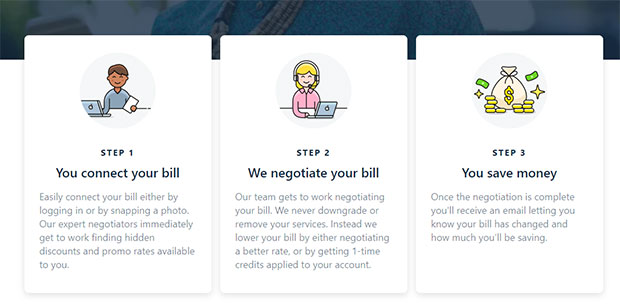 If they find savings for you on a bill, the fee is 40% of the savings. So if they save you $100, they'll take $40. If they can't find savings for you, you pay nothing.
Rocket Money also has a premium account that gives you more features and functionality in the account beyond the bill negotiation. Things like unlimited budgets and categories in the app, a smart savings account, overdraft, and late fee refunds, account syncing, and premium chat support with experienced customer advocates.
Cost: 40% of your savings.
Get Started With Rocket Money
Experian BillFixer™


Experian BillFixer is a company that was started by two brothers from Nashville, TN. The company was started because they had their own pain point, hating to pay constantly rising bills. They started the company with the idea that they could help customers to save money as well, without the hassle of having to do all of the follow up themselves. The company has since been acquired by Experian.
Experian BillFixer™ does all the hard work in finding promo rates, loyalty discounts, special packages, optimized plans, and one time credits, and then splits the savings with you when you save.
To get started just upload a bill to their site, an electronic .pdf copy works best. Usually, you can download that from your provider's site. Next BillFixers will take over and negotiate your bill. They say they will usually finish bill negotiations within one billing cycle, but you can always call and check on the negotiation status at any time.
Once the folks at Experian BillFixer™ have saved you money they'll notify you how much you have saved. The BillFixer service is included as part of Experian's premium service which is free for 7 days, then just $24.99/month after. The membership includes 3-bureau FICO scores, identity theft protection, FICO score simulator, Experian CreditLock.
Cost: Free for 7 days, then $24.99/month as part of their premium Experian service.
Get Started With Experian BillFixer
Trim


Trim is a financial management service that helps you to reach financial goals by giving you recommendations and alerting you to savings opportunities.
What are some things Trim can do? They can analyze your transactions and tell you where your money is going, recognize recurring charges in your accounts and alert you to them so that you don't forget about unneeded subscriptions. If you don't want a subscription, they can cancel it for you.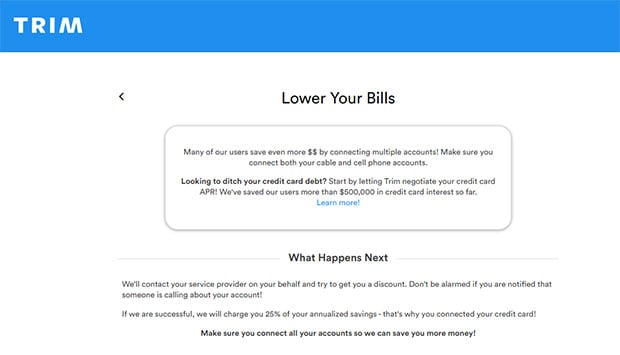 They also will negotiate your cable, Internet and phone bills with just about any provider. They can also often negotiate your credit card rates. They say that in many cases your bills can be lowered by up to 30%.
I've used them in the past to negotiate my cable bill and get a $10/month reduction in the monthly cost. I have had glitches with the negotiation service as well, where they kept asking me for my account PIN so they could negotiate my bill, which I gave, and it would never save in their system. To get that resolved I had to make a phone call, and they were able to straighten it out for me. So at times, there have been bugs in the system for me, but it was relatively easy to fix.
Cost: 33% of annual savings.
Get Started With Trim
Bill Advisor


Bill Advisor is a "one-stop-shop" for people looking to save money on recurring monthly expenses. They will analyze your bills, comparison shop for better deals, recommend how to reduce rates, negotiate lower bills for you, and even monitor your bills and contracts on an ongoing basis to re-negotiate when your contracts come due, or your promotions end.
They will negotiate your bills for TV, Internet, cell phone, energy and electricity, auto and homeowner's insurance, subscription services, and more.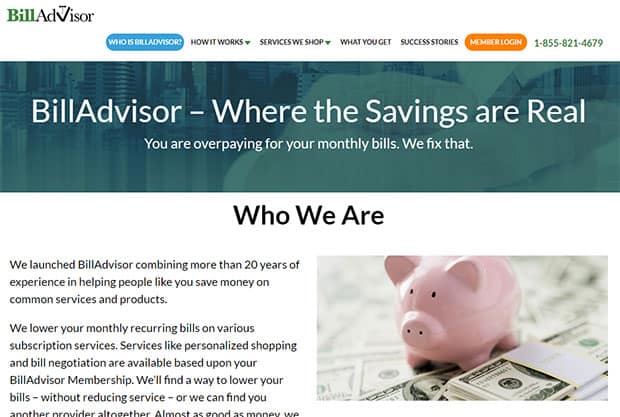 How does it work?
First, you send them your bills, via the website, email, or text.
Second, they will check out the bills and give you an idea of how much they think you can save. Then, they go to work trying to get you a better deal. (They'll never change anything about your service without consulting you first.)
Finally, once they've secured savings for you, they'll monitor your bill long term so that they can continue to save you money down the road.
The only things I wasn't sure about with Bill Advisors is I can't find a way to sign up on their site, it looks like you have to call to sign up (and to cancel). Otherwise, it could be a pretty good deal if you have a bunch of bills to negotiate. Just sign up for the monthly fee plan for a couple of months and you'll likely come out ahead.
Cost: Variable cost depending on which plan you use. ( 50% of savings for silver members, Platinum members pay a $12.99 monthly fee that covers all negotiations. )
Get Started With Bill Advisor
Medical Bill Negotiation Services
Most of the services up above are going to be negotiating your bills on home services, insurance, and other things. Many, however, explicitly do not negotiate medical bills.
There are a few services that do, however. Here are a couple of our favorites.
Medical Cost Advocate
Health care costs are complex and can be extremely confusing. Most people don't have time to become a health care billing expert. That's where a company like Medical Cost Advocate comes in.
They will partner with you to assist you in reducing the cost of your medical bills.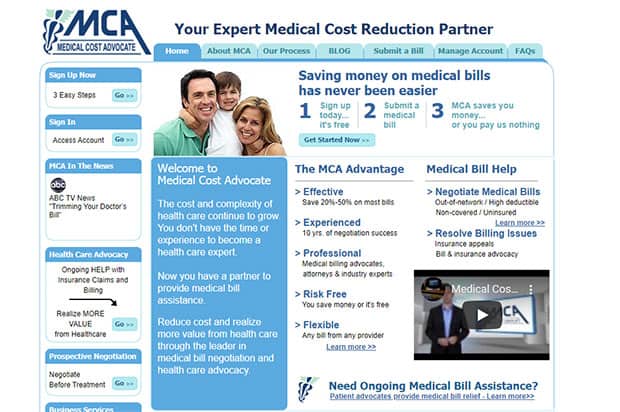 Just sign up for MCA, it's free and you never pay unless they save you money.
Here's how it works. First, you confirm the patient and health care provider information. Second, enter the bill information for the procedures or charges to be negotiated. Finally, you enter your payment information.
MCA will work with the provider to negotiate a reduction in the bill. If your bill is reduced, your payment information will be charged for the reduced invoice, as well as for 35% of the total savings amount. So if you save $100, you'll pay a $35 fee.
If they aren't able to get your bill reduced no changes are made and you'll need to pay your bill on your own.
Get Started With Medical Cost Advocate
CoPatient
CoPatient is another service that will examine your medical bills, figure out if everything is coded correctly, and then negotiate your bill with your providers and insurance if need be.
According to CoPatient, up to 80% of all medical bills can have errors, so why not have someone find them for you, and negotiate a reduction in your bill?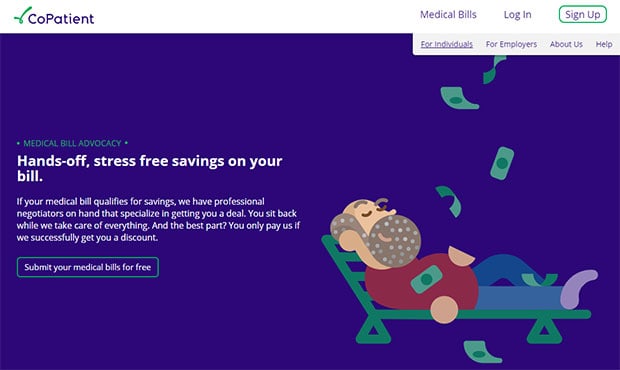 How does it work?
First, you submit a scan of your bill. Second, you give some further details about the patient and provider. Third, their professional billing expert will do a 10 point review of your medical bill to look for opportunities to save you money.
If you give consent to negotiate your bills, they will then contact service providers on your behalf to get the best deal possible.
If they receive a discount on your bill, you'll pay 35% of the savings. Simple.
Get Started With CoPatient
Save Money On Your Monthly Bills Through Bill Negotiation
Most people have at least a few bills that they're paying every month that they're overpaying for.
Whether it's a cell phone bill, a cable bill, an internet bill, or even a medical bill, there are companies out there that will help you to reduce your cost.
While you could likely negotiate a reduction in your bill on your own if you have the time, for most people having a third party company do it for them is so much easier.
I certainly found it to be easier. I personally saved $130 using one of these companies and netted $78 after paying their fees.
While these companies aren't providing this bill negotiation service for free, they are pretty effective in finding discounts, and in the end, you're pretty likely to be saving a pretty significant amount of money.
So why not give it a try? The worst that can happen is you'll find they can't find any additional savings, and in that case, you won't have to pay for the services anyway!
Have you tried a bill negotiation service? How did it work out for you?
| | | |
| --- | --- | --- |
| | 40% of annual savings, up to 2 years | |
| | 50% of 12 months of savings | |
| | 50% of 12 months of savings | |
| | | |
| | 33% of annualized savings | |
| | Variable cost: 50% of savings (silver) $12.99 monthly fee (platinum) | |