Over the past year I've watched as Baker over at ManVsDebt.com has had a meteoric launch to become one of the premier voices in the blogosphere in several different niches. He is a recognized personal finance writer, landing a staff writer position at one of the premier personal finance sites, GetRichSlowly.org. He writes about his family's travels as they globe trot – from New Zealand to Australia to Thailand – in the past year. His writing has been inspired, and lots of people (myself included) have come to enjoy his writing immensely.
One thing I know about Baker is that he is a genuine person, and his personality and real life experience really speaks through his writing. He has been open about his family's own financial struggles, and how they rose above them.
New E-book Called Unautomate Your Finances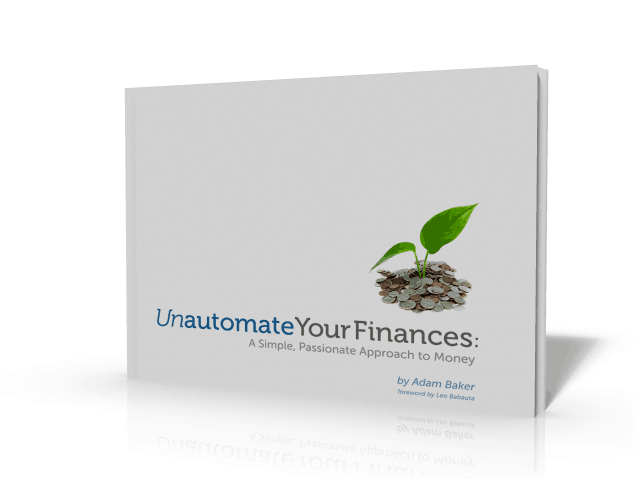 Today Baker is launching a new venture, an e-book called Unautomate Your Finances: A Simple, Passionate Approach To Money. The e-book has an interesting title, and one that I really didn't agree with at first because I didn't really understand what it it was all about. I mean, I'm a big proponent of automating parts of your finances, making it easy and automatic. Why would you want to "Unautomate" it?
When I actually started reading the e-book, however, I realized it wasn't so much about not automating your finances as it was about becoming more involved and more intentional with your money. It's about making conscious decisions that you can sustain over the long term – focusing on your goals and keeping things simple.
Baker argues in his e-book that we have become almost too automated in our approach to our money. Technology has made it easy to put little thought into why we're making the decisions that we are, and because of it we often don't think carefully about the choices that we're making. The e-book explores why it's important to simplify, focus and be intentional about our money, and then goes through step by step explaining how to do it – while giving examples of how Baker did it in his own life.
Baker's writing is entertaining, engaging and and well reasoned. It's also sprinkled with bits of wisdom from the likes of Albert Einstein, Billy Joel and Tyler Durden. That's quite a diverse group, how could you not love that?
What's Included in The E-book Package?
Having launched my own e-book a couple of weeks ago I know how much work goes into creating one, and Baker really has outdone himself with all of the materials included in this package. From his site – these things are included:
A comprehensive 83-page eBook, featuring "The Unautomation Theory", "The Science of Unautomation", and "Applying Unautomation". Over 25,000 words dedicated to providing everything you need to adopt a simple, passionate approach to money.
A 27-minute video interview with Leo Babauta of ZenHabits.net. Baker interviews Leo on how he applied the principles of simplicity and minimalism to dramatically turn around his financial life. Powerful insights from a leader in simplicity, blogging, and productivity.
A 29-minute audio interview with J.D. Roth of GetRichSlowly.org, one of the top personal finance blogs on the web. J.D. joins Baker on a call to discuss his own financial recovery story and what it's like now that he's in the "third phase of personal finance".
A 2-page, custom-designed PDF version (printable) of the minimalist budgeting system discussed in main guide.
A bare bones Excel template for those who want to take the minimalist budgeting system digital.
Free Extended Updates! Over the next 6 months, I'll be releasing sample case studies, FAQ's, and exclusive interviews… for free!
In my opinion, even without all the extras the e-book is well worth the small price. Add in all the extras and it really is a great deal!
I highly recommend this e-book from ManVsDebt, and suggest you check it out on his e-book page. I do have affiliate links on this page, and will get a commission if you choose to buy through my links, but I only recommend the e-book because I've actually read it, and thoroughly enjoyed it. Find out more details by clicking on the banner below:

If you end up buying the e-book, please let us know what you think of it in the comments!