Studies have shown that more than two thirds of people are living paycheck to paycheck at least part of the time.
That's an eye opening statistic!
It seems to be getting harder and harder to keep your head above water financially, and there are a variety of reasons why that's happening.
In this post I'll show you how to get out of that cycle and tell you about a great new resource that will help
Decide To End The Paycheck to Paycheck Cycle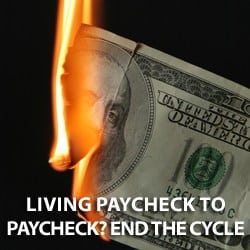 Any time you want to bring change to your life, it always starts with the decision that you're going to make that change happen, no matter what.
So what do you do if you're living paycheck to paycheck, and you believe there is no way you'll ever get ahead financially?
Don't fret, there are several things you can do to stop the cycle.
A Change of Mindset
The first step is to change your mindset.
When you're living paycheck to paycheck, it's easy to believe that's just the way things are always going to be.
But it doesn't have to be that way.
You have to consciously decide that you're going to stop the cycle for good. Once you make that conscious decision, you can start making progress in your situation.
Why You're Living Paycheck to Paycheck
Once you make the decision that It's time to change your mindset, you've decided that living hand to mouth is not acceptable anymore and it's finally time to change your financial situation no matter what it takes.
Now that you've decided that you're never going back, then you have to figure out what caused you to live paycheck to paycheck in the first place.
Some of the most common culprits:
You Figured That Debt is Just a Part of Life- Decide to be different. It doesn't have to be that way. Car payments and credit cards are NOT inevitable.
The Job Market is Different Now- Businesses are changing the way they hire and compensate employees. You have to learn to change with the times, update your skills, and understand how to overcome those challenges that come with change in the workplace.
You're Not Making Enough Money- Maybe you're underemployed or don't have a solid career path. You have to find ways to be more valuable at work and even make extra money with a side gig.
Wants Have Turned Into Needs- Eating out several times a week, Cable TV, and other things that once were "extras" have become a "necessary" part of life. In reality these are wants, not needs
You're Spending Too Much- You may be spending more than you make. This usually happens when you don't have a plan. Do you even keep track of your money enough to know? To succeed, you have to gain better control of what you spend.
You Don't Have a Plan- You don't really keep track of your money and you just spend until the money runs out. Then the next paycheck comes and you do it all over again. You don't have a clue where all the money goes. This is how most people end up living paycheck to paycheck.
Money is Too Easy to Spend- When you swipe and sign it's too easy to spend without thinking, so you end up overspending before you even realize what you've done. Credit cards don't feel like real money.
You Might Have a Spending Problem- Maybe you have a lack of self control such as a shopping addiction that needs to be addressed.
Take an Honest Look
Be totally honest with yourself.
Take a long, hard look at the situation and figure out what's really causing your problem.
Yes, I know that can be a hard thing to do, but lying to yourself never allows you to get ahead in life.
Once you figure out what the main causes of your paycheck to paycheck problems are, then you can start taking concrete steps to address those problems and totally overcome them.
I Can Teach You How to Do It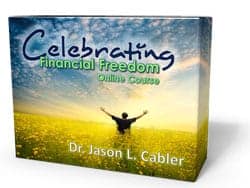 If you really want to change your financial habits and get out of debt permanently, you may want to check out my Celebrating Financial Freedom online course.
It will show you all you need to know about getting out of debt using time tested Christian principles.
The Celebrating Financial Freedom course is about 5 things:
How You Are Manipulated to Get Into Debt, and how it affects your freedom, your happiness, and your future.
The Spiritual Aspects of Money– How your money mentality affects every aspect of your life, and how it can add to, or take away from your spiritual walk.
Getting Out of Debt– The 5 step process that will lead you to debt freedom and keep you there.
How to Get On The Same Page With Your Spouse About Money- Finally eliminate disagreements about money. You will learn how to work together and understand how your spouse thinks about money.
How Handling Your Money The Right Way Changes Not Just Your Family, But The World as a Whole- Sometimes in very surprising ways.
Like to find out even more about the course? Click here
Got a question about this post or need advice about your financial situation? Shoot me an email, I'm always glad to help!
Question: What is your biggest financial concern? Leave a comment and tell me about it.
Dr. Jason Cabler is a Christian personal finance blogger, author, and speaker. He teaches how to get out of debt and live a debt free lifestyle through his Celebrating Financial Freedom blog and self study course. His new book "How to Budget- The Quick and Easy Guide to Making a Budget That Works" is now available (more info here). He can be reached for interviews or speaking engagements by email, and can be found on Twitter, Facebook, and Google +.