Years ago, when people got paid every week, I imagine that budgeting was easier. For 52 weeks of the year, you knew that paycheck was coming every Friday.
Now, people are paid bi-monthly, or once a month, or every 1st and 15th of the month. If you like to set up a monthly budget, budgeting can become more challenging on a bi-monthly or monthly pay check scheme.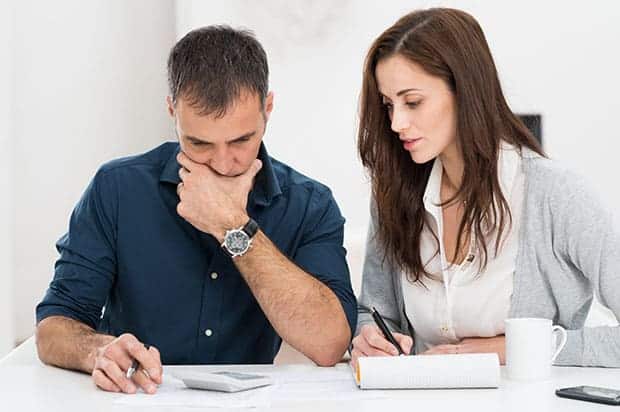 For years I've struggled with budgeting, in part because my husband is paid every two weeks. I'd much prefer if he were paid twice a month on the 1st and 15th or every week. The-every-two-week cycle causes me issues because as the year goes on, sometimes the first paycheck doesn't come until the 10th or later in the month. If there are bills due earlier in the month, how should those get paid when the first paycheck doesn't even come until the 10th or 11th on a given month, depending on where you are in the pay cycle?
Ideally, I'd have a nice buffer in our account so that we're using last month's money to pay for this month's expenses, but thanks to many medical expenses, that is not currently a possibility. We're not quite living paycheck-to-paycheck, but we're close.
The Three Paycheck Month Conundrum
Just to compound the problem, there are those two months a year when a month has three paychecks instead of two.
I know some people who bank that third paycheck to pay for their vacation or to invest, but we're not there. We literally need all of my husband's take home pay to make ends meet, whether that money comes in twice a month or three times a month once in a while.
Failed Budgeting Strategies
I've tried a variety of strategies to make our budget work with this paycheck scheme.
One strategy involved taking all of our expenses and dividing them by 26 paychecks. So, if our house payment is $1,000 a month, I multiply that by 12 months to get $12,000, and then I divide that by 26 to come up with $461.54 I have to set aside every paycheck for a house payment. But when I first set up the budget this way, I run into problems because at the end of a two-paycheck month, I only have $923.08, and the house payment is $1,000.
Another strategy I tried was to budget just for two weeks, but I like to look ahead at the whole month's expenses and see what's been paid and what I still need to pay, so this method didn't work for me.
The Budgeting Strategy That Works For Us
Finally, just a few weeks ago, I came up with the perfect solution! One of our medical bills is $400 a month, approximately. When I take that out of the budget, I have no problem budgeting two paychecks a month. So, I decided that twice a year, when my husband gets three paychecks in a month, the third paycheck will go entirely into the medical category. Then, the category is fully funded for six months, and I can use the two paychecks a month to pay our other bills. This works like a charm.
If you're living paycheck to paycheck, are paid bi-monthly, and have one large expense you have to pay every month, see if this strategy will work for you.
I imagine this strategy would also work if you have bi-yearly payments like car insurance or yearly payments like car registration. When you get the third paycheck, fund those accounts with the additional check and then forget about them when budgeting the other months.
If you're paid bi-monthly and living paycheck to paycheck, which strategies do you use to make budgeting easier?