I remember when I first graduated college, one of the first things I did was to start tracking my money.
I was on my own for the first time, living in my own place, making a paycheck from my first real job. Reality was starting to set in that I would need to keep better tabs on my money in order to ensure that I had money left at the end of the month.
When I first started tracking my money I did it using a homemade spreadsheet in the Microsoft Works spreadsheet program.
While my budgeting method worked, it left something to be desired. Nothing about the process was automated, and I would have to manually enter all of my income, expenses, debts and savings goals manually. While my situation was much more simple then than it is now, it just wasn't a plan that would work for the long term. There was too much data entry involved for my taste.
This past year I discovered a new tool that takes me back to my roots with the budgeting spreadsheet, but it makes the process of using a budget spreadsheet much more automated and easy.
It's called Tiller Money, and it's an automated version of the budget spreadsheet you may have used back in the day, but now it uses the Google Sheets cloud spreadsheet program.
In this review I want to take a look at Tiller Money, and talk about why it might be one of the better budgeting platforms out there today.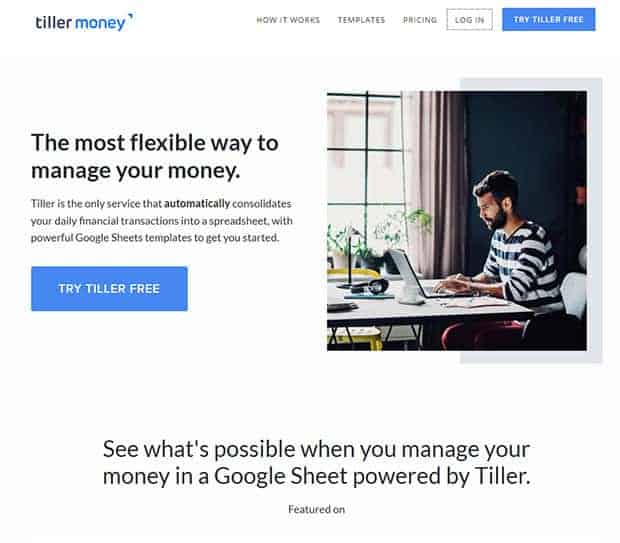 Tiller Money: What Is It?
Tiller Money is a personal finance app that helps you to create customized Google Sheets spreadsheets that are automatically updated from your linked bank and credit accounts.
The app can help you to create anything from a budget, to a net worth statement or even a debt payoff calculator.
It takes the old financial spreadsheets, and updates them for the new age. It automates and expands their functionality.
Tiller can download all of your transaction data from your linked accounts, help you categorize your transactions, and fill in your spreadsheet automatically. No more manual data entry!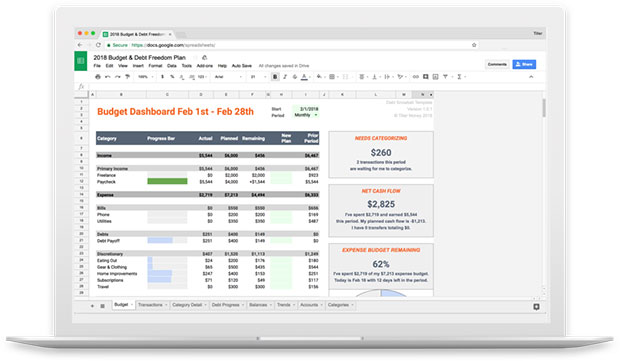 Tiller is a budget spreadsheet on steroids.
Signing Up For Tiller Money
Getting started with Tiller Money is pretty easy.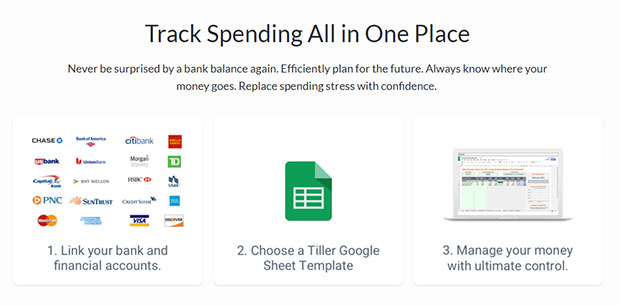 First, make sure you have a free Google account setup (Tiller requires a linked Google account to create your spreadsheets in Google Sheets).
Second, sign up for Tiller Money here (There is a $6.58/month or $79/year cost after the 1 month free trial).
Get Your Free 1-Month Trial With Tiller
Third, you can start adding your financial accounts. Currently Tiller can link to more than 10,000 banks and financial institutions using Yodlee.
Once you link your accounts you'll choose a Tiller Google Sheet template to use. For most people they'll use the default "Tiller Budget" spreadsheet first.
Once you've created your Google sheet your transaction data will start flowing into your new spreadsheet from your linked accounts. Now you can start working on setting up your budget.
Using Tiller Money's Budget Template
The default Tiller Budget spreadsheet gives a helpful 5 step "getting started checklist" to walk you through the setup of your template.
Link all your spending accounts from the Tiller website console. If your accounts aren't able to link, you can still enter transactions manually. It is best used with an account that can link, however.
Set up your income and expense groups (Food) and categories (Restaurants, Groceries) for the spreadsheet to use in categorization of the transactions on the "Categories" tab. It will have some defaults already entered, but you can change them or add your own.
Choose your budget time period, for me it was monthly. You can choose weekly, bi-weekly, monthly, quarterly or a custom time period.
Enter your planned budget amount for each category on the main "budget" tab.
Your transactions will begin to appear in your "Transactions" tab of the spreadsheet. Start categorizing the transactions from the start of the month to get a fresh start.
When you link your bank accounts using Tiller Yodlee integration, the service will download all your transactions on a daily basis, and send you an email summary of charges every day.
The transactions are then added into your spreadsheets to await categorization. Here's a look at some recent transactions I categorized from my spreadsheet's "transactions" tab.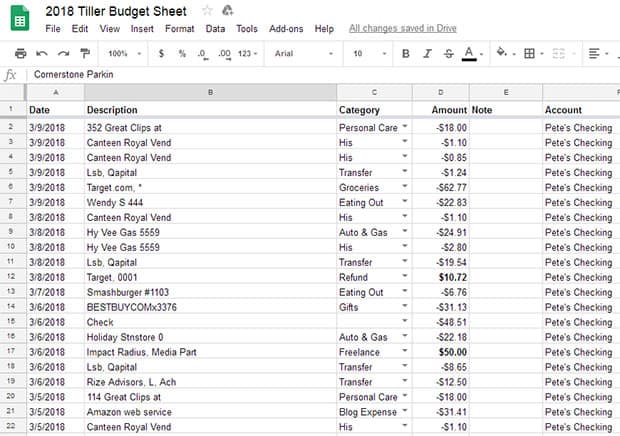 You'll just go into your spreadsheet every few days, categorize any new transactions, and then you will get detailed reporting on whether you're still within your budget or not.
If your budget is not where it needs at the end of the month you can just update the budget number for each category on the "Budget" tab, and your budget will be adjusted moving forward.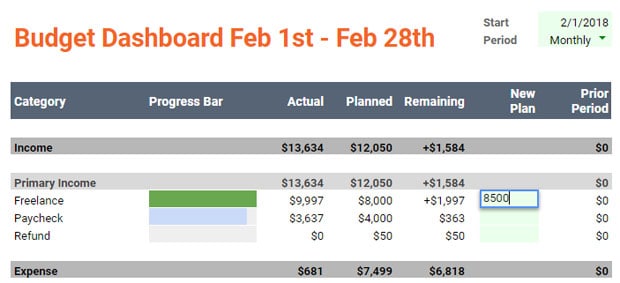 Auto Transaction Categorization
If you prefer not to manually assign categories to your transactions every time you go into your spreadsheet, you can setup Tiller's Google Sheets add-on called "AutoCat". It will allow you to setup automatic transaction categorizations based on expense descriptions, transaction amounts and more.
You just have to set up each transaction type one time, and from then on you'll go to the "AutoCat" tab and click on the "Run" menu option. It will label all eligible un-categorized transactions based on your settings. Easy!
Tiller Budget Reporting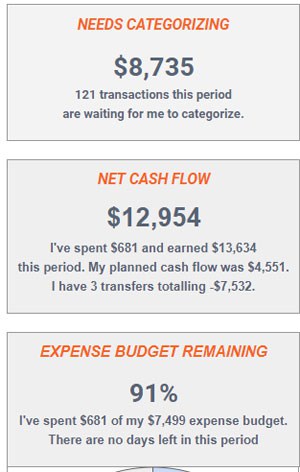 Once you've got your budget template setup and the transaction data has been flowing for a little while, you'll have access to a wealth of information at your fingertips.
Among the information you'll see in your budget template dashboard:
Full listing of income and expense categories, showing actual expenses for the month versus the plan, and difference between the two. It also shows your transaction totals for the previous period. For quick reference, categories that are over the budgeted amount will show a red bar, while others will be in blue or green if they're still doing ok.
You'll see a report showing cash flow. It factors in how much you've spent, how much you earned and what your plan was for cash flow.
"Expense budget remaining" will show on your dashboard, giving you a quick reference for how much you've spent of your total budgeted amount.
The "Balances" tab shows your full net worth and account balances.
The "Category Detail" tab will give you a full category spending breakdown by whatever time period you want.
The "Balance History" tab shows your account balances by date.
When it comes down to it the spreadsheets are customizable beyond what they offer above in the basic template. If you have some knowledge of spreadsheets you can get reporting to show whatever you want about your money.
Tiller Money Spreadsheet Templates
Tiller currently has 11 pre-built or custom templates setup in their system. They include:
Tiller Budget: The default family budget template that most people will end up using.
Debt Snowball Spreadsheet: This sheet will allow you to customize, track and manage your debt payoff.
Weekly Expense Tracker: This template allows you to categorize your spending, review balances and keep a close tabs on your finances.
Build Your Own: This template is similar to the Tiller Budget, but doesn't include some of the reports and dashboards, allowing you to build your own analysis.
Raw Data: This template just pulls in the raw data, the transactions and balance history, but no formulas or reports.
Net Worth Tracker: Visualize your assets, liabilities and current net worth for accounts connected to Tiller, and ones you add manually.
Budget Tracker: A custom spreadsheet from blogger and lifestyle expert Lauren Greutman. It is a family budget used by the Greutmans, made accessible in their spreadsheet.
How Do I Budget Template: Derek Olsen of How Do I Money created a budget template to go along with his free budgeting course. The sheet includes a monthly budget, debt snowball, savings plan and net worth tracker.
Values Driven Budgeting: This budget template is inspired by New York Times bestselling author Carl Richard's approach to money and spending. It asks you to regularly review your spending and decide whether it's aligned with your values. Based on his book The One Page Financial Plan.
Save 50: This template was developed by the folks at Stacking Benjamins as a tool to be used with their online self paced course focused on saving half your income.
Credit Card Tracker: This template brought to you by Ben Collins is a credit card tracking tool meant to give you insights into your credit card spending, trends and progress made towards paying off balances.
For me, the basic Tiller Budget template is the one that I've been using and it works great for a monthly family budget.
Tiller Money Feeds For Excel
If you're a long time Excel spreadsheets user, you're not going to be left out in the cold when it comes to Tiller automated budgeting.
The folks at Tiller have released support for Microsoft Excel, and when you sign up for your free trial you can choose to get started with either Google Sheets, or Microsoft Excel.
Tiller Money Feeds for Excel allows you to automatically download your transaction data into your Tiller Excel spreadsheet with the click of a button, just like you do with Google Sheets. It is compatible with over 21,000 financial institutions.
It currently works with Excel 2016 installed via Office 365 subscription or newer. If you prefer using Excel, this is great news!
Tiller: Safety And Security
I know one question that a lot of people have is about whether linking your accounts to Tiller is safe. They use Google's secure login to access Tiller, and as long as you've got 2-factor authentication enabled it should be very secure. Here are a few key points about their security and safety of your data.
You securely authenticate and login with your Google account. They recommended that you use 2-factor authentication.
Your data is encrypted with bank-grade 256-bit AES encryption.
Tiller has read-only access to your bank data.
Tiller support can't see your data. Tiller's servers update your private Tiller Sheet each day, but you are the only person who will access or see what's on your Google Sheet unless you choose to share your Sheet with support or others.
In my opinion, you should feel pretty safe using Tiller.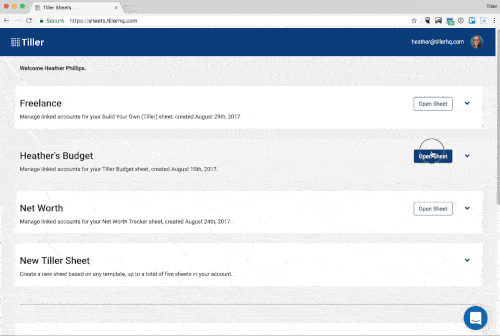 Pros and Cons Of Tiller Money
There are quite a few pros to using a budgeting system that includes Tiller, and a couple of cons.
Pros
Daily, automated data synchronization from your financial accounts to your linked spreadsheets.
Multiple pre-built and custom spreadsheet templates.
Helpful reporting.
Customizable if you want something different from what their stock templates offer.
Available Google Sheets add-ons to extend functionality.
After some initial training, saves time and is easy to use.
Perfect for spreadsheet geeks, or beginners alike.
Cons
You'll need a basic knowledge of how spreadsheets work.
$79/year cost. The cost is well worth it for most folks, however.
Tiller Money Can Improve Your Financial Planning
Tiller Money is an automated budgeting tool that is more than just your average spreadsheet.
Tiller automates one of the biggest pain points in typical budgeting spreadsheets (data entry), while still giving you complete control over the categorization of your income and expenses, and how the data is used.
You can use one of their stock budget templates, or customize it to your heart's content.
The end result is that you're better informed about what your money is doing, and where you can do better.
After using it for a couple of months now I'm definitely recommending Tiller as one of my top options for a budgeting software.
Sign Up For A Free Month Trial With Tiller Money